Main Content Starts Here
Demo Kitchen Recipe: Roquefort, Grape and Toasted Pecan "Footballs"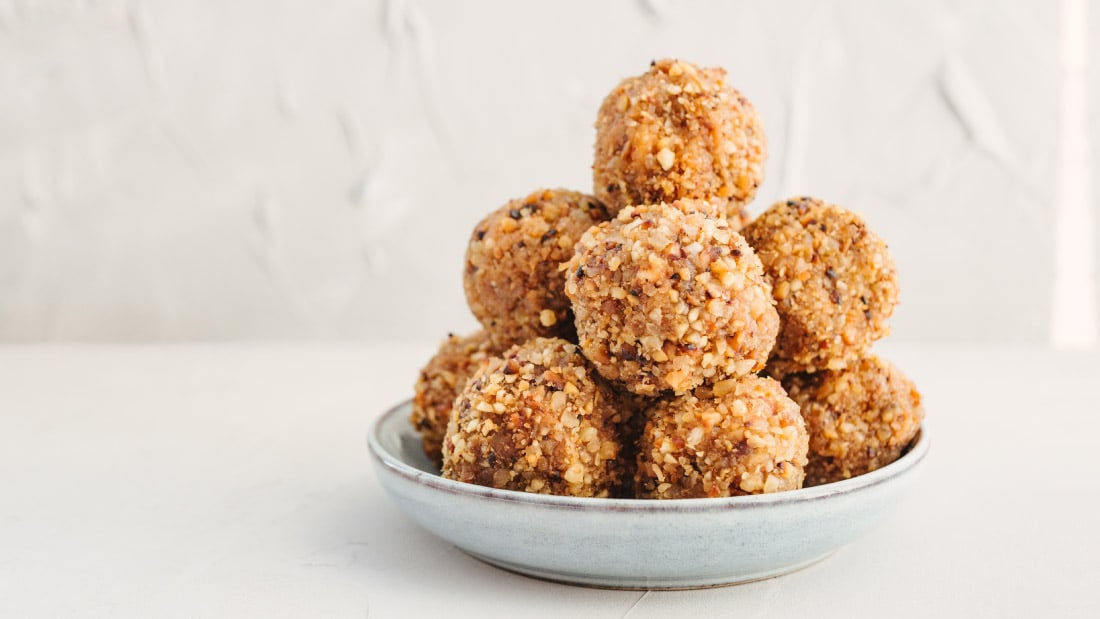 (skip to recipe)

It's the Bears' orange and blue up against the Bengals' orange and black this weekend and we are predicting a big victory for blue! Blue cheese, that is; made soft and rich by the addition of cream cheese, enrobing juicy football shaped grapes, and rolled in fragrant toasted pecan.
This recipe is so simple and delicious, a no huddle kitchen offense can be employed. No need to even call an audible with this tasty play in your back pocket. A play guaranteed to be among the tastiest bites on your gameday buffet, and the easiest for you to make.
Although the flavors and textures are a very sophisticated juxtaposition of firm, sweet and explosively juicy grapes, pungent Roquefort cheese and crunchy, nutty pecans no one will think them out of place alongside guacamole, chicken wings and chili. So sophisticated, in fact, that we usually roll them into balls and arrange them on a platter for an elegant dinner party hors d'oeuvre. They are equally at home in either context. Rest assured they won't cause a stir like you did that time you wore Zubaz to a black-tie event or that other time you wore a tuxedo to a gameday party. That was just weird. (And, no, we are not projecting.) They will, however, win over Bears' fans, vegetarians (no animals are harmed by making these pigskins) and sausage hounds alike.
For the sophisticates among you, these are fantastic with Sauternes, Tawny Port, and malty, nutty beers like Oktoberfest Märzen or Belgian Trappist Dubbels but will fit right in with whatever beer or wine you have chosen to accompany your gameday spread.
Oh yeah, our actual prediction - Bears win 56-0 and everyone will remember the delicious little footballs. But, come Monday, they will struggle to remember who it was the Bears trounced so severely. Cincinnati? Who Dey?


Roquefort, Grape and Toasted Pecan "Footballs"
INGREDIENTS:
10 oz. pecans

8 oz. cream cheese, room temperature

4 oz. Roquefort cheese, room temperature

2 tbsp. heavy cream

1 lb. oblong seedless grapes, red or green
DIRECTIONS:
Preheat oven to 300°F.
Spread pecans in an even layer on a rimmed baking sheet and bake until toasted and aromatic, about 10 to 12 mins. Cool.
Chop pecans coarsely in a food processor. Transfer back to baking sheet and spread out evenly.
In the bowl of an electric mixer, combine the cream cheese, Roquefort, and cream. Beat on low until smooth, 2 to 3 mins.
Drop clean, dry grapes into cheese mixture. Use a rubber spatula to gently stir and coat grapes evenly.
Working one at a time, transfer the grapes to the chopped pecans and roll in the nuts until they are well coated. Hand roll each, allowing the oblong shape of the grape to guide the final "football" shape.
Transfer to a serving platter, cover and refrigerate until game time.