Main Content Starts Here
Demo Kitchen Recipe: Riviera Chicken Salad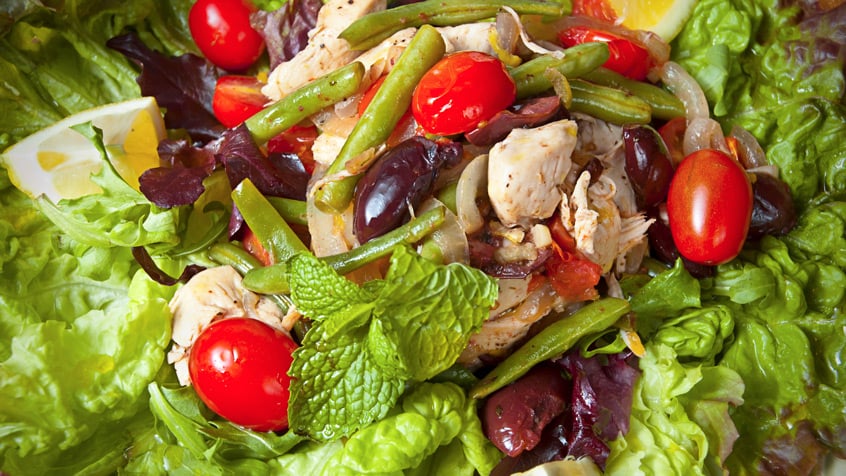 Normally we would poach the chicken for this recipe with a bunch of fresh veggies and herbs, but we thought we would make this simply delicious chicken salad even easier by using store bought stock. The result is an incredibly fresh and healthy dish that will serve 4 for lunch. Serve fresh, seasonal fruit chilled for dessert and you have the makings for an easy, tasty and leisurely afternoon. Crisp refreshing whites like Hugues Beaulieu Picpoul de Pinet will work brilliantly but...do we have to say it? Rosé!
Riviera Chicken Salad
INGREDIENTS:
64 oz Store bought chicken stock (less depending on your pan)

2 lbs boneless, skinless chicken breast

1/2 cup of Niçoise or Kalamata olives

1 tbsp capers drained and rinsed

12 cherry tomatoes, halved

1/4 lb of green beans, cut in 2-inch pieces

1/4 cup extra virgin olive oil

Juice of 1 lemon

1 tbsp minced shallot

1 tbsp fresh oregano or basil (both if you like), coarsely chopped

Kosher salt and freshly ground black pepper
DIRECTIONS:
Place chicken breast in a pot large enough to accommodate them in a single layer. Add stock to cover by 1 inch. You can still add herbs, garlic, peppercorns or whatever aromatics you like to make the poaching liquid extra delicious, but you don't have to.

Bring to a boil, immediately reduce heat to a gentle simmer. Simmer 5 minutes. Remove from heat, cover for 10-15 minutes or until just cooked through. Uncover and let cool in liquid. When cool, cut chicken into bitesize pieces. Stock can be saved for another purpose.

Blanch green beans in salted boiling water until crisp/tender. Plunge into ice water bath to stop cooking and retain color. Strain and let dry.

In a large bowl combine chicken, olives, capers, tomatoes and green beans.

Add lemon juice, shallot, herbs, salt and pepper to taste to a small bowl. Slowly drizzle olive oil into the bowl while whisking vigorously to create an emulsion.

Pour dressing over the other ingredients and gentle combine with a spoon.

This can be served immediately but a short period of 20-30 minutes before serving will allow flavors to come together. Adjust seasoning with salt and pepper before serving.