Main Content Starts Here
Demo Kitchen Recipe: Red Wine Cranberry Sauce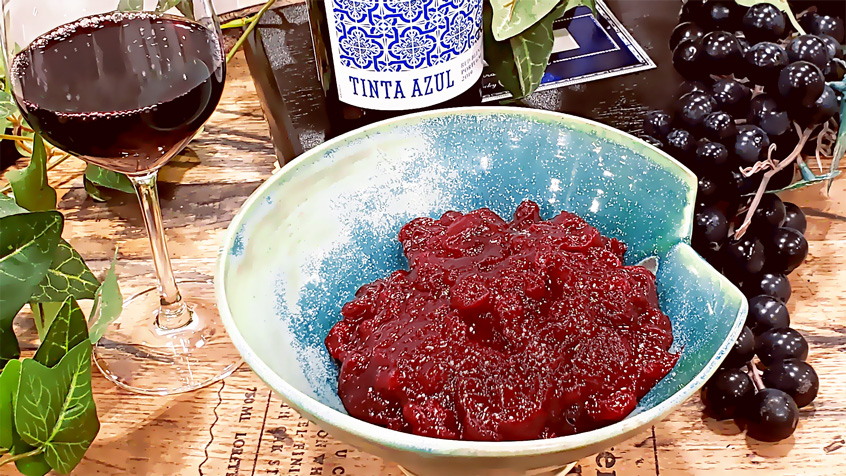 Like many of you I don't like to break the bank when I'm buying wine for a large family gathering, but at the same time I want to drink great wine during the holidays. Enter Tinta Azul. Tinta Azul is my current favorite from a long list of wines that really over deliver from Portugal. Loaded with ripe, dark red fruit and sweet spice aromas this bottle is the perfect balance of fruitiness and bright acidity to pair with just about everything on your holiday menu.
Cranberry sauce is often overlooked on a lot of families' holiday tables, but to me it's such a great, simple way to really brighten up the plate. The cranberry sauce also has the added benefit of pairing well with both wine and just about everything on a traditional holiday plate, making it a perfect bridge between your wine of choice and the wide array of flavors on your menu. To really drive home the cohesiveness of my holiday meal, I like to take the pairing of food and wine one step further and cook with what I'm drinking, ensuring the perfect complement to my meal.
Scott's Red Wine Cranberry Sauce
INGREDIENTS:
1/2 cup Tinta Azul Portuguese Red

1/2 cup orange juice

1 cup granulated sugar

12 oz fresh cranberries

1 large Granny Smith apple, small diced

1 Naval Orange, zested and juiced (separate from the orange juice above)
DIRECTIONS:
In a medium saucepan, bring the wine, 1/2 cup orange juice, and sugar to a boil.

Add the cranberries and bring back up to a boil.

Reduce heat to medium-low and simmer for 10 minutes.

Stir in the diced apple, orange zest, and fresh squeezed orange juice.

Simmer for an additional 3-4 minutes or until thickened. (Apples should still have some crunch)

Let cool at room temperature and then keep refrigerated until serving.