Main Content Starts Here
Demo Kitchen Recipe: Pigskins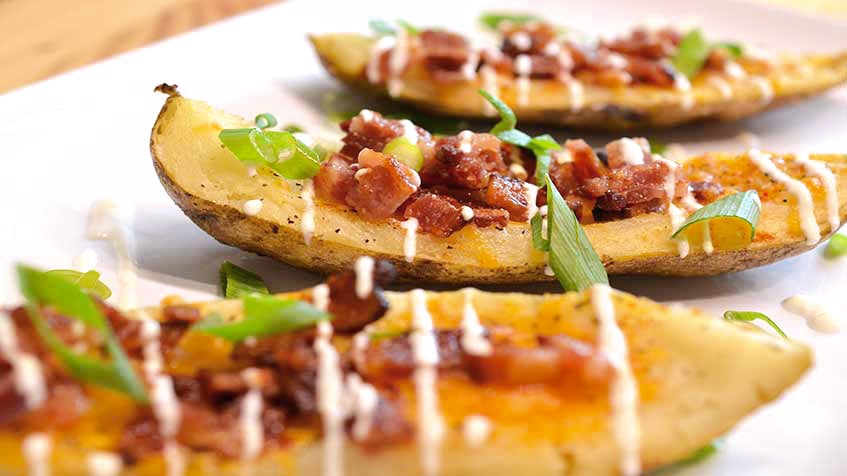 Skins are a go-to game day dish. Our recipe takes it up a notch by brushing the skins with rendered bacon fat, which not only further crisps the skins but also infuses them with smoky goodness. Drizzled with cheese, our pigskins are bound to be the MVP of your game day party. Be sure to make extra!
Pigskins
INGREDIENTS:
12 oz Thick Cut Bacon, diced

5 Large Idaho Potatoes

Garlic Salt and Black Pepper, to taste

Cayenne Pepper, to taste

8 oz Shredded Meltable Cheese (cheddar, colby, pepper jack, etc.)

1 c Mexican Crema (or sour cream)

1 Bunch Scallions, thinly sliced
DIRECTIONS:
In a large skillet over medium heat, cook the bacon until it is crispy and the fat has fully rendered out. Set the bacon and bacon fat aside in separate containers.

Rub the potatoes all over with half the bacon fat and place onto a foil lined sheet pan. Bake them at 400 degrees for 1 hour, or until the skin is crisp and the insides tender. Let cool for 10-15 minutes. Set the oven to broil.

Cut each potato lengthwise into 4 wedges, then scoop out the flesh of the potato (leaving 1/4 to 1/2 inch behind on the skins), setting the flesh aside for another use.

Brush the wedges with the remaining bacon fat and season with garlic salt, pepper, and cayenne to taste. Top with cheese and crisped bacon, then broil them until the cheese starts to bubble.

Transfer the skins to a serving platter, drizzle with crema, and garnish with scallions.