Main Content Starts Here
Peposo (Tuscan Black Pepper Beef Stew)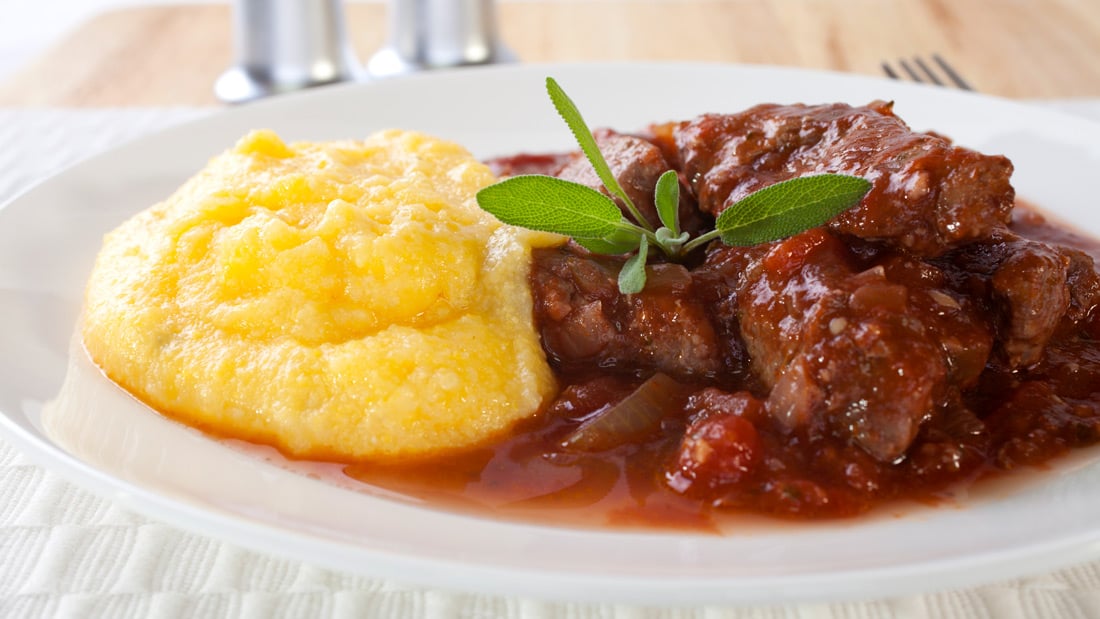 This is about as simple as beef stew gets but the depth of flavor is anything but. Rather, it is a rich soul satisfying dish that will bring warming pleasure to the heart of a frosty winter.
This recipe deviates a bit from standard technique in a couple of ways, but this is done for good reason. First the meat braises with aromatics and just its own juices, the wine is introduced later. This allows the pepper to cling to the beef and the beef to deeply brown in the oven without the step of searing it first (something we would normally advocate strongly). Secondly, long braises can sometimes dull the bright fruity flavors of wine, leaving you to decide whether to freshen things up with something acidic like vinegar at the end. Adding the wine later in the process completely eliminates such considerations. Lastly, do not fear what may seem like a lot of black pepper (please use high quality whole peppercorns like Tellicherry), it is, but it becomes mellow, warming, and aromatic rather than spicy hot.
You can serve this with any comforting starch you choose, like creamy whipped potatoes but nothing is better than a soft mound of sweet, corny polenta. Again, go for quality here by selecting stone ground yellow cornmeal, hopefully made with heirloom corn. You won't regret it!
Pair this with Chianti Classico like Castellare or a Vino Nobile such as Poliziano.
PEPOSO (Tuscan Black Pepper Beef Stew)


INGREDIENTS:
3 lbs. beef stew meat (chuck)
kosher salt
2-1/2 tbsp. very coarsely ground black pepper
1-1/2 tbsp. extra virgin olive oil
1 medium yellow onion, halved and thinly sliced
8 cloves of garlic, smashed and peeled
2 tbsp. tomato paste
1 sprig fresh rosemary, plus 2 tsp. chopped and reserved
2 sprigs fresh thyme
3 fresh sage leaves
1 bay leaf
1-1/2 cups Chianti (or another Sangiovese)
DIRECTIONS:
Preheat oven to 325°F. Season beef with 1-1/2 tsp. salt and 2 tbsp. black pepper. Toss to coat evenly.
Heat olive oil in a Dutch oven over medium heat, add onion and whole garlic cloves. Cook, stirring occasionally until the onion has browned lightly. 6-8 minutes. Add tomato paste and stir 3-4 minutes until the paste starts browning.
Add herbs and seasoned beef to Dutch oven on top of onions. Cover and place in preheated oven for about 2 hours.
Remove lid, gently stir, and continue cooking uncovered for another hour plus until the beef is deeply browned and very tender.
Remove beef to a bowl using a slotted spoon. Pour all remaining juices and solids through a fine strainer, pushing on solids with the back of a spoon to get all the liquid. Discard what is left in the strainer.
Deglaze the empty pot with wine and bring to a boil over medium high scraping up all the deeply browned bits from the bottom of the pot. Simmer over medium heat until wine is reduced by half. Skim fat with a ladle or spoon from the surface of the reserved juices and discard.
Add meat juices back into the pot with wine. Continue reducing until the sauce has thickened enough to coat the back of a spoon. Add the beef back in with reserved chopped rosemary and gently simmer until beef is heated through. Add remaining 1/2 tbsp. Pepper and season to taste with salt.