Main Content Starts Here
Demo Kitchen Recipe: Pan-Seared Chicken Breast with Apples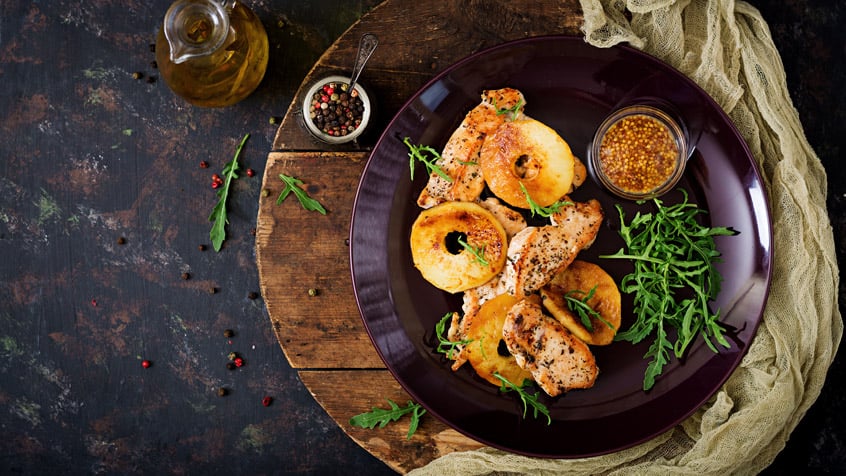 This dish is full of the wonderful fall flavors, fit for company but easy enough for your average weekend night. Whipped sweet potatoes or wild rice with dried cranberries and pecans would make for perfect seasonal sides. Add buttered green beans and your plate is complete. Pair this with slightly sweet beverages. Vouvray Demi-Sec, Riesling Spätlese or a sweet hard cider are right on. For beer try something a bit sweet, fruity and malt forward. Our top choices are Schneider Aventinus or Pauwel Kwak. If you are the sort who prefers a cocktail with dinner, check out Tea of Knowledge.
One more tip – this dish is also stellar with duck in place of the chicken. If that appeals, see the Demo Kitchen's recipe for seared duck breast, follow the instructions and proceed with sauce in the same fashion. Serves 4-6.
Pan-Seared Chicken Breast with Apples
INGREDIENTS:
4 boneless, skin on chicken breasts (8 oz. ea.)

2 tbsp schmaltz or 1 tbsp each of butter and canola oil

2 large shallots, minced

2 crisp, tart apples such as Cortland or Granny Smith, cored and sliced 1/4" thick. Peeling is up to you, but the dish is more colorful with the peels.

1/4 cup apple cider vinegar

1/4 cup of very dry white wine or dry hard cider

1/2 tsp fresh thyme

1 tsp fresh rosemary

1-1/2 cups homemade or store-bought low sodium chicken stock

1/3 cup maple syrup

2 tbsp unsalted butter

salt and freshly ground black pepper
DIRECTIONS:
Make the Chicken:
For evenly seasoned, extra juicy and savory chicken with crispy skin complete step one a day ahead of serving. It will be almost as good if you do everything the same day.
Pat chicken dry with paper towels and season generously with salt. If doing in advance place chicken on a plate, skin side up, place in the refrigerator overnight, uncovered. This will allow the salt to penetrate the meat and dry out the skin so it will crisp nicely. Season with black pepper just before searing.

Preheat oven to 350°F.

Heat fat in a large heavy skillet (we like cast iron) over medium high heat until shimmering.

Place chicken breasts in pan, skin side down. Be sure to leave plenty of space between breast and don't move them until ready to turn, about six minutes. Turn and cook another minute or two. Skin should be deep golden brown. Transfer to a low sided baking sheet and place in preheated oven.

Roast for about 15 minutes or until internal temp hits 160°F. Remove from oven and let rest. Meanwhile make the sauce.
Make the Sauce:
When you have removed the chicken from the skillet, reduce heat to medium and add shallots and apples. Season lightly with salt and pepper. Cook, stirring occasionally for about 3 minutes.

Deglaze pan with brandy (be careful it may flame up, if you have a good hood and some confidence, you want this to happen). Scrape any brown bits in the pan and reduce until almost dry.

Add wine/cider and cider vinegar. Increase heat to high and again reduce until almost completely evaporated.

Add thyme, rosemary, chicken stock, any drippings from the roasting pan and maple syrup. Bring to a boil and cook until sauce thickens slightly, 8-10 minutes. Keep an eye on the apples, they should be tender but you don't want them to fall apart. If they are done before sauce is fully reduced simply remove them with a slotted spoon and keep warm.

Remove from heat. Remove apples with slotted spoon if you haven't already. Whisk in butter and season with salt and pepper to taste.

The breasts can be plated whole or sliced on a bias and fanned on the plate over the apples and sauce.