Main Content Starts Here
Demo Kitchen Recipe: Pan Bagnat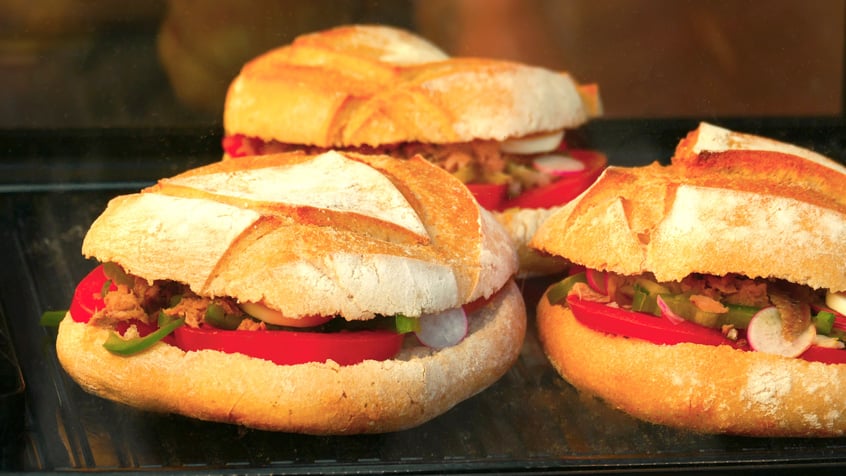 This is not a refined expression of Provençal Cuisine for a civilized luncheon. If you want that, whip up a Salad Niçoise or a lovely bouillabaisse. Wouldn't that be Nice. This is, however, one of the Demo Kitchen's all-time favorite sandwiches and the very essence of an outdoor Provençal market. Not only that, it is perfectly suited for the late summer tomato season, picnics and, of course, rosé wine. After tasting Pan Bagnat you may forget the BLT even exists! Nah, that'll never happen.
Pair with Belle de Provence rosé, Wittekerke Witbier, or a tall, cool glass of Ricard Pastis anise liqueur and water.
Pan Bagnat
INGREDIENTS:
2 large, round, crusty rolls (Kaiser rolls will do in a pinch)

1/4 cup extra virgin olive oil

1 tbsp Red wine vinegar (more to taste)

1 can of olive oil packed tuna

1 green onion, thinly sliced

1 clove garlic, minced

2 tsp capers, rinsed

1/8 cup Niçoise olives pitted and coarsely chopped

1 hardboiled egg, sliced

1 perfectly ripe tomato, sliced

1 tsp anchovy paste (optional)

Fresh basil leaves

Sea salt and freshly ground black pepper (to taste)
DIRECTIONS:
Slice or open rolls and drizzle the crumb of all four pieces liberally with olive oil and vinegar. Season with salt and pepper.

Mix tuna, green onion, garlic, capers, olives and anchovy paste to make a salad.

Cover the bottom of each roll with tomato slices, drizzle with a little olive oil, season with salt and pepper. Add a layer of fresh basil leaves. Top with tuna mixture, then sliced egg. Season egg with salt and pepper. If your tomatoes are great feel free to finish off with another layer and more basil. Top with the other half of the rolls.

This part is very important to the final product. Wrap the sandwiches tightly in aluminum foil and let stand at room temperature for at least an hour. This allows everything to meld and the dressing to saturate the rolls.