Main Content Starts Here
Demo Kitchen Recipe: Oktoberfest Feast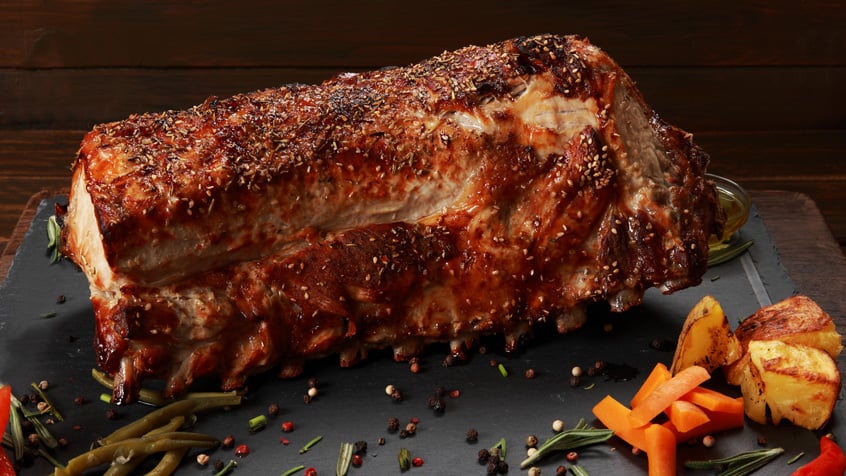 This is an impressive feast fit for King Ludwig, but all the techniques are simple enough. Diners will marvel at the sausage stuffed pork roast while they work out just how you managed to get that sausage in there. The sides of red cabbage and spaetzle are fabulous and definitely worth the effort but you can successfully pull off this meal with some purchased sauerkraut and boiled potatoes if you are looking for shortcuts.
Complete this comforting Autumnal meal with a fine German Riesling or Spätburgunder and, of course, plenty of Oktoberfest Marzen. These recipes will serve 6 generously.
Bratwurst Stuffed Pork Roast
INGREDIENTS:
3 lb boneless center cut pork loin roast

1-2 precooked bratwurst, frozen (you can use polish or any type of sausage that appeals to you)

coarse salt

freshly ground black pepper

1 tsp Hungarian paprika

1/4 tsp celery salt

1/8 tsp garlic powder

1 medium onion, sliced

1 stalk of celery, sliced

1 carrot, sliced

2 cloves garlic, peeled

1 tsp caraway seed

1 qt homemade or store-bought low sodium chicken stock

1/2 cup heavy cream
DIRECTIONS:
One day before your feast:
Carefully cut a narrow slit with a long thin knife directly through the whole length of the pork loin horizontally, as close to dead center as you can manage. Use the handle of a wooden spoon to slightly increase the diameter of the hole you have made by pushing it all the way through until it emerges from the other end. Carefully slide the frozen sausage into the hole. It should fit tightly and take some wiggling to insert. Depending on the relative lengths of your roast and sausage, you may need more than one bratwurst to fill the hole end to end. If so, simply slice off any excess sausage so it is flush with the ends of the roast.

Season all sides of the roast liberally with salt and black pepper. Combine paprika, celery salt and garlic powder and sprinkle evenly over all sides of the roast. Refrigerate overnight. You can do this the same day, but advanced prep allows the seasoning to penetrate the pork and the bratwurst to thaw before roasting.
Roast the pork:
Remove pork from refrigerator and let rest at room temp for at about half an hour. Meanwhile, preheat oven to 350. Add the sliced vegetables, garlic, stock and caraway seeds to a large roasting pan. Place pork fat side up on top of vegetables.

Roast for about 1 hour until internal temperature is 145. Remove from oven set pork aside to rest.

Strain the liquid from the pan and skim off any fat. Discard vegetables. Add liquid to a saucepan and reduce by half over medium high heat. You may serve as is or add heavy cream and continue reducing until a rich sauce consistency is achieved. In either case, taste and adjust seasoning with salt and pepper.

Slice roast to show off that beautiful and seamless sausage stuffing. Serve with braised red cabbage and spaetzle.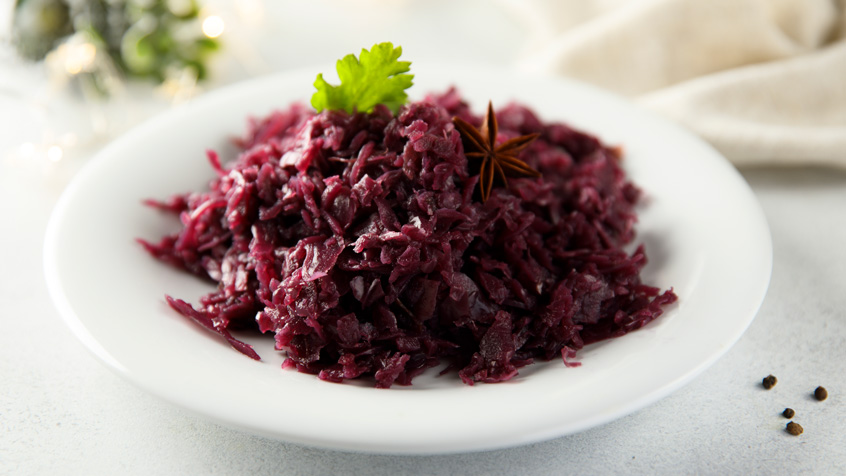 Braised Red Cabbage
INGREDIENTS:
1 red cabbage (1-1/2 - 2 lb) cored and shredded

1 medium red onion, thinly sliced

2 medium Granny Smith apples, peeled and diced

1/4 cup sugar

1/3 cup cider vinegar

1/4 cup butter

1 tbsp flour

1 cup fruity red wine

1/2 cup of water

1 tsp salt

Freshly ground black pepper

1/2 tsp ground allspice
DIRECTIONS:
In a large heavy pan, melt butter and cook onion over medium heat. Stir occasionally until translucent, about 3 minutes. Add flour and stir until absorbed.

Add cabbage, sugar, vinegar, wine, water, allspice, salt and a few grinds of pepper. Stir and raise heat to bring to a boil.

Reduce heat to medium-low, cover and cook 30 minutes. Stir occasionally.

Add apples, stir and cook covered an additional 30 minute until very tender.

Season to taste with salt and pepper. Feel free to add more vinegar or sugar to achieve the sweet-sour balance you like but be careful. It should already be perfect.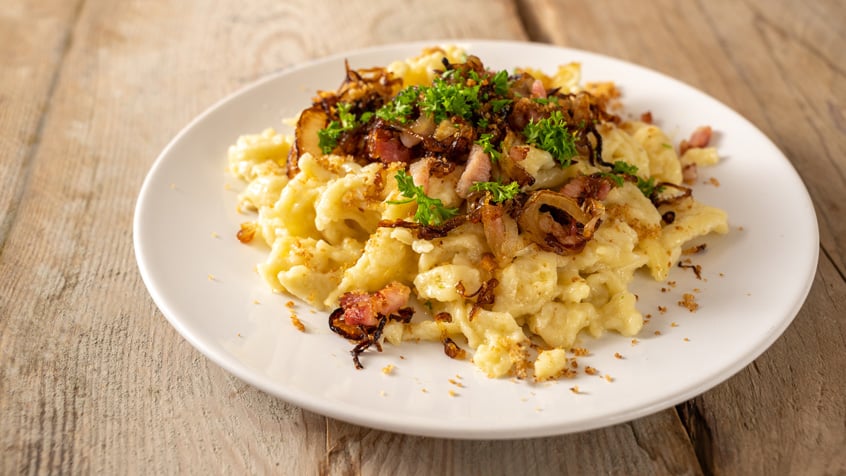 Spaetzle with Smokey Bacon
INGREDIENTS:
You can buy a box of these "little sparrow" noodles if you like but they are easy to make and so much more delicious. If you have a well-stocked kitchen you may own a spaetzle maker that you may have never used. Time to break it out! If not, a standard colander will work just as well.
3 slices thick cut applewood smoked bacon, sliced 1/4 inch wide

4 large eggs

1/2 cup whole milk

2 cups all-purpose flour

1 tsp salt

1/4 tsp ground white pepper

1/2 tsp freshly grated nutmeg

1/4 tsp baking powder

2 tbsp chopped flat leaf parsley
DIRECTIONS:
Add bacon to a large heavy bottomed pan and place over medium low heat. Cook until fat has rendered, and bacon is crisp.

Bring a large pot of salted water to a boil.

Combine flour, salt, pepper, baking powder and nutmeg in a bowl.

Whisk together eggs and milk in a large bowl.

Stir flour mixture into the liquid until a sticky dough comes together.

If you have a spaetzle maker, you know what to do. If not place a large colander over the boiling water (leave a couple of inches between water and the bottom of the colander. Add dough to colander and quickly push the dough through the holes with a wooden spoon by moving the spoon back and forth along the bottom of the colander. You will likely need to work in 2 batches. The result should be little irregular dumpling anywhere from 1/2 an inch to 1-1/2 inches long.

Boil 1-2 minutes until the spaetzle all float at the surface. Remove with a slotted spoon directly to the pan with bacon and bacon fat. Sauté medium-high until the dumplings start to brown irregularly and develop a little crispy texture in some spots.

Transfer to a bowl, toss with parsley. Serve.