Main Content Starts Here
Demo Kitchen Recipe: Obatzda - Bavarian Cheese Spread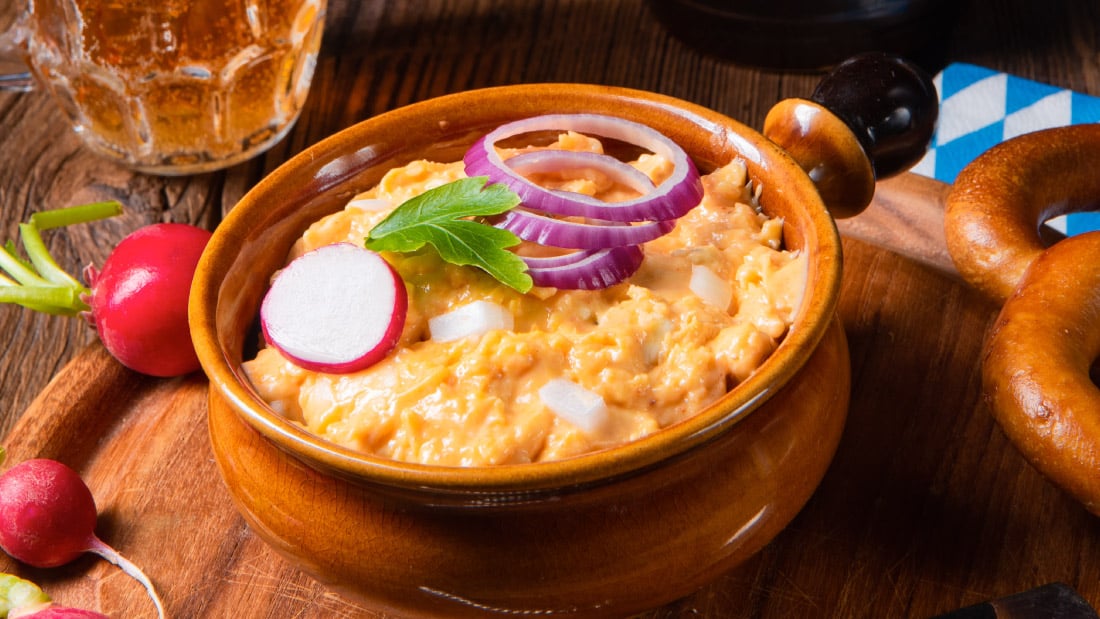 (skip to recipe)

Midwesterners know their cheese spreads and dips. We consume mass quantities of beery pub cheese, cheddar spreads flavored with Port or horseradish thickly smeared onto Ritz crackers or a burger and some even go for the Swiss and almond iteration. We devour nut encrusted cheese balls in all their infinite variety. We scarf down adopted favorites like queso fundido, pimento cheese, fondue, fonduta, and the occasional Welsch rarebit. Cheese enthusiasts and the adventurous may have even delved into Liptauer, fromage fort or the fancifully named specialty of Lyon cervelle de canut (silk worker's brain).
But do you know Obatzda, the traditional beer cheese spread of Bavaria? Well, the Demo Kitchen does. Here is a quick primer on this pungent delight made from soft cheeses, butter, spice and of course beer. It is ubiquitous in southwest Germany; indeed, one would be hard pressed to find a biergarten menu in Bavaria that didn't feature Obatzda served with pretzels or rye bread, onions, radishes, and of course plenty of beer to wash it down. It is a mainstay at Oktoberfest and should be on your menu if you are hosting an Oktoberfest part. It is also a perfect addition to the snack lineup at football parties.
A few notes about ingredients and serving –
Go out of your way to find one of the few pasteurized Camemberts available in this country with real character or use something like Brie Fermier if you can find it. If you start with a bland cheese the end result will be lacking as well. It should also be sufficiently ripe; oozy and quite aromatic (but not ammonia-like) at room temperature. Lastly, don't fear the rind, it will lend an earthy, mushroomy flavor to the dish.
Rinse your minced onions in cold water, squeeze out any excess moisture and add them just before serving.
Hefeweizen is traditional in this recipe but feel free to use a Fest Bier, Dunkel or Märzen. The same beers you should be serving.
Gewürztraminer and fruity German Pinot Noir work well as partners if you don't drink beer. Kirschwasser isn't bad either.
Don't limit yourself to traditional uses. Put it on a burger, crackers, celery or whatever strikes your fancy.
Well, don't just sit there reading! Mix up this super easy cheese spread and wow your friends with an authentic taste of Oktoberfest. Soft, hot pretzels and liters of beer await.
If you finish early, you will have time to don your lederhosen or dirndl, practice carrying twelve liters of beer at one time and maybe hire an Oom-pah band.
Obatzda: Bavarian Cheese Spread
INGREDIENTS:
8 oz. ripe Camembert, cubed and room temperature

4 oz. butter, cubed and softened

2 oz. cream cheese, cubed and room temperature

1/4 cup beer

1/2 cup finely minced onion

1 tbsp. sweet Hungarian paprika

1/2 tsp. ground caraway

Salt to taste

Freshly ground black pepper, to taste

2 tbsp. sliced chives
DIRECTIONS:
In a medium bowl, using a fork or pastry blender mash together Camembert, butter, and cream cheese until well combined. You can do this in a food processor for ease and/or a smother texture.
Add beer, onion (if serving immediately), paprika, caraway, salt, and pepper. Mix thoroughly.
Sprinkle with a little extra paprika or caraway if desired and garnish with chives.
Serve with thinly sliced onions, radishes, pretzels, pumpernickel or rye bread, and plenty of beer.