Main Content Starts Here
Demo Kitchen Recipe: New England Lobster Roll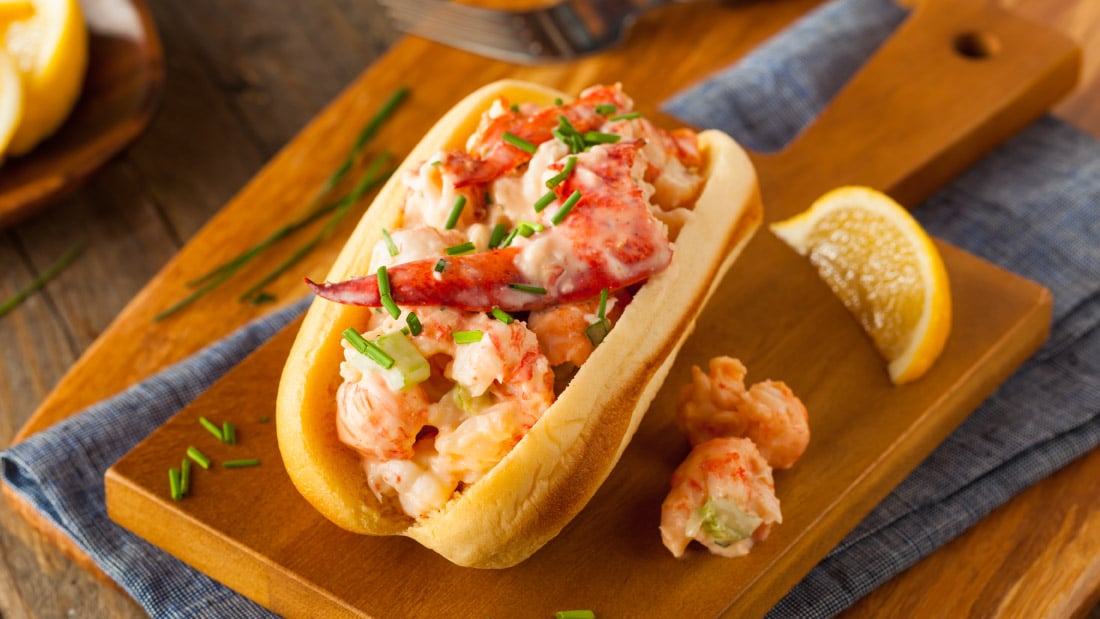 Ah, summer in New England. What could be more pleasant? Maybe fall in New England, but that's another subject and then you would miss out on Maine blueberries, fried clam bellies at a beachside shack, and crazy mayors who insist on keeping the beach open for the Fourth of July against the advice of the local sheriff and Richard Dreyfuss. But perhaps most importantly, lobster rolls on a warm sunny afternoon.
The original Connecticut style lobster roll is simple, delicious, served warm and keeps the focus on the lobster which is just tossed with melted butter, parsley, salt, and pepper before it goes on a bun. Definitely try that, but this recipe is for the style more closely associated with Maine. What's the difference? This is a lightly dressed, chilled lobster salad served on a warm butter toasted bun, making it a decadent but refreshingly cool summer sandwich.
The keys here are to keep the dressing to a minimum, so lobster is always at the fore and to get yourself New England style split top hot dog buns. Split top buns are important chiefly because they stand up on their own even when filled to overflowing with sweet lobster and they have exposed butterable crumb, not crust, on either side. The Demo Kitchen is not overtly dogmatic but we do know right from wrong so we adhere to the idea that the outside of the bun must be grilled to a buttery golden brown.
A few notes –
Yes, a lobster per sandwich is what you need. After the shell and waste are discarded a 1-1/4 pound lobster will yield in the neighborhood of 4 oz. of meat. The perfect amount for a well stuffed sandwich.
Don't discard the shells, make a rich lobster stock to use in sauces, bisques, and risotti, etc.
In a pinch the Demo Kitchen has used standard hot dog buns and you can too. Just shave a little crust off the top and bottom of the bun to expose the crumb and proceed with buttering and toasting. They will never be as stable as a top split but sometimes you just have to make do.
Serve with thick, super-crunchy kettle cooked potato chips.
Lastly, feel free to play around a little. Sub in shrimp for a slightly more budget friendly version or put a little shredded butter lettuce on your roll. Add your favorite herb; we favor tarragon, chervil or even dill. Just remember, keep it simple. If the focus is no longer on the naturally sweet, decadent lobster meat you are doing it wrong.
PAIRINGS:
Lobster rolls are delicious with crisp Chablis, Dry Chenin Blanc and of course Rosé. Witbier, Kolsch and delicate Pils styles like Ommegang's new Idyll Days are excellent choices for beer.
Serves 4
New England Lobster Roll
INGREDIENTS:
Four lobsters, 1-1/4 pounds each

1/4-1/3 cup mayonnaise

1/4 cup finely diced celery

1 tbsp fresh lemon juice

1 tbsp chopped chives, plus more for garnish if desired

Salt

Freshly ground black pepper

Pinch of cayenne pepper

4 top-split hot dog buns

Butter
DIRECTIONS:
Prepare an ice-water bath. In a large pot of boiling, heavily salted water, cook the lobsters until they turn bright red, about 8-10 minutes. Remove lobsters from pot and plunge into ice-water until well chilled, then drain.
Twist off the lobster tails and claws and remove the meat. Remove and discard the vein that runs the length of each lobster tail. If you want to get all the meat, and you should - remove legs, then using a rolling pin, roll firmly from the tip of the leg toward the end that was once attached to the body. The meat should extrude from the shell as you roll. Cut the lobster meat into half-inch pieces and pat dry. Leave a claw from each whole if you want a little drama on top of each sandwich.
In a large bowl, mix the lobster meat with the mayonnaise, diced celery, lemon juice, and chives until well blended. Season with salt, black pepper, and cayenne.
Heat a large skillet. Spread soft butter on both flat sides of the hot dog rolls and toast over moderate heat until golden brown on both sides. Fill the toasted rolls with lobster salad, sprinkle with chives, and serve immediately.