Main Content Starts Here
Demo Kitchen Recipe: Moroccan-Style Spiced Lamb Chops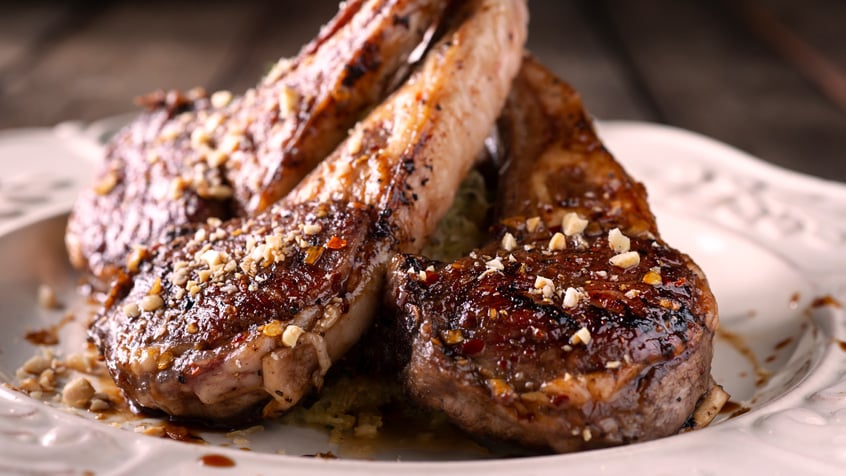 The Moroccan spice in question has a hint of heat but is mostly about warm, aromatic and complex flavors that echo the spice notes inherent in many wines from Ribera del Duero. They can certainly be served as a main course with a charmoula sauce, cous cous and perhaps some roasted vegetables but they also make great appetizers with the bones as built-in handles. Have your butcher french them down to the eye or do it yourself if you are handy with a knife. You can use pre-ground spices but if you want the best flavor, start with whole spices and grind them yourself. These are easy, flavorful and so good with Tempranillo that if you make them once they will quickly rise to the top of your list of go to lamb recipes. Pairs wonderfully with a smokey Scotch Penicillin cocktail, or beer-wise, a spicy Belgian style dubbel like Westmalle Dubbel or Unibroue Maudite. 16 individual appetizer-sized lamb chops.
Moroccan-Style Spiced Lamb Chops
INGREDIENTS:
2 small racks of lamb (8 bones each)

kosher salt

freshly ground black pepper

3 tbsp extra virgin olive oil + more for drizzling (Try a great Spanish oil here made with Arbequina olives.)

3 cloves of garlic, finely chopped

Zest of 1 lemon

1 tbsp ground cumin

1 tbsp ground coriander seed

1 tbsp ground cinnamon

1 tbsp smoked paprika

1/4 tsp cayenne

1/4 tsp ground cloves

2 tbsp roughly torn cilantro and/or mint leaves for garnish
DIRECTIONS:
If the butcher didn't do it for you, slice evenly between the ribs to create 16 individual chops. While not absolutely necessary, if you want the cleanest most attractive chop, french them down to the eye by cutting all meat and fat off of the bone and scraping them clean with a knife.

Season generously with salt and black pepper and let rest while you complete the next steps.

Combine 3 tbsp olive oil, garlic and lemon zest in a large bowl.

In a small bowl, combine cumin, coriander, cinnamon, both paprikas, cayenne and cloves.

Toss the chops in the oil mixture to coat then add the spice mixture and toss to coat. Cover and let marinate in the refrigerator for at least 2-3 hours or overnight.

When ready to cook, bring chops to room temperature then grill over hardwood charcoal (this is preferred), broil or pan sear. Use relatively high heat as you want to develop a nice crust while not overcooking the interior. About 4 minutes on the first side and just two more after flipping. Take them off when internal temp. is 130° for medium rare.

Arrange on a platter, drizzle with olive oil and sprinkle herbs over the top.

These can be served hot but are also good at room temp. making them a great option for parties.