Main Content Starts Here
Big Game Showdown: Lobster Corn Dogs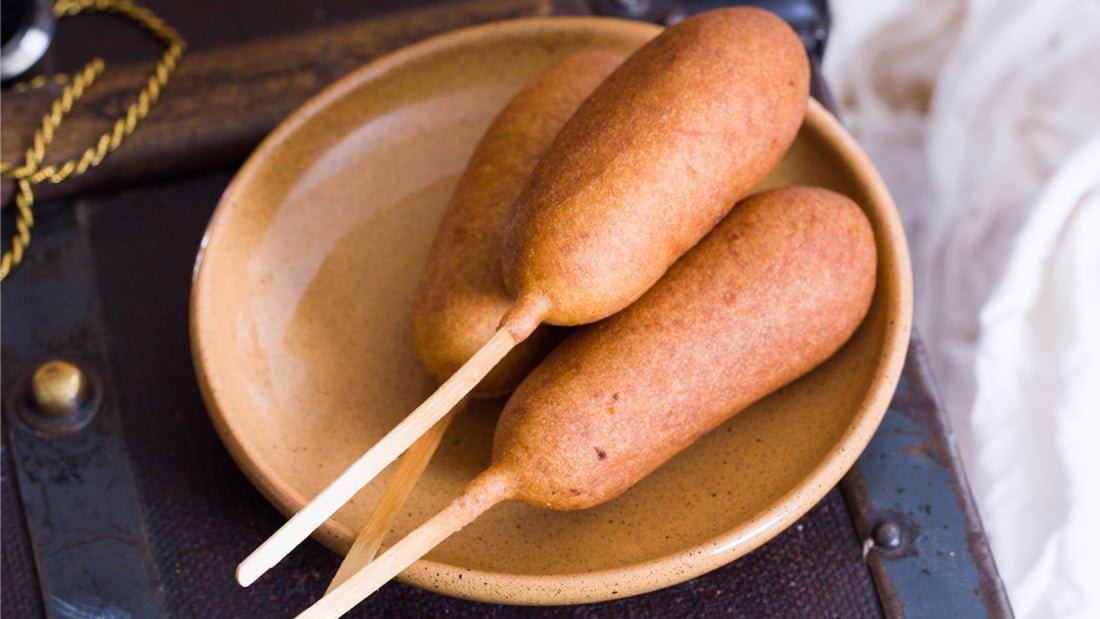 This year's Big Game pits Tampa Bay and their OG superstar quarterback, against the dynamic youngster from Kansas City. This match up deserves an equally exciting duel in the realm of game day food.
The Demo Kitchen has flipped the script by going with the old school K.C. classic, BBQ, to represent Kansas City and a thrillingly complex lobster corn dog to carry the Tampa flag. K.C. BBQ is an obvious choice but coming up with an iconic Tampa dish was more difficult. So, we built one from the ground up bringing a decidedly Florida, Latin American and Caribbean influence to this modern dish.
We knew it had to be seafood, so we started by replacing the hot dog with lobster tail in the great American corn dog (shout out to Cozy Dog and our customers in Springfield). We then developed a Cuban inflected slaw with bursts of tropical fruit to pay homage to the southern penchant for topping hot dogs with coleslaw (this ain't no Chicago dog). Lastly, we needed a condiment. Should it have mustard in it? No, we decided a citrusy avocado crema (alligator pear, Florida!) would work nicely, and does it ever. Voilà, a modern classic.
You're welcome Tampa! But oh, that KC BBQ...
Tampa's Cigar City provides several good beer pairings for this complex lobster corn dog. Try Fancy Papers hazy IPA, Guayabera Pale Ale or even Florida Cracker white ale. A classic Mojito is a great cocktail choice. When it comes to wine try tropically fruited Chardonnay or Sauvignon Blanc from California.
TAMPA BAY LOBSTER CORN DOGS
(serves 8)


INGREDIENTS:
oil for frying
1 cup yellow corn meal
1 cup all-purpose flour
1 tsp. kosher salt
1-1/2 tsp. baking powder
1/2 tsp. baking soda
1/4 tsp. ground cumin
1/4 tsp. cayenne pepper
2 tbsp. finely grated onion
1-1/2 cup buttermilk
1 egg (lightly beaten)
2 tbsp. honey
4 lobster tails, 6 oz. each (feel free to sub in U-10 Gulf shrimp)
8 bamboo skewers or popsicle sticks
DIRECTIONS:
Heat oil in deep fat fryer or large pot to 350°F.
Whisk together dry ingredients.
Whisk together wet ingredients.
Stir wet ingredients into dry ingredients until just combined. Don't overmix, batter should be slightly lumpy. Let rest 5-10 minutes while you prep the lobster.
Remove lobster meat from shells. Slice each tail in half lengthwise to create 8 hot dog shaped pieces. Season lightly with salt. Insert skewer down the center of each piece 2/3 of the way through.
Dip lobster in the batter covering the meat entirely, transfer to hot oil and fry 4-5 minutes until golden brown.
MOJO MANGO COLESLAW


INGREDIENTS:
1 cup mayonnaise
3 tbsp. honey
3 tbsp. orange juice
2 tbsp. lime juice
1 tsp. orange zest
1 tsp. lime zest
2 tbsp. chopped cilantro
1 clove garlic, finely chopped
1 small habanero pepper seeds removed, finely diced
Kosher salt, to taste
6 cups shredded green cabbage
2 green onions white and green, thinly sliced
1-1/2 cup diced mango
DIRECTIONS:
Whisk together first 10 ingredients to make the dressing.
Combine cabbage, green onion, and mango.
Gently fold in dressing into slaw. This is plenty of dressing. If you prefer it lightly dressed feel free to use your own judgement on how much dressing you want to use.
Refrigerate for half an hour or until ready to serve.
Adjust seasoning with salt, if necessary, prior to serving.
AVOCADO CREMA


INGREDIENTS:
1 Hass avocado, pitted and scooped from skin
1/2 cup crème fraiche or Mexican crema
1 clove garlic
2 tbsp. lime juice
1 tsp. lime zest
1 tbsp. chopped tarragon (or cilantro if you prefer)
1/2 tsp. Kosher salt
Pinch of white pepper
DIRECTIONS:
Place all ingredients in a food processor with blade attachment.
Puree until smooth. The crema should be easily squirtable from a squeeze bottle. If it is too thick add a little milk to create desired consistency. Taste and adjust seasoning with salt if necessary.
PLATING:
You can put this out on your game day buffet: Lobster dogs on a platter, coleslaw in a bowl and crema in a bowl or squirt bottle. You can also build individual plates by laying a lobster dog over a bed of coleslaw and squeezing squiggles of crema over the dog. Garnish with a few cilantro leaves.