Main Content Starts Here
Demo Kitchen Recipe: Kentucky Hot Brown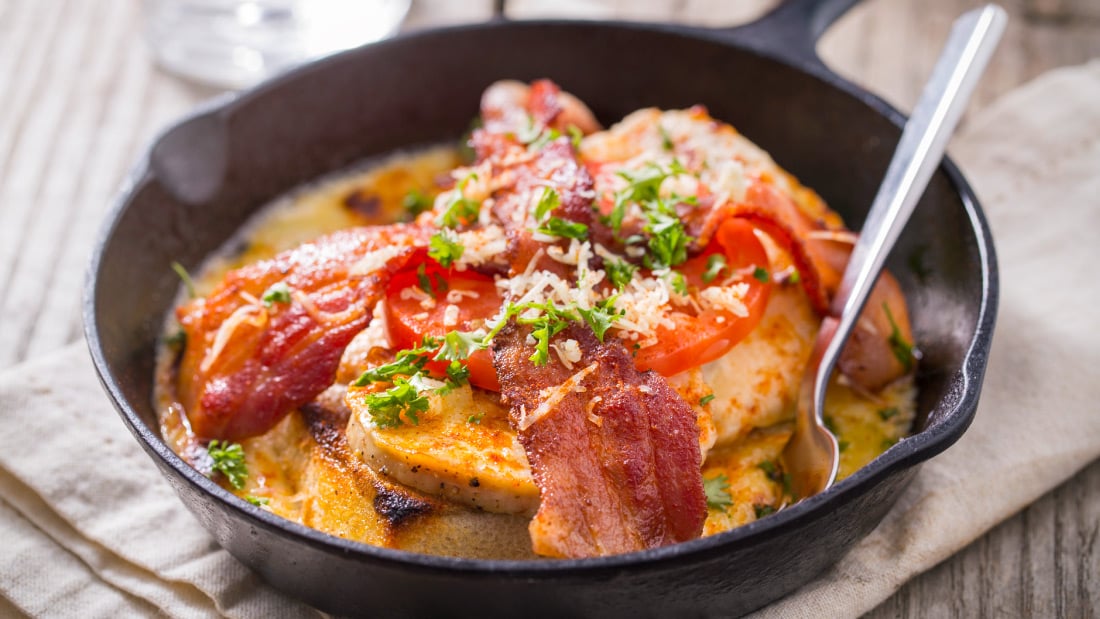 The Kentucky Hot Brown has been a Louisville tradition since its introduction to the Brown Hotel's menu nearly 100 years ago. It has also been a Demo Kitchen Derby Day must for years. This open faced, broiled turkey sandwich is smothered in rich mornay sauce and topped with smokey bacon making it sinfully delicious but placing it firmly in the once a year treat category. Once you taste it you may start bargaining with yourself, asking questions like – Would once a week, okay no, once a month be so bad? The Demo Kitchen suggests willpower, so when Derby Day rolls around it will always taste especially good. "Eaters up!"
Serves 4
Pair with crisp but full White Burgundy or reds with bright acidity like Pinot Noir or even a smokey Syrah.
Kentucky Hot Brown
INGREDIENTS:
Sauce
1 stick butter

6 tbsp flour

3 cups milk

1/2 cup heavy cream

1 egg, lightly beaten

1-1/2 cups grated Gruyere

1/4 cup grated Parmigiano-Reggiano, plus more for topping

Salt

White pepper
Sandwich
8 slices of white toast, crust removed, cut in half to make triangles

1 pound of sliced, roasted turkey breast

8 large slices ripe red tomato, 1/2" thick

8 slices thick cut hickory smoked bacon, cooked

2 tbsp finely sliced chives
DIRECTIONS:
Make the sauce - Melt butter in a saucepan over medium heat. Whisk in flour to make a thick roux, cook 1 minute. Whisk in milk and cream, bring to a boil whisking constantly until sauce thickens. Remove from heat, add both cheeses and whisk until melted. Whisk in egg to thicken further. Season to taste with salt and white pepper.
Heat broiler. Build four sandwiches on a sheet pan by shingling four toast triangles, top with a quarter of the turkey and two slices of tomato. Ladle a generous amount of sauce over each to completely cover. Sprinkle with Parmesan and place under the broiler until sauce is hot, bubbling and speckled with brown.
Remove from broiler and transfer each sandwich to a plate using a large sturdy metal spatula. Cross 2 slices of bacon over the top, and sprinkle with chives. Serve immediately.