Main Content Starts Here
Demo Kitchen Recipe: Herbed Goat Cheese and Tomato Tart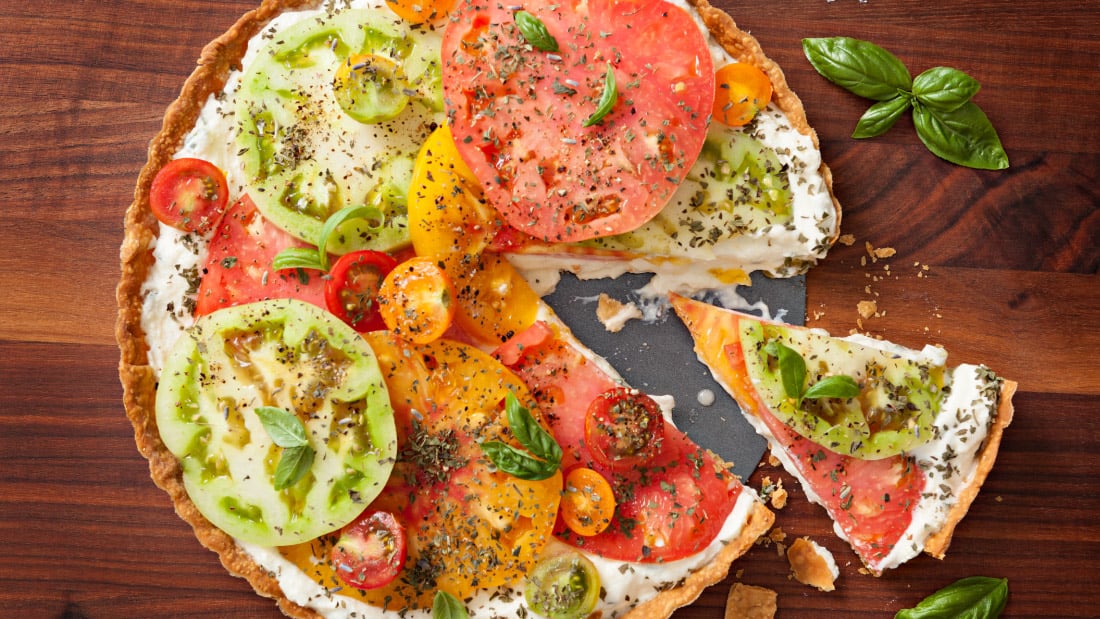 The Demo Kitchen is overloaded with sweet, juicy garden-fresh heirloom tomatoes and aromatic herbs, and we honestly can't get enough. A great tomato is truly one of life's special pleasures and a stark reminder that tomatoes are actually fruit, not hard flavorless vegetables. Lucious, sweet, savory, and tangy fruit that cannot be replicated under hothouse conditions, no matter what anyone says. Therefore, tomato season must be lived, loved, relished; in fact, if you haven't had a BLT this summer, stop reading this and rectify that immediately. Seriously! (Or perhaps you would prefer a nice MLT; mutton, lettuce, and tomato sandwich when the mutton is nice and lean and the tomatoes ripe, they're so perky. I love that.)
Anyway, we have been playing around with all kinds of tomato recipes, including the cheese and mayo laden southern classic, tomato pie. It's great but today we decided to throw together a goat cheese and tomato tart with ingredients we had on hand and must say we are pretty pleased with what we pulled out of the oven. It's almost like we know what we're doing.
Serve a slice with a lightly dressed green salad and you have a perfect summer lunch, best enjoyed al fresco. Complete the scene with a bottle of Sauvignon Blanc, crisp Rosé or even a Sparkling Vouvray Brut. If red is your thing, lightly chilled Cab Franc or Beaujolais are the way to go.
Serves 6.


Crust
INGREDIENTS:
1-1/4 cups all-purpose flour

1/2 tsp. salt

1/2 cup unsalted butter (high fat European style is best), very cold and cut into cubes

3-4 tbsp ice water
DIRECTIONS:
Preheat oven to 400°F.
In a food processor fitted with the metal blade, pulse together the flour and salt. Add butter and pulse until the mixture forms pea-size pieces. Slowly add ice water, 1 tablespoon at a time, and pulse until the dough just comes together. It should be moist, but not wet.
Turn dough out onto a lightly floured surface and gather into a ball. Form into a disk. Wrap tightly with plastic wrap and refrigerate for at least 1 hour.
On a lightly floured surface, roll out dough to 1/8" thickness. Transfer to a 9" metal tart pan with removable bottom. Use rolling pin to cut dough against the edge of the pan. Dock with a fork.
Line dough with parchment paper or foil and fill with pie weights or dried beans.
Bake about 15 minutes, remove foil and weights, dock with fork again. Continue baking 10 minutes until set and lightly golden. Cool.


Filling
INGREDIENTS:
8 oz. fresh goat cheese, softened

4 oz. cream cheese, softened

1 egg yolk

1 clove garlic, finely chopped

1/3 cup chiffonade of fresh basil
1 tsp. fresh thyme leaves
1 tsp. chopped fresh rosemary
1/4 tsp. salt
1/4 tsp. black pepper
1-1/2 lbs. ripe heirloom tomatoes, sliced 1/4 inch thick
DIRECTIONS:
In the bowl of a stand mixer fitted with a paddle, combine goat and cream cheese. Whip on medium until light and fluffy. Add yolk and mix well.
Add garlic, basil, thyme, rosemary, salt and pepper. Mix to combine.
Using a rubber scrapper transfer mixture to the prebaked crust. Spread to create an even layer.
Top with tomato slices, overlapping as you go. If you have multicolored tomatoes create a design if desired but random is nice too.
Season tomatoes with salt and pepper.
Bake in 400°F oven for 40 minutes.