Main Content Starts Here
Demo Kitchen Recipe: Grilled Wild Salmon with Chipotle Rhubarb BBQ Sauce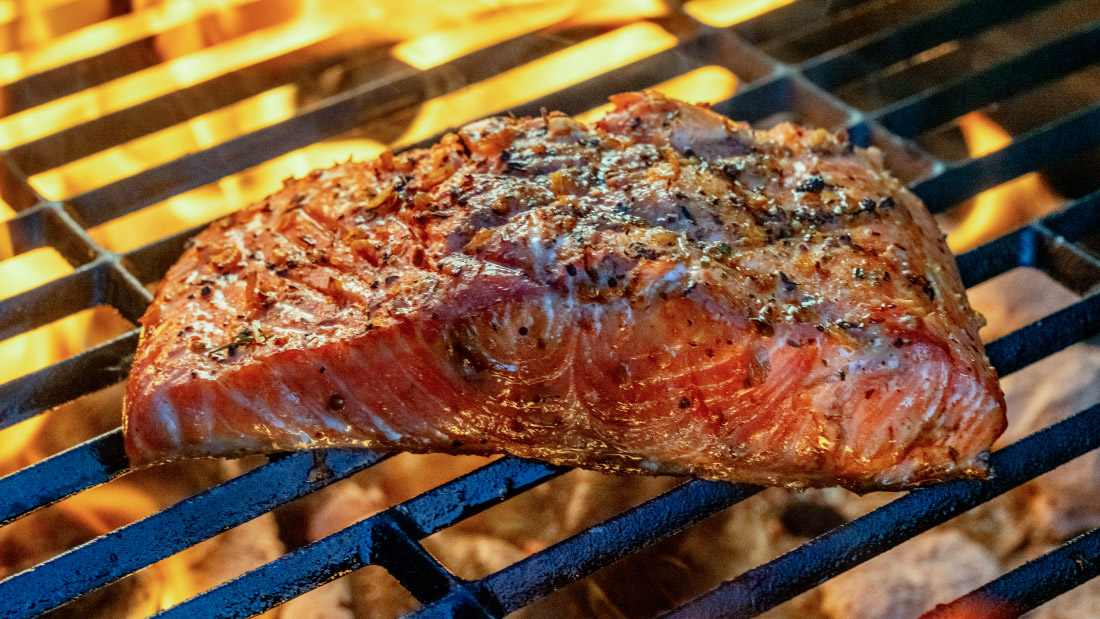 The demo kitchen is always excited when salmon season in the Pacific Northwest begins. There is nothing like the rich, flavorful flesh of wild salmon and there are several species to choose from. For this recipe we usually go for the deeply colored Sockeye variety, but we would also highly recommend King. It's up to you, just make sure it's high-quality wild Pacific salmon.
It also happens to be rhubarb season, another springtime ingredient we always look forward to. Rhubarb is, of course, great in sweet baked goods but it can also shine in savory preparations that benefit from an acidic zing. To that end we have put together a tangy rhubarb-based BBQ sauce that plays incredibly well with full flavored grilled salmon. The sauce is easy to prepare and can be made a day or two ahead so all you have left on the day of service is a short time on the grill. You can also choose your own adventure when it comes to the chipotle spice. Just a little adobo sauce will do for those who like it subtle and up to a few peppers for those who love aggressive spice.
This delicious, seasonal dish is perfect for a Memorial Day weekend cookout. If you are grilling a few different things, as is so often the case, don't limit the sauce to salmon. It is also amazing brushed on a grilled pork tenderloin or chicken and is a fantastic condiment for burgers, even of the faux-meat variety. Polish sausage can be a revelation when brushed with this slightly sweet, tangy and spicy sauce and served with caramelized onions.
Pair with Willamette Valley Pinot Noir or Pinot Gris. Traditional Pale Ales or malty Bocks work incredibly well too, if you prefer beer.
BBQ Sauce
INGREDIENTS:
2 tbsp. butter

1 small onion, diced

2 cloves garlic, chopped

2 cups sliced rhubarb

1/4 cup Pinot Noir or water

1/2 cup ketchup

2 tbsp. cider vinegar

1 tbsp. Worcestershire sauce

3 tbsp. brown sugar

1 tbsp. molasses

1 chipotle pepper in adobo

1/2 tsp. dry mustard

1/2 tsp. cumin

1/4 tsp. allspice

1/4 tsp. ground ginger

Kosher salt, to taste
DIRECTIONS:
In a saucepan, melt butter and sweat onion over medium low heat, stirring occasionally, until soft and translucent. Add garlic cook, stirring, for one minute.
Add all remaining ingredients, stir well. Raise heat and bring to a boil. Reduce to a simmer. Simmer 15 minutes, stirring occasionally, until rhubarb is very tender.
Purée using an immersion blender (or transfer to a blender or food processor) until smooth. Continue to simmer until desired consistency is achieved. If you think it's too thick, add a little water. Season with salt if needed.
Salmon
INGREDIENTS:
6 wild Pacific salmon filets (6 oz. ea.)

Salt

Black pepper, freshly ground

BBQ sauce
DIRECTIONS:
Prepare a grill for direct heat cooking preferably with natural hardwood charcoal or preheat gas grill.
Season salmon with salt and pepper.
Coat salmon with bbq sauce and place on grill skin side down. Cook covered until skin crisps and sauce starts to caramelize. Baste with more sauce occasionally. Flip and continue cooking and basting until internal temperature reaches 145°F. Serve with remaining sauce.