Main Content Starts Here
Demo Kitchen Recipe: Grilled Swordfish with Tomato-Olive Relish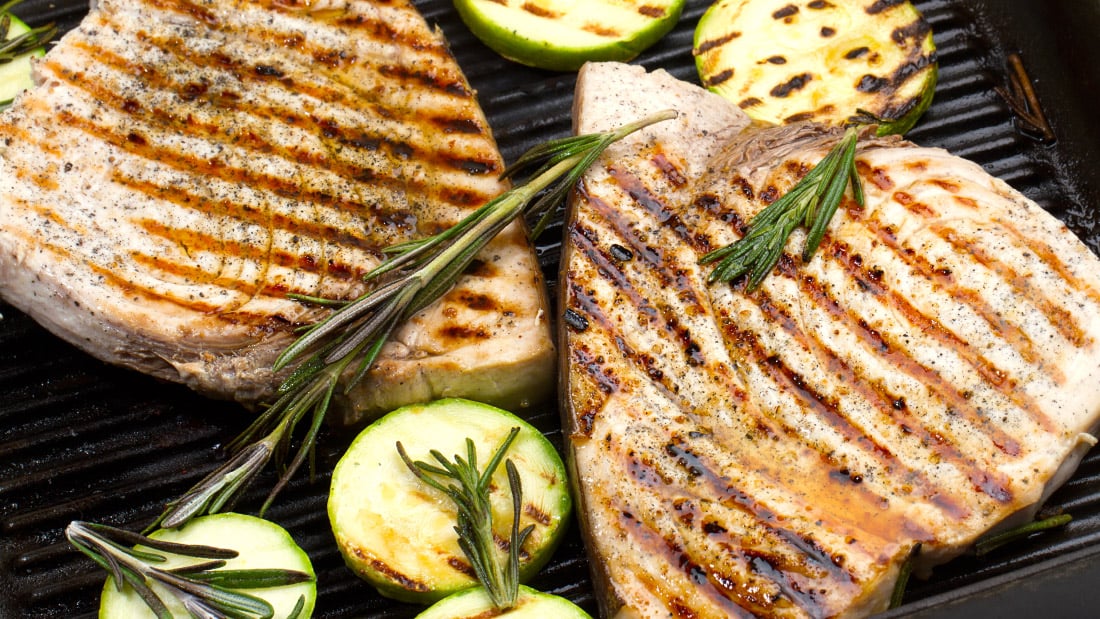 Here is a really simple dish to add to your midsummer grilling repertoire that takes no time and packs in loads of seasonal flavor. Firm, meaty swordfish is grilled over charcoal and smokey rosemary sprigs then dressed up with an explosively flavorful relish of garden-fresh tomatoes and olives.
The success of this dish absolutely hinges on using the finest, juiciest, ripest tomatoes you can get your hands on, so go out of your way to get the best. Don't bother using an average tomato. We recommend waiting until you can get to the farmer's market or harvest some homegrown beefsteaks or heirlooms.
Use a light hand with the salt in the relish since there are some salty components already. Be sure to revisit the seasoning before serving after the flavors have had time to integrate. Tomatoes love salt and it might need just a little more.
This is a quintessential dish to serve with a chilled Rosé. Go for something from Provence, particularly Bandol. Spanish Rueda, Italian Vermentino or Verdicchio are also fantastic choices.
Tomato-Olive Relish
INGREDIENTS:
1/8 cup Sherry vinegar

1 tsp. Dijon mustard

1 tsp. anchovy paste

1/3 cup extra virgin olive oil

2 tbsp. minced shallot

1 clove garlic, minced

1 tsp. fresh orange zest

1 tsp. chopped fresh rosemary

1/2 tsp. chopped fresh thyme

Pinch of cayenne pepper

2 ripe tomatoes diced, preferably homegrown or farmer's market
Kosher salt
1/2 cup pitted Kalamata or Niçoise olives, sliced
2 tbsp. chopped flat leaf parsley
1 tbsp. capers, rinsed
DIRECTIONS:
Whisk together vinegar, mustard, and anchovy paste. Slowly drizzle in olive oil while whisking vigorously to form an emulsion.
Whisk in shallot, garlic, orange zest, rosemary, thyme, and cayenne pepper.
Add tomatoes, salt lightly and stir into dressing.
Stir in olives, parsley, and capers.
Set aside at room temperature while making the fish.
Grilled Swordfish
INGREDIENTS:
1/4 cup extra virgin olive oil

1 tbsp. sherry vinegar

1 tbsp. fresh orange juice

2 cloves of garlic, crushed with the side of a knife

2 tsp. Kosher salt

1 tsp. freshly ground black pepper

6 swordfish steaks, 1" thick and 6-8 oz. each
DIRECTIONS:
In a large shallow pan whisk together olive oil, vinegar, orange juice, garlic, salt, and pepper.
Add swordfish in a single layer. Turn to coat in marinade. Marinate at room temperature covered, about 30 minutes, while you start a medium-hot hardwood charcoal fire for direct heat.
Remove from marinade and grill about 5 minutes per side until cooked through. Drop a rosemary sprig or two through the grates directly onto the coals if you want to add an aromatic herbal smokiness.
Serve topped with tomato-olive relish.