Main Content Starts Here
Demo Kitchen Recipe: Grilled Mahi-Mahi with Late Summer Succotash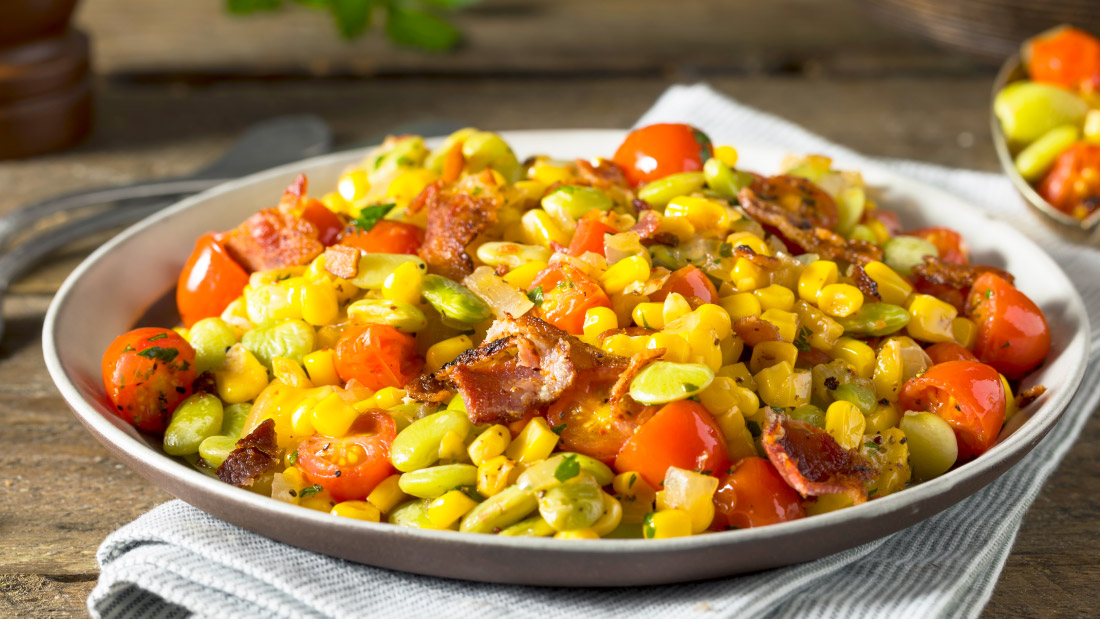 (skip to recipe)

Another summer is meandering its way toward autumn's dwindling daylight, crisp clear evenings, and groaning tables of comforting comestibles. Some say, with the passing of Labor Day, that it is already over. We say that we have yet to reach the Autumnal Equinox and as long as the weather holds, and late summer gardens hang heavy, laden with summer delights, summer persists.
It was with that in mind that the Demo Kitchen set out to create one last homage to that beloved season. A medley of sweet, tangy, earthy, and herbal. A bright and vibrant mélange of freshly picked vegetables that also foreshadows some of the comforting richness to come. A late summer night's dream, before we pass the Puck to fall. A paean to lost time, without a madeleine in sight. A persistent memory to tide us over until summer's eventual return, the melting clocks already ticking. In a word, succotash.
The word and the dish are indigenous in origin; a well-remembered tradition from a regrettably lost language. Both have morphed over time since the Narragansett people, of what is now Rhode Island, passed them on to English colonists, but what remains is still rooted in the native produce of the Americas. A simple stew of corn and beans, embellished with any number of fresh veggies and herbs, it is not only a reminder of summer but of America's deeply rooted foodways. Of things lovingly preserved and of things long lost.
We top this smokey, sweet and texturally pleasing succotash with grilled filets of mahi-mahi, aka dolphin or dorado. It is a firm but flakey fleshed fish that puts an exclamation point on the summery feel of this dish, but succotash can just as easily be teamed up with scallops, shrimp, chicken or even a steak.
Pull the cork on a richly textured but lively New World Chardonnay or perhaps an oak aged White Bordeaux for a stunning pairing. We also found it to be fantastic with Three Floyds' Crom's Beard or a fruity German Hefe Weizen.
Succotash
INGREDIENTS:
2 cups fresh shell beans (lima or butter beans)

4 slices of bacon

1/2 cup diced onion

1 clove garlic chopped

1/2 cup diced red pepper

1-1/2 cups fresh corn kernels (2 ears)

1/2 cup chicken stock

2 tbsp. butter

3/4 cup halved cherry tomatoes

1/4 cup fresh tarragon

Salt

Freshly ground black pepper
DIRECTIONS:
Add beans to a saucepan, add water to cover. Bring to a boil, reduce to simmer, and cook until beans are just tender. About 10-15 minutes. Drain and set aside.
Meanwhile cook bacon starting in a cold cast iron skillet or sauté pan until crisp. Remove bacon to paper towel, crumble and set aside.
In the same pan with a tablespoon of the rendered bacon fat over medium heat, sauté onion, garlic, and red pepper until tender. About 3 minutes. Add corn and sauté another 2 minutes.
Add cooked beans, and chicken stock. Simmer 1 –2 minutes. Add butter stirring until melted.
Remove from heat, stir in crumbled bacon, cherry tomatoes, and tarragon. Season with salt and pepper to taste. Serve immediately.

Mahi-Mahi
INGREDIENTS:
4 skinless filets of mahi-mahi, 6 oz. each

Olive oil

Kosher salt

Freshly ground black pepper
DIRECTIONS:
Brush filets with olive oil and season with salt and pepper.
Grill over medium-hot fire until just cooked through, about 5-6 minutes per side.
PLATING:
Divide succotash between four plates, top each with a filet and garnish with sprigs of tarragon and a wedge of lemon or lime.