Main Content Starts Here
Demo Kitchen Recipe: Grilled Beef Tenderloin Kebobs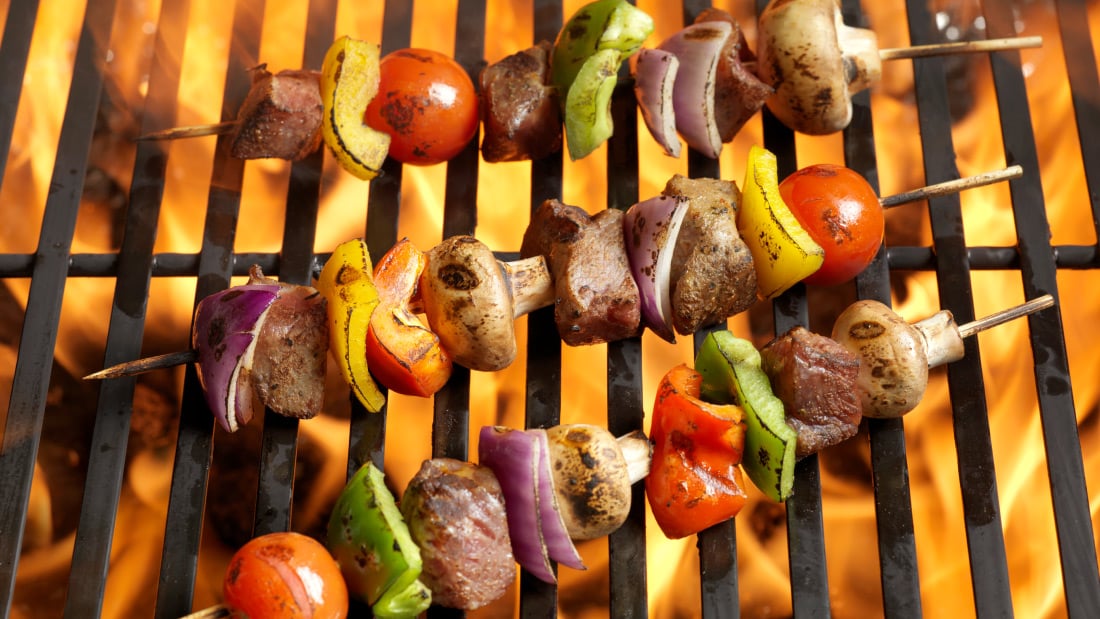 It is officially time to fire up the grill if you haven't already. There isn't too much to say about this easy and satisfying recipe for the summer grilling season other than people will love the tender, marinated chunks of beef and crisp summer vegetables. The same marinade can be used for veggie kebobs, just eliminate the meat and up the veg. A higher proportion of mushrooms can fill in for beef or you could even marinate chunks of firm Tofu. Replace the Worcestershire with more soy sauce and suddenly you have delicious vegetarian and vegan friendly kebobs.
Our favorite wine pairing is a robust and slightly herbaceous Chilean Carménère but Chilean Cab or Merlot will do the trick almost as well. A traditional American IPA, like Bell's Two Hearted, is also an excellent choice, for its herbal, resinous hop character and malty supporting body.
Grilled Beef Tenderloin Kebobs
INGREDIENTS:
2-1/4 pounds beef tenderloin, cut into 36 cubes (approx. 1" and 1 oz ea.)

1/2 cup olive oil

1/3 cup soy sauce

3 tbsp. Worcestershire sauce

4 cloves garlic, minced

2 tbsp. chopped fresh rosemary

1 tbsp. fresh thyme

2 tsp. coarsely ground fresh black pepper

12 button mushrooms

1 large red onion, cut into 1" pieces

2 large red bell peppers, cut into 1-1/2" pieces

2 large green bell peppers, cut into 1-1/2" pieces

2 zucchinis, cut into 1" pieces

12 cherry tomatoes

12 bamboo skewers, 12"
DIRECTIONS:
Whisk together wine, oil, soy sauce, Worcestershire, garlic, rosemary, thyme, and black pepper. Add cubed beef and marinade to a large Ziplock bag and marinate refrigerated for at least 1/2 hour. Meanwhile, soak bamboo skewers in water.
Remove meat from bag, reserve marinade. Build kebobs starting with a mushroom. Alternate 3 pieces of meat per skewer with both colors of pepper, onion and zucchini followed by a cherry tomato at the tip.
Place skewers in a shallow pan and pour marinade over the top and marinate refrigerated for at least 1/2 hour. This recipe can be done up to this point a day ahead.
Remove skewers from fridge 1/2 hour before grilling. Meanwhile, build a medium hot fire for direct heat, preferably with natural hardwood charcoal or preheat a gas grill. Wipe the grate with a vegetable oil dipped paper towel.
Grill kebobs 10-12 minutes, turning halfway through until desired temperature is reached.