Main Content Starts Here
Big Game Showdown: Grill Smoked Beef Brisket & KC BBQ Sauce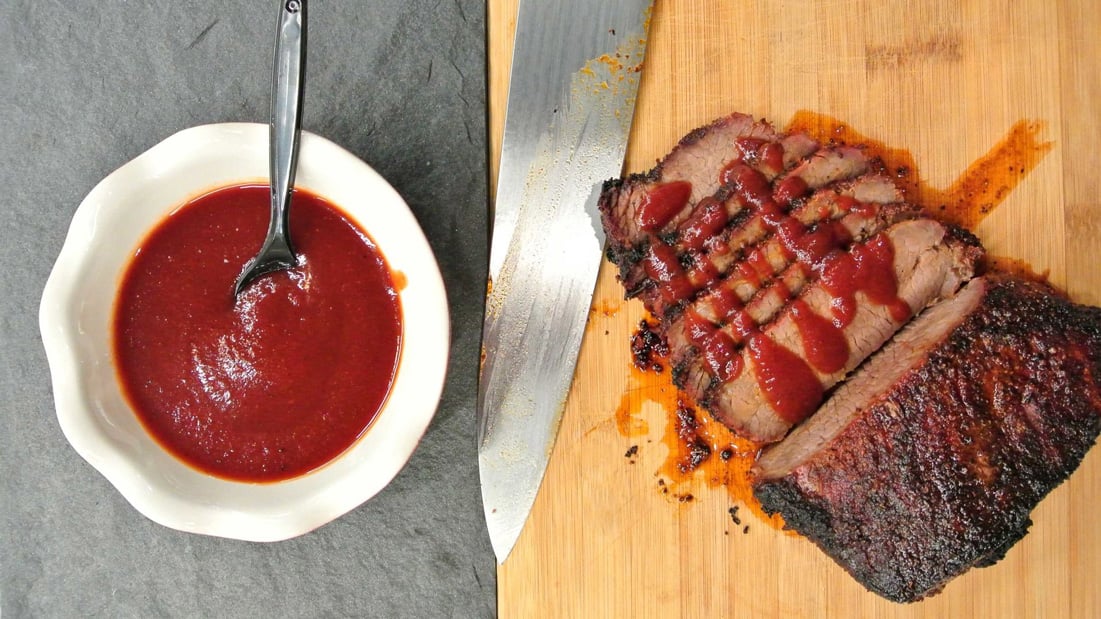 This year's Big Game pits Tampa Bay and their OG superstar quarterback, against the dynamic youngster from Kansas City. This match up deserves an equally exciting duel in the realm of game day food.
The Demo Kitchen has flipped the script by going with the old school K.C. classic, BBQ, to represent Kansas City and a thrillingly complex lobster corn dog to carry the Tampa flag.
The key to smoky nirvana is to keep the following in mind: Good Things Come to Those Who Wait! Seasoning the night before gives the cut enough time to absorb the seasoning. Permitting the brisket to come to room temperature encourages a more even smoking. And the indirect heat involved in smoking itself renders the collagen woven within the cut, transforming what was rough and tough into the tender and luxuriant wonder that meat lovers crave.
Try this meltingly tender and smokey brisket with KC's beloved Boulevard beers, a Bourbon highball or Dark and Stormy. For wine go with fruit forward reds made with Grenache or Zinfandel.
GRILL SMOKED BEEF BRISKET


INGREDIENTS:
1/4 cup light brown sugar
2 tbsp Old Bay seasoning
2 tbsp smoked paprika
2 tbsp. kosher salt
2 tbsp. black pepper
4lb boneless beef brisket
1 cup pecan woodchips
DIRECTIONS:
In a medium mixing bowl, whisk together the brown sugar, old bay, paprika, salt, and pepper. Rub the brisket with the spice mixture and let rest, covered, in the fridge overnight. Let the brisket sit at room temperature for 1 hour prior to starting to cook.
Preheat your grill by turning on half of the burners to medium heat (we are going to cook the brisket on the part of the grill that isn't on.) If using a charcoal grill you will spread the coals under only half of the grill grate.
Place the wood chips in a shallow metal pan. Put the brisket into a separate shallow pan with a roasting rack to keep it elevated.
Put the woodchip pan on the hot side of the grill and the brisket on the "cold" side. Let the meat smoke for approximately 4 hours or until the internal temperature is about 200°F. Let rest for 30 to 45 minutes before serving.
KANSAS CITY STYLE BBQ SAUCE


INGREDIENTS:
2 cup water
1 cup light corn syrup
1-3/4 cup tomato paste
1 cup apple cider vinegar
1/2 cup brown sugar
1 tbsp worcestershire sauce
2 tsp hickory liquid smoke
5 tsp smoked paprika
3 tsp kosher salt
3 tsp black pepper
2 tsp onion powder
2 tsp garlic powder
DIRECTIONS:
Whisk all the ingredients together over high heat in a medium saucepan until smooth.
Bring mixture to a boil then reduce heat and simmer for 30-45 minutes, stirring often.
Let cool at room temperature and then refrigerate until needed.