Main Content Starts Here
Demo Kitchen Recipe: Grand Marnier Strawberry Shortcake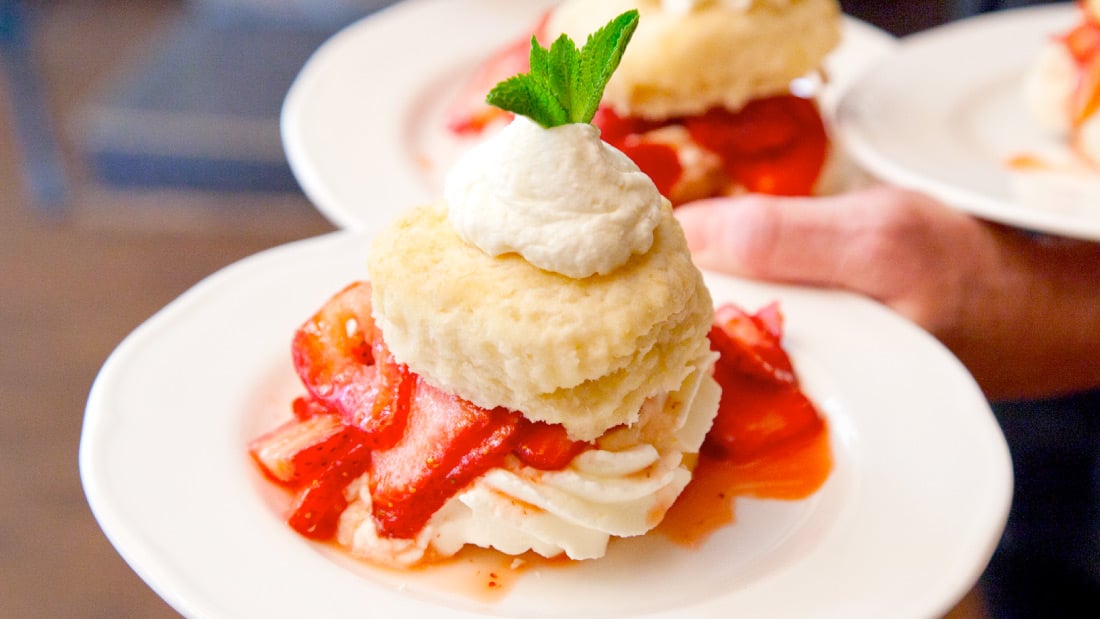 You may be asking yourself, "What is shortcake anyway?". In baking, fats are often referred to as shortening. Recipes with a very high ratio of fat to dry ingredients are considered short, as is the case with ultra-buttery shortbread. Shortcake itself is essentially synonymous with high butter content recipes like scones or classic American baking powder or buttermilk biscuits (some like to add egg for richness and texture). In fact, the Demo Kitchen usually uses its favorite biscuit recipe (perhaps with a little extra sugar) for shortcake.
Biscuits are quick and easy to make for the practiced hand, but they require the finicky step of cutting solid butter into the dry ingredients. There is nothing difficult about it, but many seem to balk at simple recipes that require it, like homemade pie crust. With that in mind we opted for a cream biscuit for this recipe that is still buttery and perfectly tender but bypasses the fussy steps. You will be amazed at how easy it is to get expert results.
We also take the macerated strawberries to the next level with the addition of the Cognac based orange liqueur, Grand Marnier. Lastly, dollops of vanilla scented Chantilly cream gild this sweet little lily and make this rustic classic the perfect summer dessert for your cookouts.
Take advantage while strawberries are in season but keep this recipe handy for other fruits too. When stone fruits start rolling into farmer's markets we transition to peach or nectarine shortcake with only trifling laments for the end of another strawberry harvest. You can even do blueberry.
Rosé Fizz is amazing with shortcake, as long as you moderate the sugar in the berries, as it echoes the red berry fruit and biscuity qualities inherent in the dessert. Late harvest wines made from Riesling or Chenin Blanc are magical with sweeter strawberry versions, while young Sauternes is perfect with peach.
Serves 8
Strawberries Macerated in Grand Marnier
INGREDIENTS:
1 quart perfectly ripe strawberries, hulled and sliced (if in Chicago area, Michigan berries from a farmer's market preferred)

Sugar to taste (highly dependent on the sweetness of the berries and personal taste, about a 1/4 - 1/2 cup is a good place to start)

2 - 4 tbsp. Grand Marnier (to taste)

1 tbsp orange zest (plus more for garnish)

Pinch of kosher salt
DIRECTIONS:
Gently fold all ingredients together in a large bowl. Be conservative with sugar and Grand Marnier so you don't overshoot your desired flavor profile. If you feel you have made it too sweet add a little lemon juice for balance.
Let macerate at room temperature for at least 30 minutes.
Cream Biscuits
INGREDIENTS:
2 cups AP flour (or 1 cup AP and 1 cup cake flour for an even more tender shortcake)

1 tbsp. baking powder

1 tbsp. sugar

1 tsp. salt

1 – 1-1/2 cups heavy cream

5 tbsp. melted butter
DIRECTIONS:
Preheat oven to 425°F
Stir together flour, baking powder, sugar and salt in a large bowl.
Using a fork, slowly stir in cream (starting with about a cup). The dough should come together into a soft, tender ball. If it seems dry and shaggy add more cream. You should be able to knead and roll the dough when it is properly hydrated.
Knead briefly on a lightly flowered surface, then pat or roll into a square about 1/2" thick.
Trim a tiny bit from all four edges, this will allow the biscuits to rise properly in the oven. Cut into 8 squares, cutting straight down without sawing.
Dip each biscuit in melted butter to coat all sides and place on an ungreased baking sheet a couple inches apart. Sprinkle with a little sugar, if desired.
Bake for about 15 minutes or until lightly browned.
Chantilly Cream
INGREDIENTS:
1-1/2 cups heavy cream

3 tbsp. powdered sugar

1-1/2 tsp. vanilla extract
DIRECTIONS:
Using a chilled bowl and whisk attachment to an electric mixer, whip cream until it starts to thicken.
Add sugar and vanilla and whip just until soft peaks form.
ASSEMBLY:
To make a strawberry shortcake- Split a shortcake horizontally down the middle and place on a plate. Scoop strawberries and plenty of juice onto the bottom half and top with a dollop of cream. Replace the shortcake top, add another dollop of cream (and more berries, if you like) and garnish with orange zest, mint sprig and a little powdered sugar, if desired. If you have a picnic buffet it can be fun to lay out the constituent parts and let people build their own shortcakes.