Main Content Starts Here
Demo Kitchen Recipe: Fried Green Tomatoes with Corn Relish and Remoulade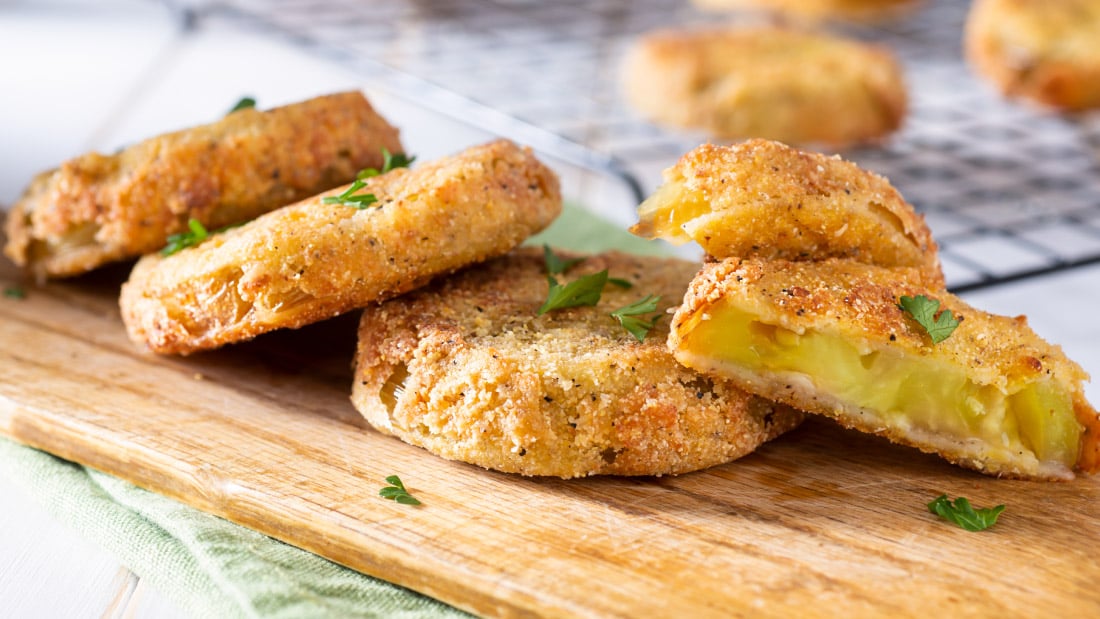 The Demo Kitchen has eaten fried green tomatoes across the southern United States, and we love them. One thing we noticed, however, was that even the best examples often fell just a little short of our ideal. The problem? Many southern cooks seem to skip seasoning the tomato itself, relying on salt in the crunchy crust to do the trick. The result is, all too often, a tangy but somewhat bland tomato, albeit in a delicious cornmeal crust.
We thought we could do better, and if you can believe it, all it takes is a little salt and pepper applied directly to the tomato slices to take this dish from good to great.
We didn't stop there, though. We teamed these improved FGTs with a creamy remoulade and a fresh corn relish that takes advantage of the summer's bounty. By dressing the relish with balsamic vinegar and adding a little Parmigiano-Reggiano to the breading we created a kind of Charleston by way of Emilia-Romagna dish.
We didn't feel too bad about that because this is a killer first course and Charleston cuisine is already an amazing melting pot of African, Indigenous and European influences with amazing contributions from Low-Country, Gullah traditions. If that doesn't mean anything to you, you have some catching up to do when it comes to southern food ways. Take your first step with this recipe. It could easily serve as a gateway drug to the great cuisines of the South.
One last thing, although it is traditional to fry the tomatoes with some bacon fat, you can use straight vegetable oil if you want to keep it vegetarian. If you don't, definitely use a little bacon fat. Once you have broken that barrier, a few large poached shrimps on the plate would be fun and take it from an appetizer to a meal. You could even add little shrimp to the corn relish, but this dish already rocks, as is!
Serve this with anything fresh and bright from Spanish Albariño to Pouilly-Fumé to Pinot Blanc and, of course everyone's summer standby, Rosé. The tang of a Sour Beer or a traditional Berliner Weiss will match the acidity in green tomatoes or go for a Lager that displays herbaceous and earthy noble hop notes to match the underripe and herbal character of the dish. Oh, and be sure to save room for a post prandial Madeira.
Serves 4

Remoulade
INGREDIENTS:
1/2 cup mayonnaise (use Duke's for authenticity)

1 tbsp. grainy mustard (Creole)

1 tbsp. ketchup

1/4 cup. finely chopped green onions, green only

1 tbsp. finely chopped fresh parsley leaves

1 tbsp. finely chopped celery

1 clove garlic, chopped

1/2 tsp. paprika

1/2 tsp. tsp hot sauce

Salt and freshly ground black pepper to taste
DIRECTIONS:
Stir together all ingredients.
Cover and refrigerate until ready to use.

Corn Relish
INGREDIENTS:
2 ears of fresh sweet corn

2 large very ripe red tomatoes, 1/4 inch dice

2 tbsp. finely chopped chives

2 tbsp. finely sliced basil (chiffonade)

2 tbsp. balsamic vinegar

2 tbsp. extra virgin olive oil

Salt and freshly ground black pepper to taste
DIRECTIONS:
Remove husk and silk from corn. Strip the cobs of kernels with a sharp knife.
Combine corn with remaining ingredients, stir well. Set aside at room temperature until ready to use.

Fried Green Tomatoes
INGREDIENTS:
3 large green tomatoes (preferably juicy and not rock hard), sliced 1/2 inch thick to yield at least 12 slices

3/4 cup AP flour

3/4 cup stoneground yellow cornmeal

1/4 cup grated Parmesan cheese

3/4 tsp. salt

1/2 cup buttermilk

A few dashes of hot sauce

1/2 cup canola or peanut oil (plus some bacon drippings if desired)
DIRECTIONS:
Season tomato slices on both sides with salt and pepper. Set aside.
In a pie plate combine flour, cornmeal, Parmesan, salt and pepper.
Combine buttermilk and hot sauce in a shallow bowl.
Dip tomato slices in buttermilk mixture, then dredge in cornmeal mixture coating all sides. Let rest while heating oil.
In a large cast iron skillet over medium high, heat enough oil for shallow frying. Add bacon drippings, if using.
When the oil is hot, fry tomatoes in batches until golden brown and crispy, about a minute a side. Remove from pan with a slotted spatula to a paper towel lined plate to drain. Add oil as needed for subsequent batches.
PLATING:
There is a lot of color, so anything you do is going to look pretty. Just be sure to plate immediately so the tomatoes stay hot and crisp. Here's how we usually do it.
Stack three FGTs in the middle of a plate. Encircle tomatoes with 3 evenly spaced, alternating dollops of remoulade and relish for a total of six. Using a vegetable peeler, shave a few pieces of Parmesan over the top and garnish with a sprig of basil.
Or you can lay down a bed of corn relish and arrange FGTs artfully on top. Put the remoulade in a squirt bottle (make sure the tip isn't too narrow or you'll run into trouble with celery chunks), squeeze a squiggly pattern over the tomatoes and garnish as above.