Main Content Starts Here
Demo Kitchen Recipe: Flank Steak Salad with Red Zinfandel Vinaigrette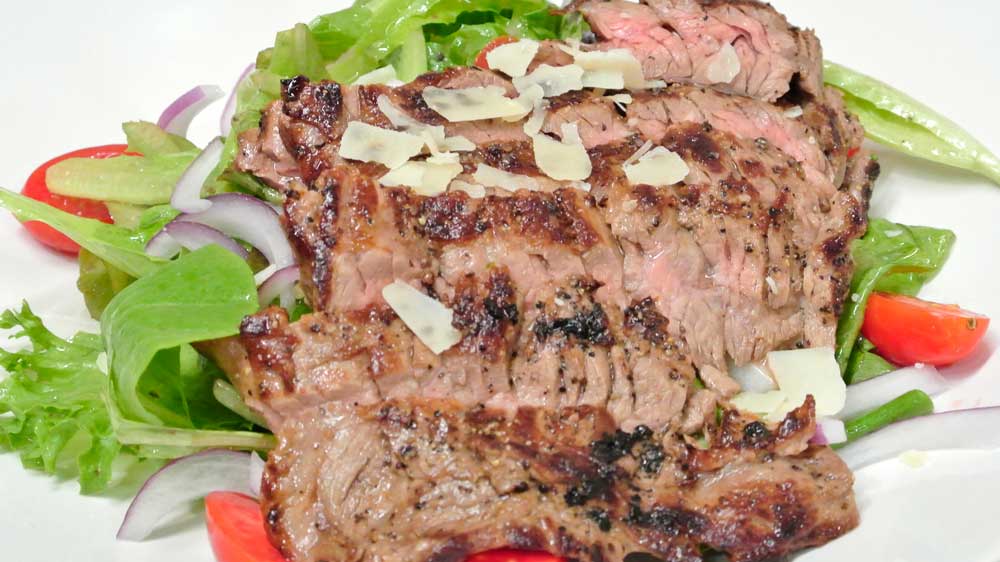 The Flank Steak Salad is definitely a hearty meal, and a delightfully simple one to prepare. Just bear in mind that salting is essential to the recipe. Salting and seasoning the steak 30 minutes prior to grilling ensures that the meat absorbs the flavorful seasoning and remains juicy when served. And salting the vinaigrette intensifies the fruit notes of the red zin as well as softens the tangy cut of the dressing. What's more, the salt in the vinaigrette dials down bitter notes, in turn enhancing the mild and crunchy savor of the baby greens.
Take these pro-tips to heart when grilling the flank steak. Retain some of the flavorful fat to melt into the muscle fibers. Grill over moderate-to-high heat until it has deep char marks on both sides (120°F internally). Do NOT fight the food as you are flipping it. The steak should come off easily. Rest the meat for a few minutes afterwards. The meat's muscle fibers are tight, and will squeeze out the juice should you cut it before resting it. Slice thinly against the grain to form very short pieces of muscle fiber. Doing so ensures a more tender texture.
What wine to enjoy with this salad? A Red Zinfandel of course, such as the Clark & Sheffield Red Zin, or any fruit driven red such as a Cotes-du-Rhone or a Spanish Grenache.
Red Zinfandel Vinaigrette
INGREDIENTS:
1 Medium Shallot, sliced

1/2 c Red Wine Vinegar

1/4 c Zinfandel

2 Tbsp Dijon

2 tsp Dried Oregano

Salt and Pepper to taste

1 ½ cups of cherry tomatoes, halved
DIRECTIONS:
In a food processor combine the shallot, zin, vinegar, and dijon.

With the food processor still running slowly drizzle in the oil. Be careful not to add the oil too quickly so the dressing doesn't break.

Remove the dressing from the food processor and whisk in the oregano, salt, and pepper. Set aside as you prepare the flank steak.
Grilled Flank Steak
INGREDIENTS:
1 - 12 oz Flank Steak

2 Tbsp Extra Virgin Olive Oil

4 sprigs Fresh Oregano, chopped

4 sprigs Fresh Thyme, chopped

2 tsp Dried Oregano

Salt and Pepper to taste
DIRECTIONS:
Preheat your grill to medium-high heat.

Generously rub the flank with olive oil and season with oregano, thyme, salt, and pepper. Let rest at room temperature for 30 minutes.

Grill the flank to your desired doneness (approx. 4-5 minutes per side for medium rare). Remove from the grill and let rest for 5-10 minutes.

Meanwhile, toss the greens and cherry tomatoes with your desired amount of the dressing.

Slice the steak, against the grain, into thin strips.

Plate the tossed salad and layer upon it the sliced flank steak. Serve and enjoy!