Main Content Starts Here
Demo Kitchen Recipe: Easy Valentine's Day Courses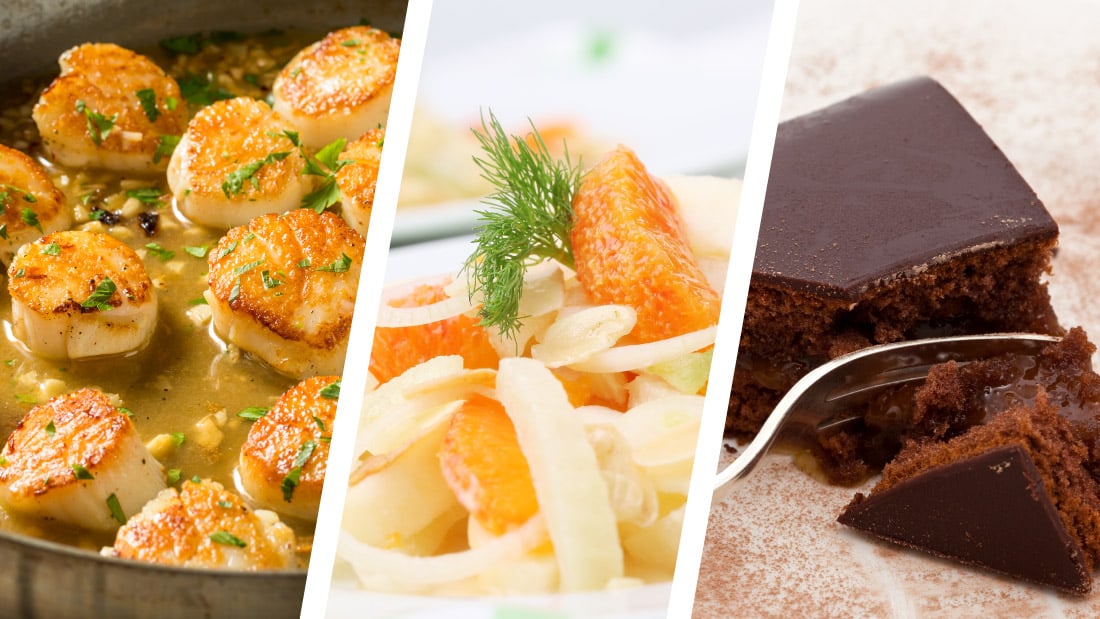 Valentine's Day in Three Easy Courses
The times we live in make it more important than ever that we show those most important to us how much they really mean. Here is an extra simple three course Valentine's dinner for two, designed to bring that fancy restaurant feel home with minimal effort.
Start the day before by making the easy, but oh so rich, Grand Marnier accented flourless chocolate cake. Do just a little early prep the day of your meal and the rest requires such minimal effort that you will be able to keep your focus where it belongs. Feel free to kick things off with oysters on the half-shell or caviar, for added luxury, before you jump into this stress-free meal.
Being the height of the season, you may notice a citrusy theme that unites all of the dishes, along with a colorful pop of red fruits. This makes it easy to span the courses with a citrus and red-fruit-tinged sparkling rosé like the Baron Fuente Rosé Dolores Brut Champagne. If it is beer you want, try Boon Framboise Lambic for a truly special and memorable pairing. Happy Valentine's Day!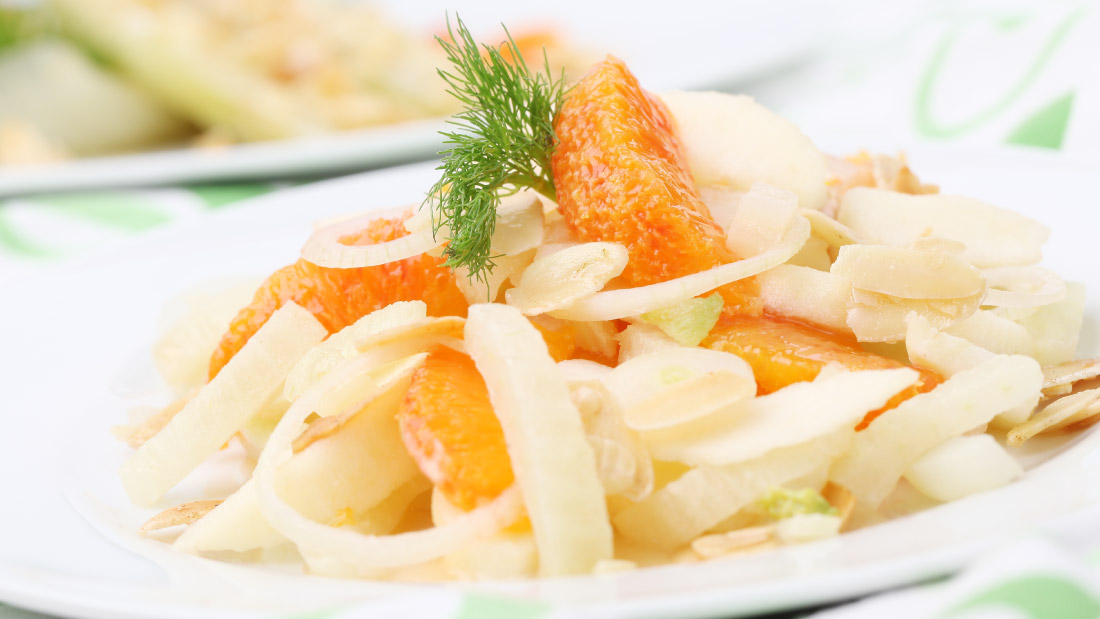 BLOOD ORANGE & FENNEL SALAD


INGREDIENTS:
1 small bulb of fennel
2 blood oranges
1 tbsp. Champagne vinegar
1/4 tsp. Dijon mustard
1 tsp. finely chopped shallot
salt and black pepper, to taste
2 tbsp. extra virgin olive oil
2 tbsp. chopped pistachios
DIRECTIONS:
Trim and slice fennel as thinly as possible, reserving some fronds for garnish.
Zest oranges and reserve zest for the scallop recipe.
Cut both ends off the oranges. Place on cutting board with one cut surface down. Starting at the top, cut away the skin and pith following the curve of the orange. Supreme the oranges (look this technique up if you need to) or slice oranges into 1/4-inch-thick rounds.
In a large bowl whisk together any accumulated juices from trimming the oranges, vinegar, mustard, shallot, salt and pepper. While whisking drizzle in olive oil and whisk until an emulsion is formed.
Add fennel and oranges to the bowl, gently toss. Taste and adjust seasoning with salt and pepper.
Divide between two salad plates, sprinkle with pistachios and garnish with a few fennel fronds.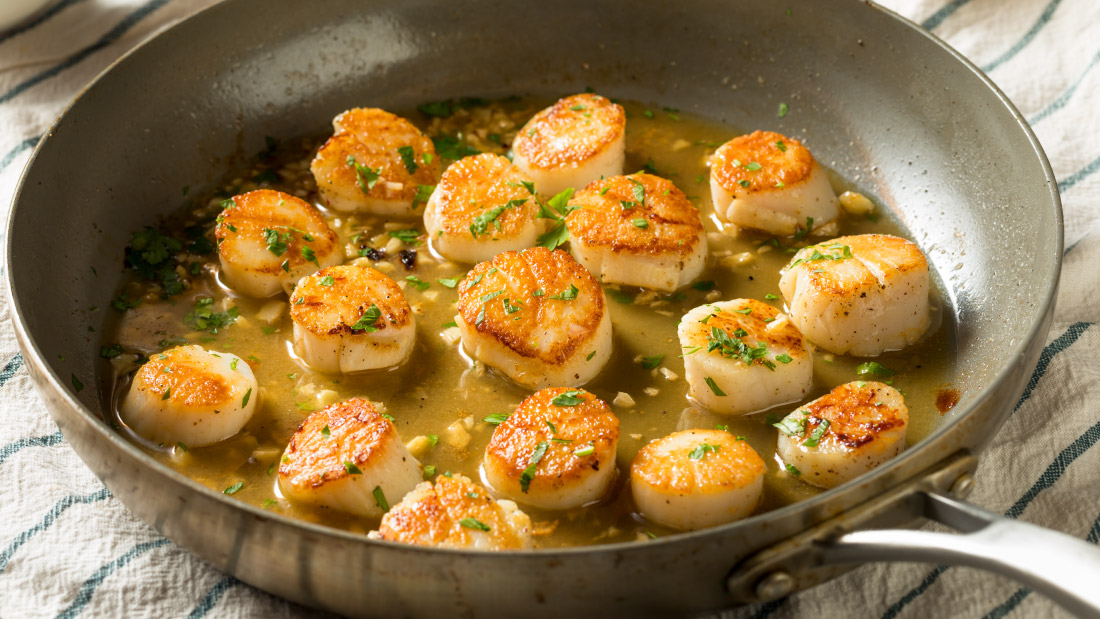 PAN SEARED SCALLOPS WITH CHAMPAGNE SAUCE


INGREDIENTS:
10 large sea scallops (U12 recommended. Be sure to buy dry packed scallops. A good fishmonger can help.)
2 tbsp. clarified butter or 1 tbsp. butter and 1 tbsp. canola oil
Kosher salt and freshly ground black pepper
1/2 cup Champagne or other sparkling wine
1 tbsp. finely chopped shallot
4 tbsp. cold butter
1 tsp. orange zest
2 tsp. chopped fresh tarragon
2 tbsp. pomegranate arils
DIRECTIONS:
Lay scallops out on a towel and pat dry. Very dry scallops are key to proper browning. Remove side muscles if they are still attached. Season with salt and pepper. Meanwhile bring Champagne and shallot to a boil over medium-high heat.
Heat a large heavy skillet over medium-high heat, add clarified butter or butter/oil combo and heat until shimmering and close to smoking. Add scallops to pan, evenly spaced, with plenty of room in between. Sear without moving until deeply browned, about 1 ½ to 2 minutes. Flip and cook another minute or so. They should be deeply browned but still medium rare.
When the Champagne has reduced by half, lower heat to low and stir in butter 1 tbsp. at a time until incorporated. Stir in orange zest and tarragon. Season with salt and pepper and remove from heat. If butter separates from liquid, whisk vigorously to bring it together.
Divide scallops between two plates. Arranging artfully around the plates with space between the scallops. Spoon sauce around the scallops and scatter pomegranate arils around the plates. Serve immediately.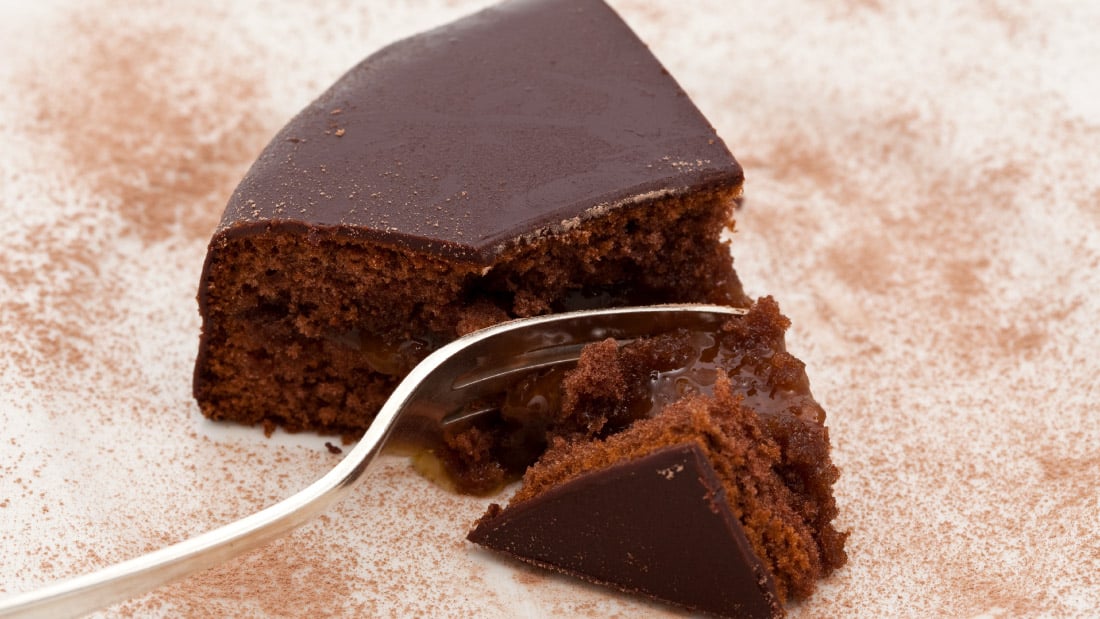 FLOURLESS CHOCOLATE CAKE WITH GRAND MARNIER GANACHE
INGREDIENTS (CAKE):
1 stick (1/2 cup) of unsalted butter
1 cup semisweet chocolate chips
3/4 cups sugar
1/2 tsp. Kosher salt
1 tsp. vanilla extract
3 large eggs
1/2 cup cocoa powder
INGREDIENTS (GRAND MARNIER GANACHE):
1 cup semisweet chocolate chips
1/2 cup heavy cream
3 tbsp. Grand Marnier
Pinch of salt
INGREDIENTS (GARNISH):
Whipped cream
Raspberries
Mint sprigs
DIRECTIONS (CAKE):
Preheat oven to 375°F. Butter or spray a metal 8" round cake pan. Lay a round of parchment paper in the bottom of the pan and grease.
Melt butter and chocolate together over very low heat, stirring frequently. Transfer to a large bowl.
Stir in sugar, vanilla and salt.
Stir in eggs and beat just until smooth.
Add cocoa powder and mix briefly, just to combine.
Pour batter into prepared pan and bake for 25 minutes until a light crust forms on top.
Remove from oven, cool five minutes. Run a knife around the edge of the cake. Place a plate on top of the pan and quickly turn over. The bottom of the cake is now the top. Cool completely. Peel away parchment if it is stuck to the cake.
DIRECTIONS (GANACHE):
Pour chips into a heatproof bowl.
Heat cream to a simmer.
Pour cream over chips, add salt and let rest 5 minutes.
Stir until smooth. All chips should be fully melted, if not stir over very low heat until smooth.
Stir in Grand Marnier. Cool for a few minutes then pour over the top of the cake spreading ganache around allowing some to drip over the sides. Cool completely.
SERVE:
Dip a sharp knife in hot water, wipe dry and make your first cut, repeat to create two slices of cake.
Place slices on dessert plates and garnish with whipped cream, raspberries and mint if desired.