Main Content Starts Here
Demo Kitchen Recipe: Crostini with Tuscan White Bean Purée and Braised Fennel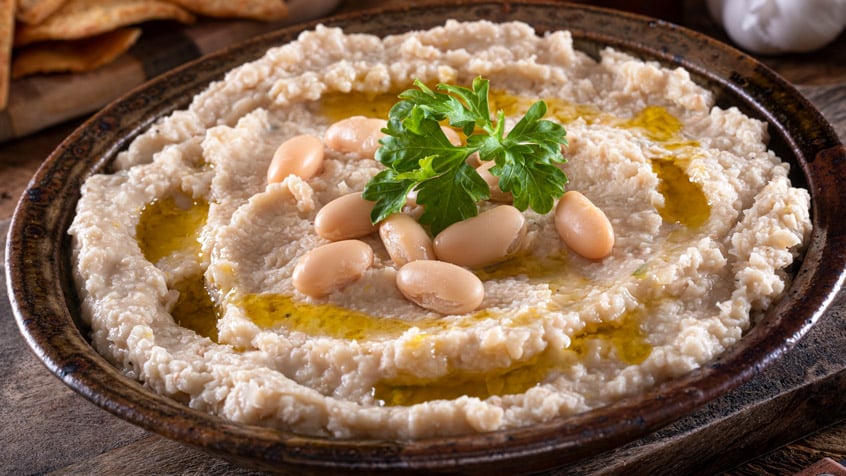 This is a great starter for an Italian feast! This can be served as a build your own crostini buffet with each component in its own serving dish. Just add a fresh tomato and basil topping and you have several combinations to play with. Or build ready to serve crostini by spreading the beans on crostini and topping with the braised fennel. The earthy, umami and herbal flavors accented by bright acidity make this a natural fit for Sangiovese based wines from Tuscany like Bonacchi Chianti Classico Riserva. When it comes to beer, Saison Dupont is absolutely our top choice here.
Crostini
INGREDIENTS:
1 demi baguette sliced 1/4 inch thick

1/3 cup extra virgin olive oil

2 cloves of garlic, sliced
DIRECTIONS:
Preheat oven to 375°F.

Heat olive oil and garlic in a small saucepan over medium-low. Heat just until garlic softens and becomes aromatic. Do not brown.

Lightly brush both sides of the bread slices and arrange on a baking sheet. Season lightly with salt.

Bake until golden brown and crunchy, 10-12 minutes.
Tuscan White Bean Purée
INGREDIENTS:
1 (15-ounce) can white cannellini beans, rinsed and drained

1 garlic clove

1/8 cup fresh lemon juice

1 tsp ground coriander

2 tsp Colatura di Alici (Italian fish sauce), Thai fish sauce or soy sauce

1/4 cup extra-virgin olive oil

Kosher salt
DIRECTIONS:
Pulse the garlic in a food processor until minced.

Scrape the bowl and add the beans, lemon juice, coriander, Colatura and a pinch of salt.

Pulse until smooth, scraping the bowl occasionally. With the machine running, add the olive oil.

Season to taste with salt. Serve in a bowl or spread on a plate, drizzle with more extra virgin olive oil or spread directly on crostini.
Braised Fennel
INGREDIENTS:
1 medium fennel bulb, trimmed, halved lengthwise and cut crosswise into 1/4-inch-thick slices (about 3 cups)
1 medium red onion, halved lengthwise and cut lengthwise into 1/4-inch-thick slices (about 2 cups)

2/3 cup chicken stock

2 tbsp extra-virgin olive oil

1 tsp chopped fresh oregano

1 tbsp red-wine vinegar

Kosher salt and freshly ground pepper
DIRECTIONS:
Heat oil in a sauté pan over medium-high heat. Add fennel and onion; cook, stirring occasionally, until tender and edges are brown, about 10 minutes.

Add stock, chopped oregano, salt and pepper to taste. Cook, stirring occasionally, until liquid has almost completely reduced.

Stir in vinegar. Remove from heat cool to room temperature.