Main Content Starts Here
Demo Kitchen Recipe: Corned Beef Hash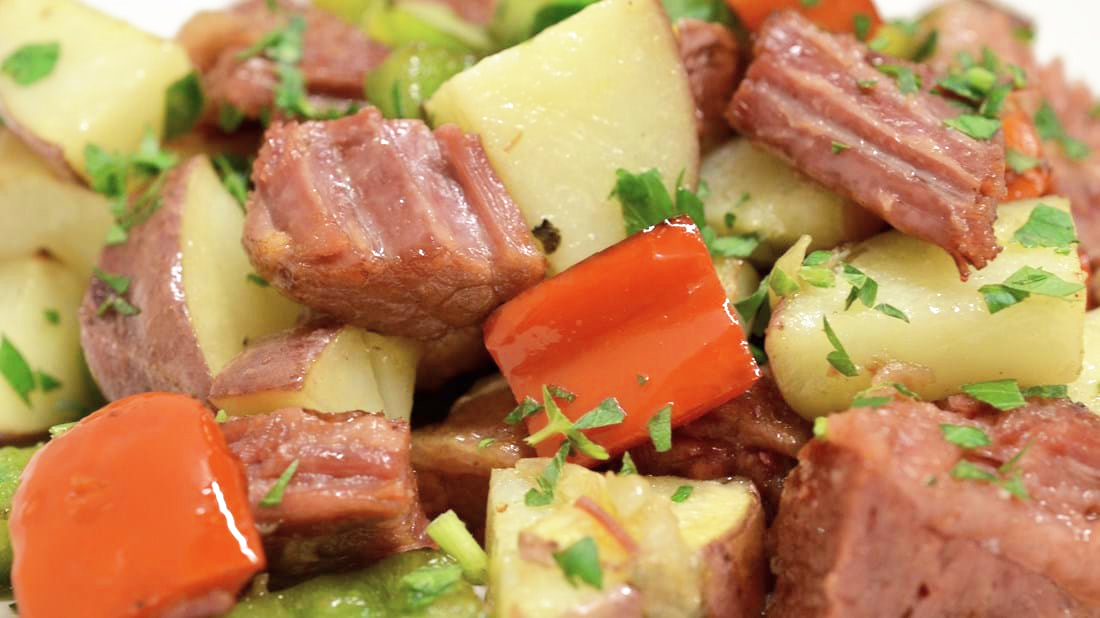 Both crisp and soft, and oh so satisfying, corned beef hash is the PERFECT hangover cure after St. Paddy's Day. Concocted as a cunning means for using leftover meat, hash owes its name to the French word hacher - to chop, the only technique involved in its preparation. Simply chop or dice the ingredients and dump them into the skillet. The key to memorable hash is (after tossing in the roasted potatoes in the skillet) letting the ingredients rest in the skillet as they are sautéing. This ensures that a crispy crust is formed.
Corned Beef Hash
INGREDIENTS:
1 lb red potatoes, large dice

olive oil, as needed

salt and black pepper to taste

2 tbsp unsalted butter

1 yellow onion, diced

1 green bell pepper, diced

1 red bell pepper, diced

3 cloves of garlic, minced

1-1/2 lbs corned beef, diced

chopped parsley for garnish
DIRECTIONS:
Preheat your oven to 400°F. Toss the potatoes with olive oil, salt, and pepper and bake until golden brown and tender (approximately 18 minutes).

In a large skillet over medium-high heat, melt the butter and saute the onions, peppers, and garlic until the onions are translucent and the peppers are soft.

Add the corned beef to the pan and saute until slightly browned.

Toss in the potatoes and saute until hot. Sprinkle with parsley and serve.