Main Content Starts Here
Demo Kitchen Recipe: Corned Beef and Cabbage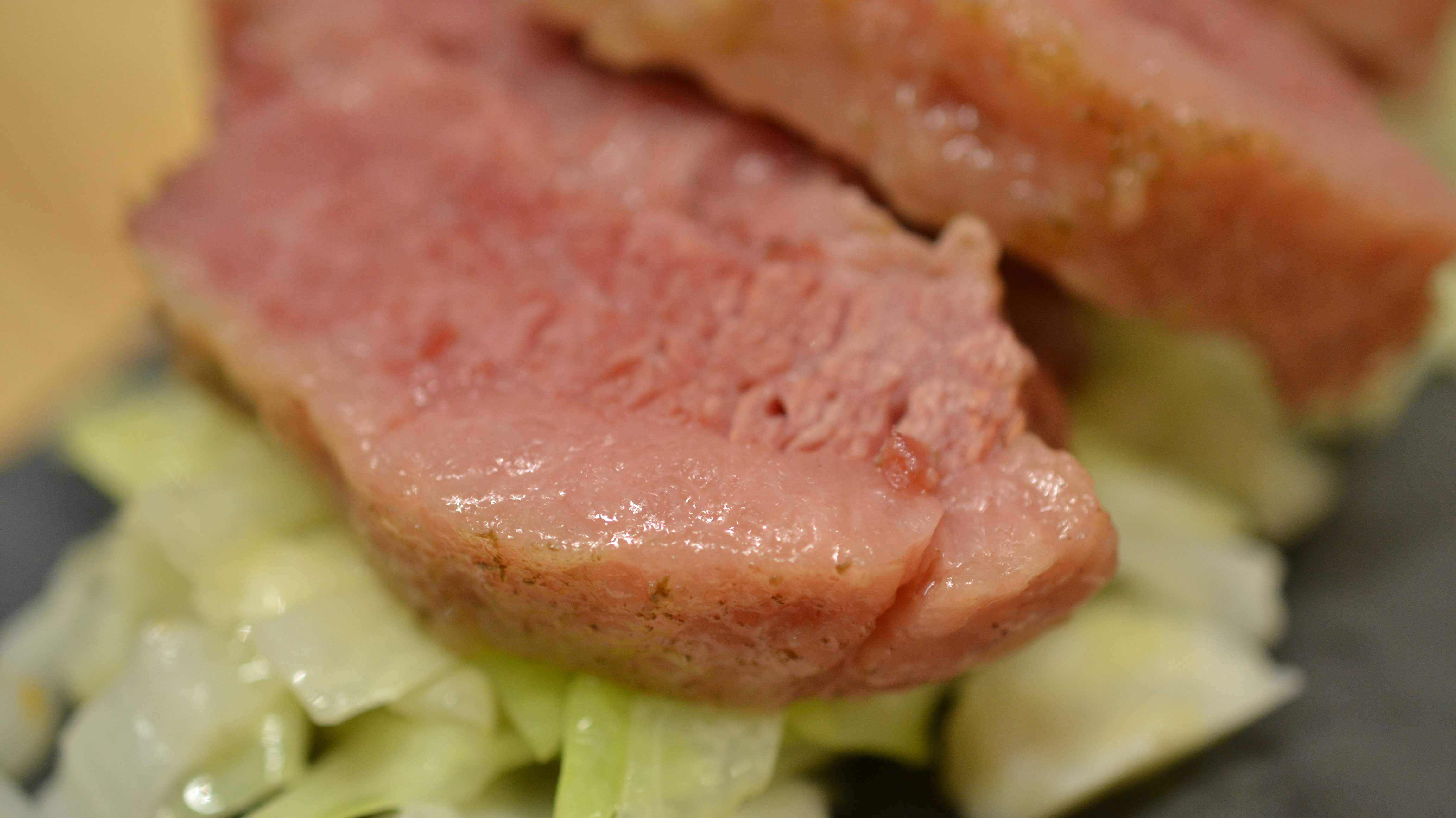 What would St. Paddy's Day be without corned beef and cabbage? Though the Irish certainly enjoy the lion's share of recognition, immigrant Jews of early 20th century New York City also deserve a larger cut of the credit for what we know today as corned beef. The term corned was coined in the 17th century to describe the corn-kernel-sized salt crystals used for curing the beef or pork. The corned beef we enjoy on St. Paddy's Day was first served to Irish immigrants by New York City's Jewish butchers, who by salting and cooking their cuts of beef brisket transformed the tough cut into the tender, flavorful dish we know and love today.
What both versions of corned beef share is an ingredient not mentioned in the recipe below - time. Make sure to prepare your corned beef at least 5 days before you plan to serve it.
Corned Beef and Cabbage
INGREDIENTS:
1 gallon Water

1 lb Kosher Salt

7 oz Brown Sugar

1/2 oz Pink Curing Salt

2 Cinnamon Sticks

1/2 oz Mustard Seeds

1 Tbsp Whole Black Peppercorns

1 Tbsp Whole Black Peppercorns

1 tsp Ginger Powder

1 oz Pickling Spice

4 lbs Ice

10 lbs Brisket

4 Carrots, chopped

6 Celery Stalks, chopped

4 Yellow Onions, chopped

1 Head of Cabbage, chopped
DIRECTIONS:
Combine the first 9 ingredients in a large stock pot and bring up to a boil for 5 minutes.

Turn off the heat and let it steep for 1 hour, do not strain.

Add the ice to the brine and allow it to cool completely as the ice melts.

Submerge the brisket fully in the brine, cover it, and let it sit in the refrigerator for 5-10 days.

Remove the meat from the brine and discard the liquid. Rinse the brisket in cold water to remove any stuck on spices.

In a large stockpot combine the brisket, onion, carrot, and celery then cover completely with water.

Bring the water up to a boil then reduce heat to a simmer. Simmer the meat until it is tender all the way through, approximately 2 hours.

At the end of the 2 hours add the chopped cabbage and coontinue to simmer until the cabbage is just tender. Enjoy with a cold beer!