Main Content Starts Here
Demo Kitchen Recipe: Corn Pudding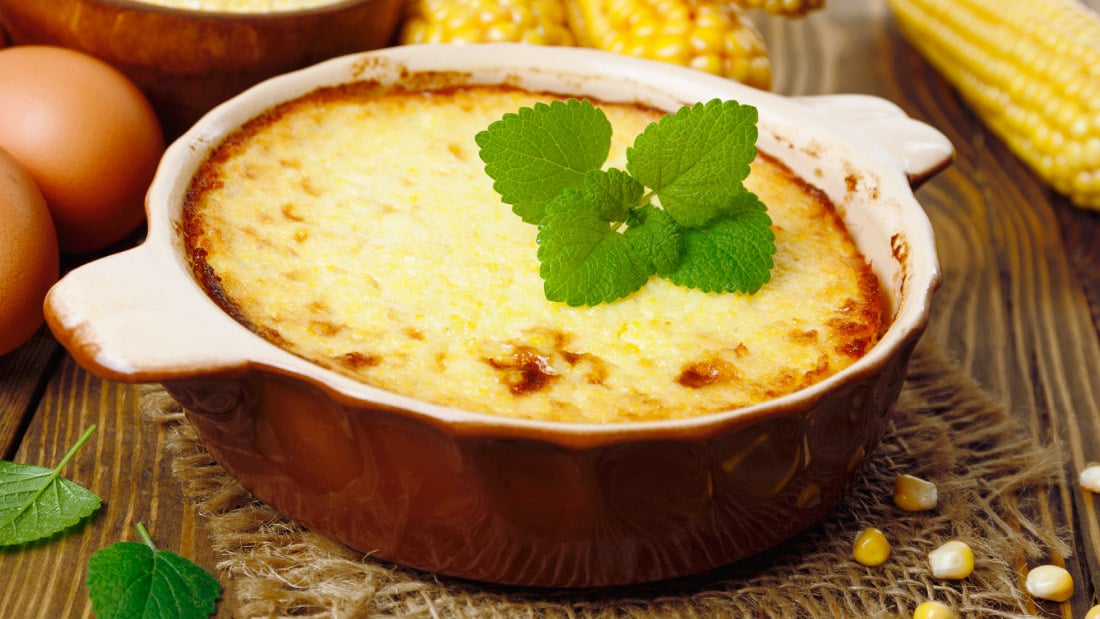 The Demo Kitchen digs corn. In fact, we obsess about it at this time of year. Give us hoe cakes, grits, tamales, spoonbread, johnnycakes, we'll take 'em. But it is, of course, fresh sweet corn that has our attention right now and we like it equally well in salads and relishes, sauteed, creamed, in succotash and corn chowder. We love it all. In fact, you can't really call yourself a Midwesterner if you aren't eating copious quantities of corn on the cob slathered in butter throughout the summer months.
Today's recipe highlights fresh corn in a sweet southern side dish, perfectly suited to accompany anything you may be pulling off the grill. It is also a lesson in sense memory. If you listen to Barrel to Bottle: The Binny's Podcast, you may have heard the gang harping on about sense memory. How having a vast library of reference points for flavor and aroma is a necessity for those of us in the business and curious consumers alike. It allows us to find deeper understanding in the flavor profiles of the incredibly complex beverages we all enjoy. It also provides a shared vocabulary. It does little good to hear that something smells like jackfruit, if you don't know jackfruit. The more fruits, herbs, and spices, etc. that you have stored in your mental database the easier and more precise your associations become when tasting wine, beer and spirits.
More specifically this is an homage to one particular descriptor, corn pudding, that regularly appears in Binny's very own Whiskey Hotline's tasting notes. The precise palates behind the legendary Whiskey Hotline have, no doubt, built mind palaces dedicated to sense memories, and most are relatable. Who hasn't tasted a juicy peach, a ripe cherry or cinnamon? But we started to wonder just how many Whiskey lovers north of the Mason-Dixon line know what corn pudding is, let alone what it tastes or smells like.
So here it is, your chance to add an American classic to your cooking repertoire and build your bank of sense memories at the same time. Not only will you end up with a crowd-pleasing side dish, but you will never taste Bourbon the same way again.
This recipe is a pretty traditional and without embellishment but also lays a foundation for experimentation. Once you try this and set that sense memory in place you can then consider adding onions, cheese and herbs to your hearts content.
Amazing with a ripe California Chardonnay, Bourbon on the rocks or even a Macro Lager with corn in the mash.
Serves 4 as a side.


Corn Pudding
INGREDIENTS:
4 large ears of corn, husk and silk removed (2 cups of kernels)

2 large eggs

1/2 cup heavy cream

1/4 cup whole milk

2 tbsp. sugar

2 tbsp. softened butter

1 tbsp. AP flour

1 tsp. baking powder
1/2 tsp. salt
DIRECTIONS:
Preheat oven to 350°F.
Butter 1-1/2 qt. baking dish.
Using a chef's knife or box grater, remove corn kernels from the cobs.
Blend corn kernels with all other ingredients in a food processor until almost smooth.
Pour batter into buttered dish.
Bake until browned and center is just set, about 45 minutes.
Let rest for 10 minutes before serving.