Main Content Starts Here
Demo Kitchen Recipe: Coconut & Banana Cream Pie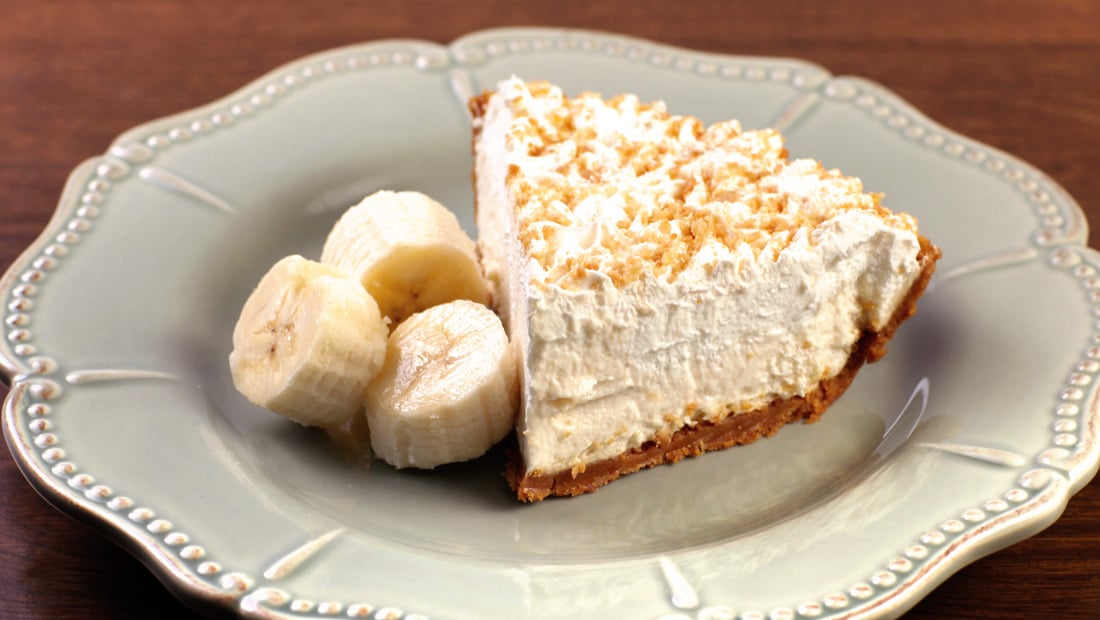 2 π r > 1
Coconut and Banana Cream Pie with Banana Liqueur Flavored Ganache and Chocolate Wafer Crust
Don't be square(d)! Get hip to the new math. There is only one correct answer to this equation: Two pies are always better than one. We submit as proof positive this mashup of two classic cream pies. We round it all out with plenty of chocolate to make the sum exponentially greater than its parts.
3.14, pi(e) day, is swiftly approaching and the demo kitchens culinary radius is considerable, so all manner of pies, sweet and savory are well within our sphere. Although almost any fruit is available year-round now the demo kitchen still prefers to pack most of its fruit pie baking into the warmer months starting with strawberry rhubarb in the spring and moving through the season following the fruit until we hit apples in the fall.
Since 3.14 falls at a lean time for seasonal fruit in the Northern Hemisphere we reached into our bag of tricks and pulled out an incredibly delicious recipe that relies on ingredients that are readily available anytime of the year. We first developed this recipe decades ago for an indecisive VIP who loved both coconut and banana cream pie (and chocolate, obviously). The solution was clear, and the result was so magical we wondered why no one had done it before. We still haven't run across what seems to be a logical 1 + 1 = 3 kind of recipe, but we don't really believe it doesn't exist. So, if you have ever seen a pie like this before, don't tell us. We would rather revel in sweet ignorant bliss. Plus, it still makes that VIP feel extra special every time we make it.
CHOCOLATE WAFER CRUST


INGREDIENTS:
1-1/2 cups finely crushed chocolate wafers (we use Nabisco, they have coconut in them!)
2 tbsp. sugar
6 tbsp. melted butter
DIRECTIONS:
Combine ingredients thoroughly in a bowl and turn out into a 9" pie plate.
Spread crumbs around evenly and firmly press onto bottom and sides of plate to form an even crust.
Refrigerate for at least an hour to firm up.
FIRST LAYER: CHOCOLATE-BANANA GANACHE & BANANAS


INGREDIENTS:
DIRECTIONS:
Pour chips into a heatproof bowl.
In a small saucepan heat cream to a bare simmer. Pour cream over chips and let sit 5 minutes then stir vigorously until smooth.
Stir in liqueur and let cool while you prep the bananas.
Peel and slice bananas 1/2" thick.
Place banana slices in a single layer as snuggly as possible in pie pan on top of crust.
Pour ganache evenly over bananas, chill while you make the custard.
SECOND LAYER: COCONUT CUSTARD FILLING


INGREDIENTS:
1 cup sugar
1/2 cup AP flour
1/4 tsp. salt
3 cups whole milk
4 large eggs
3 tbsp. butter
2 tsp. vanilla extract
1-1/4 cups flaked coconut
DIRECTIONS:
In a saucepan or double boiler, combine sugar, flour, and salt.
Gradually stir in milk to combine.
Cook over medium heat (or boiling water if using double boiler) stirring until thickened and bubbly. Lower heat and cook, stirring, two more minutes. Be careful not to scorch it (if you aren't confident, use the double boiler). Remove from heat.
Separate egg yolks from whites being careful not to break the yolks. (The whites can be used to make a meringue or saved for another purpose. Our VIP likes whipped cream so that's the path we will take.)
In a medium bowl, lightly whisk yolks then begin tempering by slowly drizzling hot mixture into yolks while continuously whisking. Once you have incorporated about 1/3 of mixture return it all to the saucepan and cook, whisking for another two minutes.
Remove from heat and stir in butter, vanilla and coconut.
Pour into pie shell over ganache and bananas.
Refrigerate until custard is set.
TOPPING


INGREDIENTS:
1/2 cup flaked coconut
1 cup heavy cream
1 tbsp. sugar
1tsp. vanilla extract
DIRECTIONS:
Spread coconut evenly on a baking sheet.
Bake in preheated 350°F oven for about 10 minutes until golden brown. Stir a few times throughout to ensure even browning. Cool completely.
Whip cream, sugar and vanilla together until soft peaks form.
Top chilled pie with a thick layer of whipped cream then sprinkle with toasted coconut.
Serve immediately.

Try not to lose your mind.
Experience infinite joy.
Warning: May cause delirium and the inability to calculate pi past two digits.