Main Content Starts Here
Demo Kitchen Recipe: Cicchetti of Shrimp bathed in Lemon & Olive Oil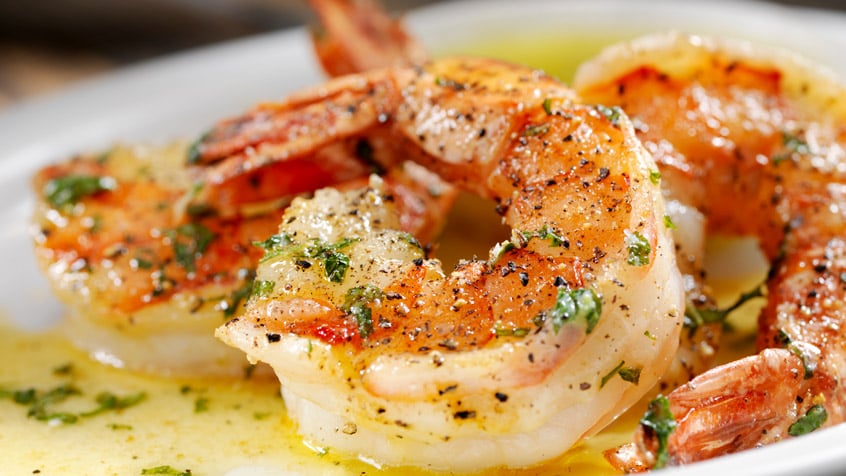 Think of Cicchetti as Venice's version of tapas. This flavorful and easy to make shrimp dish is delicious served at room temperature with some crusty bread to sop up all of that wonderful marinade. We recommend this riff on a fresh Northern Italian seafood dish with crisp whites like Inama Soave, Weihenstephaner Kristall Weissbier, a soft and spicy Witbier or a citrusy herbal cocktail like Patio Season.
Cicchetti of Shrimp bathed in Lemon & Olive Oil
INGREDIENTS:
1 lb large shrimp (16/20 per pound), peeled and deveined (tails optional)

1/2 cup extra-virgin olive oil, plus more as needed

Zest of 1 lemon

1/8 cup freshly squeezed lemon juice (~1 lemon)

1 clove of garlic, minced

1 tsp chopped fresh rosemary

1 tbsp freshly chopped flat-leaf parsley

Flaky sea salt and coarsely ground black pepper to taste

Sliced crusty bread, for serving
DIRECTIONS:
Bring a pot of lightly salted water to a boil reduce to a simmer.

Add the shrimp and simmer just until firm and opaque, 3-4 minutes. Strain in a colander.

Combine the olive oil, lemon zest, lemon juice, garlic and rosemary in a shallow baking dish, add the cooked shrimp and stir to coat. Set aside to cool to room temperature.

Just before serving, taste and adjust the seasonings with salt and pepper. Sprinkle with parsley and serve with bread, spooning some liquid over each serving. If you like a little spice, feel free to add a pinch of red pepper flakes.