Main Content Starts Here
Demo Kitchen Recipe: Chocolate Whoopie Pies aka BFOs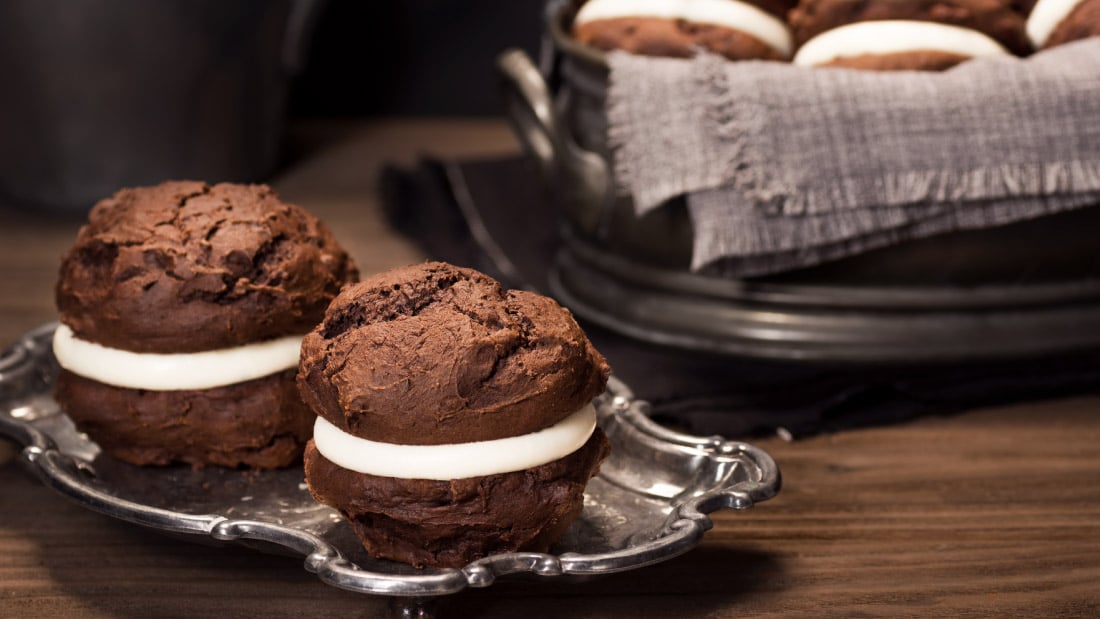 (skip to recipe)

When it comes to crème-filled chocolate sandwich cookies, most of the world can be divided into team Hydrox and team Oreo. Hydrox came first in in 1908 with their ultra-crunchy wafers and sweet filling. Oreos soon followed in 1912 with a cookie featuring a slightly more tender and much more chocolaty biscuit and soon surpassed Hydrox in sales. The Oreo is now the world's best-selling cookie.
Is it any wonder that such a cultural touchstone would wind up inspiring a beer echoing those iconic flavors? In an era in which beer is ruled by the adjunct fueled Pastryarchy, it was inevitable. One might reasonably expect that such a beer would include the fermentable sugar laden cookies as a key ingredient in the mash. In the hands of a lesser brewery that might be the case, and it would likely be an unmitigated mess, but we are talking about Kansas City's venerable O.G., Boulevard Brewing. Since its founding in 1989, Boulevard has shown a command of brewing techniques across many styles, turning out fantastic versions of classics while never shying away from innovation. So, inspired, yes. Cookies in the mash, no. The Demo Kitchen approves.
We are, of course, referring to the exciting new Bourbon barrel aged imperial milk stout infused with chocolate and vanilla known as Stuff of Legend. Weighing in at a remarkable 13.3% ABV this cookie monster delivers a smooth, creamy mouthful of Bourbon-tinged richness that tastes of, well... Oreos, inducing a wave of adult only nostalgia that will have you feeling like a kid again.
The Demo Kitchen won't take sides in the Hydrox vs. Oreo debate. We are uniters not dividers1. What we will do is catch that inspirational boomerang on its way back, to present you with a recipe for another great American sandwich cookie. Now you can have something homemade and fabulous to pair with Stuff of Legend; The Whoopie Pie.
This giant sandwich cookie looks like an overgrown version of those store-bought treats and has a very similar flavor profile, but the "wafers" are more akin to disks of chocolate cake. And, in our version, the filling is a thick layer of pillowy, buttery, marshmallowy deliciousness2. In fact, they are so Oreo-like that among the many synonyms by which Whoopie Pies are known, there is one that suits our purposes above all others - BFO or Big Fat Oreo3.
Midwesterners may not be familiar with this delicacy as, throughout its 100-year history, it has largely remained a regional treat, beloved by the Pennsylvania Dutch, and folks all the way up the Eastern Seaboard to Maine, where it is the official state treat. If this is indeed your introduction to these decadent delights, you are in for a treat4, especially if you pair them with Stuff of Legend. The Demo Kitchen feels very secure in predicting that once you recover from your first round, you'll be back in the kitchen to whip up another batch.
Makes about 8 large BFOs.
Chocolate Whoopie Pies aka BFOs
INGREDIENTS:
Cookies
2 cups all-purpose flour

2/3 cup Dutch process cocoa powder

1 tsp. baking soda

1 tsp. baking powder

3/4 tsp. salt

1-1/3 cups light brown sugar

1/2 cup unsalted butter, softened

1 large egg
2 tsp. vanilla extract
1 cup buttermilk, room temperature
Filling
3 large egg whites (separate carefully, there MUST not be ANY yolk)

3/4 cup granulated sugar

1/8 tsp. salt

1 cup unsalted butter, cubed and room temperature

1 tsp. vanilla

DIRECTIONS:
Cookies
Preheat oven to 350°F. Grease two baking sheets or line with parchment paper.
In a medium bowl sift together flour, cocoa powder, baking soda, baking powder and salt.
In the bowl of an electric mixer fitted with the paddle attachment, cream butter, and sugar on medium until light and fluffy, about 3 minutes. Add egg, and vanilla and mix until light and fluffy again, about 2 minutes.
With mixer on low, carefully add 1/3 of dry ingredients, mix just until combined, followed by 1/3 cup buttermilk, mix just until combined. Repeat two more times, scrapping down bowl in between additions.
Scoop mounds of batter using a 1/4 cup measure onto prepared baking sheets, spacing them 3-1/2" apart.
Bake 12-14 minutes on the middle rack of the oven or until the tops spring back when touched.
Cool pan on wire rack for 5 minutes. Transfer cookies to a wire rack, cool completely.
Filling
Bring a pot with 2" of water to a simmer. Place egg whites, sugar, and salt into an exceptionally clean, greaseless bowl of a stand mixer, whisk until combined (whisk must be clean and grease-free). (Mixing bowl must rest comfortably on the pot without touching the water)
Place bowl over pot of simmering water and whisk with hand whisk constantly until the mixture is hot and no longer grainy to the touch (the mixture should feel completely smooth when rubbed between your fingers) or reads 160F on a candy thermometer. About 3 minutes.
Place bowl on your stand mixer and whisk on med-high until the meringue is stiff and cooled (the bowl is no longer warm to the touch, about 5-7 minutes).
Switch to paddle attachment. With mixer on medium-low, slowly add butter a few tbsps. at a time and mix until smooth. If it looks like it has curdled, it will be fine just keep mixing until smooth.
Add vanilla and whip until incorporated.

ASSEMBLE:
Spread filling on the flat side of half the cookies.
Sandwich with remaining cookies, pressing down slightly so that the filling spreads to the edge of the cookies.
Serve or refrigerate for up to a week. Always bring to room temperature before serving.

Footnotes
We do engage in the time-honored practice of twisting such cookies apart to get at that filling, so we clearly aren't dogmatic about division when it comes to gustatory pleasures.
Get excited, you are about to learn how to make Swiss meringue buttercream. It's gonna change your life!
Some may say the "F" stands for, shall we say, a slightly more explicit word but the Demo Kitchen doesn't work blue outside of our summer gig doing late-night standup comedy cooking demos in the Catskills. In that case the kitchen is always clean but everything else is filthy.
If this were a different time, we would strongly advocate handing these out as very special homemade Halloween treats to your favorite costumed neighbors. We fear the days of homemade popcorn balls, cookies and candies are long gone.