Main Content Starts Here
Demo Kitchen Recipe: Chicken with Morels in Creamy Vin Jaune Sauce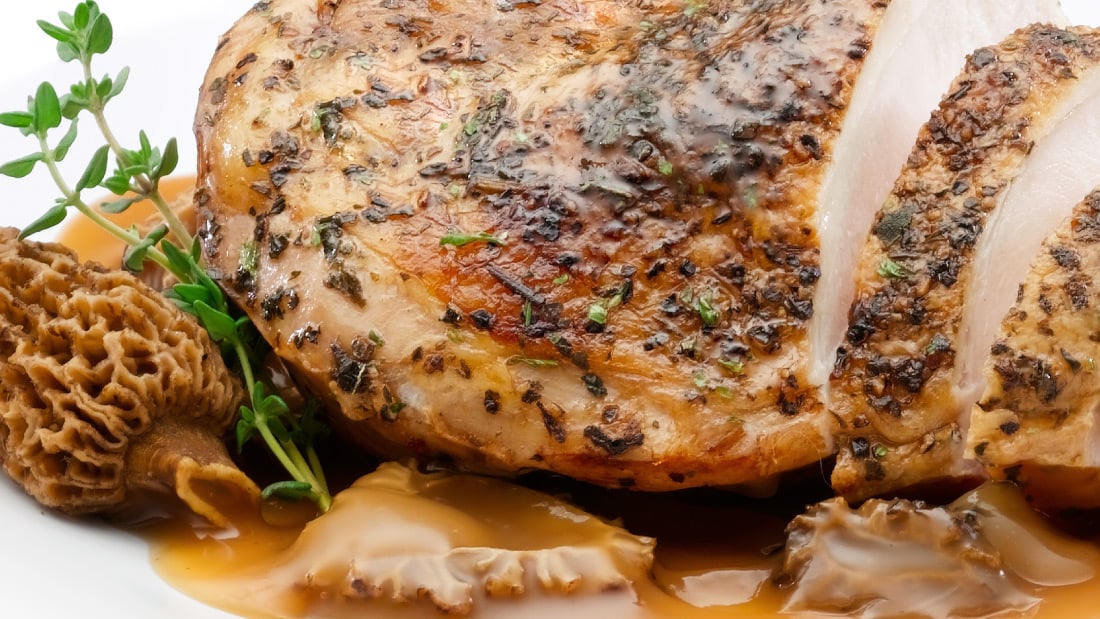 Mother's Day is nearly upon us, and mushroom loving moms everywhere are rejoicing the fact that it is also morel season. These few brief weeks are highly anticipated by fungus fanatics and foodies alike and both will take full advantage. There are few better ways to showcase the bounty of the season than this French classic from Jura. So, whether you are a wise and careful forager or more inclined to pull out your wallet than a wicker basket and mushroom knife, take the time to make this simple but incredibly delicious dish for your dear Mother.
The Demo Kitchen loves these earthy delights, and they love a cream sauce. Morels have hollow stems and craggy caps making them the perfect nutty, savory vehicles for rich sauces.
We have been making a version of this dish for years in which we stuff boneless breasts with a delicate mushroom mousseline, and it is fabulous. But it's a bit fussy and requires some advanced techniques. We have also eaten the incredibly flavorful bone-in version in Jura, Eastern France's indescribably beautiful ground zero for morels, made with the legendary Poulet de Bresse. Sublime! After careful consideration, however, we decided to keep it simple and easy to eat by using boneless, skinless breasts and streamlining the recipe as much as possible.
One lesson learned in Jura applies to all versions: Both the subtle and earthily aromatic reds of Jura and crisp Jura whites work famously with this dish. Even a refreshing Crémant de Jura will slice through the sauce beautifully and add a celebratory feel to the occasion. It also goes without saying that the incredibly complex oxidative specialty of the area, Vin Jaune, not only adds nuance to the sauce but is a wonderful nutty but bright complement to the dish. If you go for the ultimate in Vin Jaune, Chateau-Chalon, be sure to have some well-aged Comté on hand so you can finish the bottle by enjoying one of the all-time great wine and cheese pairings.
A few final tips: If you are a hardcore forager, you know it is also ramp season. Grill some of these flavorful wild onions or some asparagus to serve on the side. Rice or potatoes are good starch options, but we favor egg noodles for picking up the luscious sauce. If you have any sauce leftover it will make for a great appetizer the next day ladled over crusty, grilled French bread and sprinkled with fresh chives.
Happy Mother's Day!
INGREDIENTS:
1/2 oz. dried morel mushrooms

1/2 cup chicken stock

4 boneless, skinless chicken b

r

easts

Kosher salt

freshly ground black pepper

3

tbsp. butter

2 shallots, thinly

sliced

8

oz. fresh morel mushrooms

,

cleaned and left

whole if

small

1

clove

garlic,

minced

1 cup

Vin Jaune

1

cup heavy cream

c

hopped

parsley
DIRECTIONS:
In a small bowl rehydrate dried morels with a cup of near boiling water. Let soak for two hours. Remove mushrooms and gently squeeze excess water back into soaking liquid. Save 1/2 cup of the liquid discarding the rest along with any grit that has fallen to the bottom.
Combine soaking liquid with chicken stock.
Season chicken with salt and pepper. Melt 2 tbsp. butter in a large sauté pan, lightly brown chicken on both sides. Remove to a plate. Don't worry about cooking through, the chicken will finish cooking in the sauce.
Add shallots to the same pan with remaining butter, sauté for a minute, add fresh and rehydrated morels. Season with salt and pepper. Sauté until lightly browned. Stir in garlic, cook 30 seconds.
Add Vin Jaune, scrape up any browned bits from the bottom of the pan, reduce by half. Add the chicken stock mixture, reduce by half again. Add cream reduce by one third.
Return chicken and any accumulated juices to the pan. Simmer over medium-low heat until chicken is cooked through, and the sauce coats the back of a spoon. Adjust seasoning with salt and pepper, if needed.
Once plated, garnish with a sprinkling of parsley.