Main Content Starts Here
Demo Kitchen Recipe: Chicken Marsala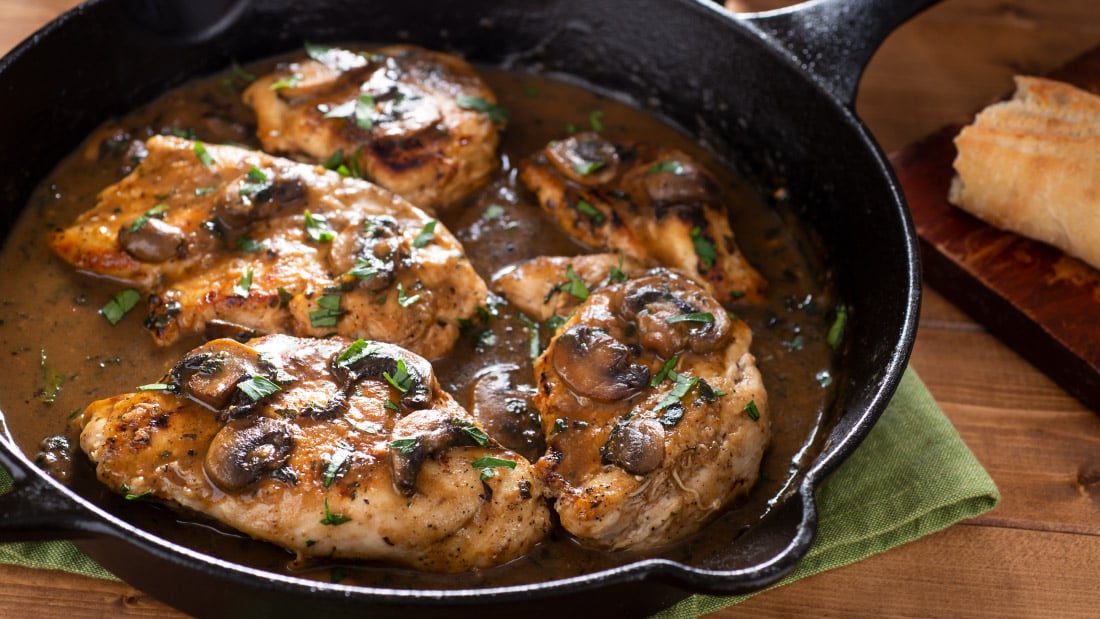 (skip to recipe)

Although the Demo Kitchen loves original recipes, we do take requests and enjoy cranking out a well-chosen cover every now and then. Our general belief is that covers that expand on the source material in new, exciting, and radically different ways are the ones most worthy of our attention. Indeed, this is the very mechanism by which cuisine and, of course, music grow and evolve. What would American foodways or music be without influential precursors from Africa, Europe and, in fact, the entire world?
Think of the raw emotion Janis Joplin brought to Gershwin's "Summertime", the Byrds transforming Dylan's densely worded but sparely arranged acoustic folk1 into easily digestible but brilliantly rendered jangle pop2, Hendrix forever destroying "All Along the Watchtower"3 for anyone with the hubris to cover that again4, Johnny Cash channeling the real pain of his twilight years on Nine Inch Nails' "Hurt", Led Zeppelin distorting the blues through overdriven amplifiers and rock god machismo so thoroughly that most don't recognize Willie Dixon through the auditory onslaught, the MC5 leaving the solar system on a "Starship" piloted by Sun Ra5, Sebadoh remaking Ratts' hair metal anthem "Round and Round" into a tender acoustic ballad, Thurston Moore creepily whispering his way through Sonic Youth's version of the Carpenters' "Superstar", and the Carpenters' own inexplicable decision to faithfully cover Klaatu's supremely weird "Calling Occupants". Our stream of consciousness list of favorites6 is virtually endless7. The Demo Kitchen Band is, in fact, famous for our live reimagining of the entirety of the Shaggs' brilliant and seminal album "Philosophy of the World"8.
The same is true for food. The entire history of cuisine can be summed up thusly; use what's available, build on the past, incorporate new influences and riff, riff, riff. Just like the evolution of life, slow change or near stasis in food or music are occasionally punctuated by great leaps forward, either through genetics or genius. But sometimes people just want to revel in a perfect note for note re-creation of the original9. That is why we are sticking strictly to the tablature for this Italian American restaurant classic. Little needs to be said about this beloved riff on the Italian scallopini concept as its ubiquity speaks for itself. Just like a song that you have listened to a thousand times but really stopped hearing long ago, when you listen with fresh ears you realize why it was such a hit in the first place. Chicken Marsala is an unequivocal smash.
So, this one goes out to Jason, president of the Demo Kitchen Army. Rock on dude! If, like Jason, you have questions, requests, or just want to share your favorite cover song10, let us know.
Time to drop the needle on this gem and crank it up!
Note: This dish is a buttery, mushroomy11 delight featuring the nutty goodness of Sicily's famed fortified wine, Marsala. Serve it with pasta, roasted or mashed potatoes and a veggie contorno or two. Pull the cork on a nice Sicilian red made from Nero d'Avola or try a crisp white like Grillo, Inzolia or Catarratto12 for a memorable pairing.
Serves 4-6
Chicken Marsala
INGREDIENTS:
4 boneless, skinless chicken breasts (1-1/2 - 2 lbs.)

Kosher salt

freshly ground black pepper

1/2 cup flour

5 tbsp. olive oil

6 tbsp. unsalted butter

10 oz. button, cremini, or other mushrooms

3 tbsp. minced shallots

1 clove garlic, minced

1/2 cup dry Marsala wine

1/2 cup homemade or low sodium chicken stock

1 tbsp. finely chopped parsley, for garnish (optional)
DIRECTIONS:
Slice each chicken breast on a bias into 3 equally sized escallops.
Place escallops one at a time between two layers of plastic wrap and pound with a meat mallet to 1/4 - 1/2" thick. Try to make them all the same thickness.
Season chicken with salt and pepper and dredge in flour. Reserve 1-1/2 tbsp. of flour that doesn't stick to the chicken.
Heat 2 tbsp. oil and 2 tbsp. butter in a large skillet over medium-high heat.
Working in batches, if necessary (don't overcrowd the pan), add chicken, cook, turning once, until golden brown, about 3 minutes total. Transfer to a plate and set aside.
Add another 2 tbsp. oil and 2 tbsp. butter to the same pan. Add mushrooms; cook until golden brown, about 8 minutes. Transfer to plate with chicken and set aside.
Heat remaining tbsp. oil in the same pan, add shallots and garlic; cook, stirring, until soft, about 1 minute. Stir in reserved flour; cook for 2 minutes.
Add Marsala and stock, bring to a simmer and cook, stirring and scraping bottom of pan until sauce thickens to desired consistency.
Return chicken, mushrooms, and any juices to the pan, and cook until heated through, about 3-4 minutes. Remove from heat; stir in remaining butter. Season to taste with salt and pepper.
Garnish with parsley.

Footnotes
Already standing on the shoulders of traditional folk and blues.
Has a 12-string electric Rickenbacker ever been put to better use? We think not. George Harrison might have begged to differ.
Dylan again.
Sorry Dave Mason, nice try though.
Saturn's greatest composer and poet laureate.
Coltrane doing "My Favorite Things".
We literally could not type fast enough to keep up with our own random free association of great covers. It's too many, but we just didn't know where to stop.
JK, you can't improve on perfection. Seriously, though, if this post inspires you to do nothing else, listen to this work of genius. October is the perfect month to acquaint yourself with "It's Halloween". Twice as scary as anything the Misfits ever did but maybe not twice as funny. Why, even Dracula will be there!
Like an orchestra painstakingly recreating a symphony with period instruments or Chicago's own Tributosaurus kicking out spot on renderings of history's greatest rock and roll jams.
We would also love to hear what music you like to pair with a particular food and/or drink and vice versa.
This is the one spot where we encourage a little deviation. Button or cremini mushrooms are standard but if you are a forager (all others look away, this is not something to enter into lightly) hen of the woods, chicken of the woods and chanterelles are all great in this dish.
These three Sicilian whites are table wines made from the same grapes that go into fortified Marsala.