Main Content Starts Here
Demo Kitchen Recipe: Cauliflower Wings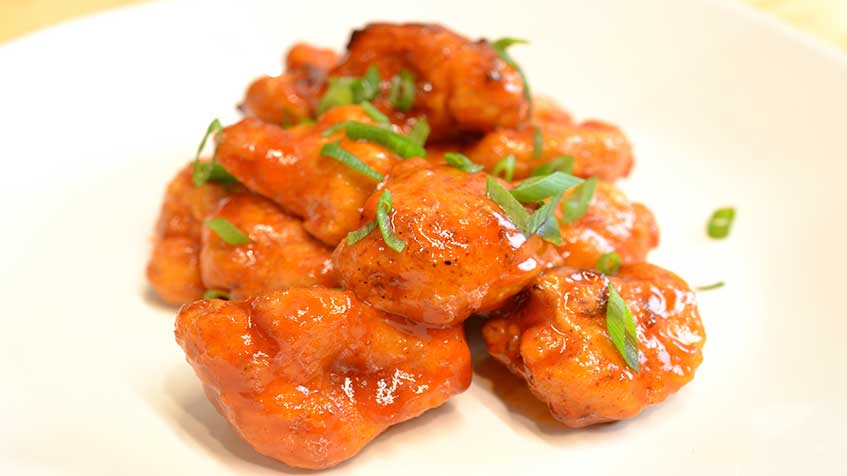 Here's our take on a game day classic - it will gratify not only your vegetarian guests but also your committed carnivore. Crisp on the outside and soft on the inside, our flavorful version of this pub classic is so close in texture to the original that your friends will scream for more.
Keep these points in mind when whipping up this dish:
Boiling the cauliflower is essential. It softens the cauliflower, giving it a meaty texture similar to chicken wings.

Breading the ENTIRE surface of the cauliflower will ensure that crispy texture that wing fans love. So when tossing the cauliflower, leave enough space between the cauliflower florets to ensure that the entire surface is coated. A good rule of thumb is to toss in small batches - the cauliflower florets should NOT touch each other when you first lay them in the tossing bowl.
Cauliflower Wings
INGREDIENTS:
1 head Cauliflower, cut into florets

2 cups All Purpose Flour

1 Tbsp Fine Salt

1 Tbsp White Pepper

1 tsp Cayenne Pepper

1 tsp Garlic Powder

1 cup Buttermilk

Vegetable Oil as needed

Fine Salt to taste
DIRECTIONS:
In a medium pot full of boiling water, boil the cauliflower for 2-3 minutes or until starting to get tender. Lay the cauliflower out on a pan to dry and cool.

In a medium mixing bowl, whisk together half the flour and dry spices. Put the other half of the flour in a second mixing bowl.

In batches, toss the cauliflower into the bowl of seasoned flour to coat. Shake off excess and transfer the cauliflower to a mixing bowl filled with buttermilk. Transfer the cauliflower from the buttermilk to the final bowl of pure flour and coat again.

In a large pot over medium high heat, heat enough oil to 350 degrees and completely submerge the coated cauliflower.

In batches, fry the coated cauliflower until golden brown (3-4 minutes). Let the cauliflower drain on paper towels.

Toss cauliflower with sauce of your choice.