Main Content Starts Here
Demo Kitchen Recipe: Cauliflower & Shiitake Mushroom Bolognese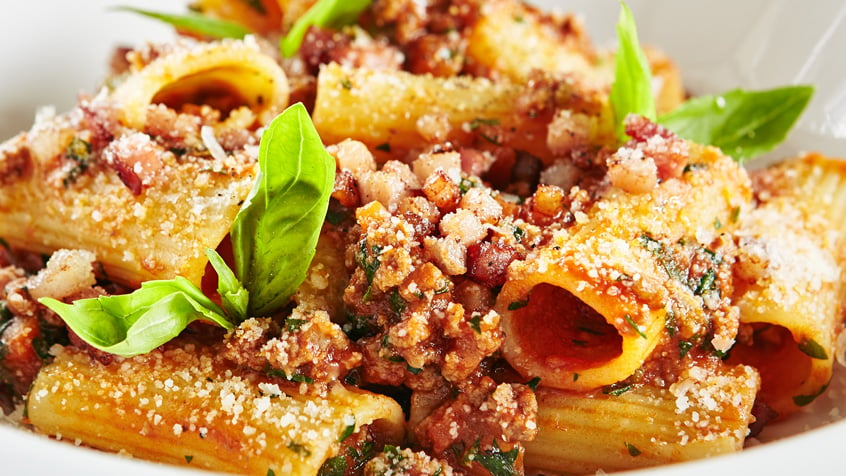 Binny's Wine Educator, Alicia, is always busy keeping our crack wine staff well trained and up to date. Somehow, she still manages to whip up some fine holiday fare in her spare time. She was kind enough to provide us with a favorite recipe for vegetarian Ragù alla Bolognese. You may be familiar with the original meaty dish that is now famous around the world but in this tasty version, savory mushrooms and chopped cauliflower play the meat role so well that even carnivores won't miss it.
The demo kitchen being the demo kitchen has a couple of tips. Rigatoni is a great pasta choice that will allow the ragù to cling beautifully to the pasta but don't rule out classic options like fresh tagliatelle or pappardelle. If you really want to "go big" use this ragù to make a vegetarian version of the classic Lasagne Verdi alla Bolognese. All you need is spinach lasagna noodles and a quick besciamella sauce. You will love the flavor and the beautiful green and red colors. Alicia recommends Salcheto Vino Nobile di Montepulciano, a delightful Sangiovese based wine from Tuscany. Serves 6.
Alicia's Cauliflower & Shiitake Mushroom Bolognese
INGREDIENTS:
6 oz. Shiitake mushrooms, stems removed

6 oz. Crimini mushrooms

1 medium head of cauliflower (about 2-1/4 lb.), broken into florets

1/4 cup plus 2 tbsp. extra-virgin olive oil, plus more for drizzling

4 tbsp. unsalted butter, divided

1 large onion, finely chopped

1 carrot, finely chopped

1 celery stalk, finely chopped

6 garlic cloves, thinly sliced

1/2 tsp. crushed red pepper flakes

1 tbsp. finely chopped rosemary

1/3 cup double-concentrated tomato paste

1/2 cup dry white wine

1/4 cup whole milk

Kosher Salt

1lb. rigatoni

2 oz. finely grated Parmesan (about 1 cup), plus more for serving

3 tbsp. finely chopped parsley

Zest of 1/2 a lemon
DIRECTIONS:
Pulse mushrooms in a food processor until finely chopped. Transfer to a small bowl. Wipe out food processor bowl. Tip – the mushrooms and cauliflower are meant to stand in for ground meat so keep this in mind while chopping.

Working in 3 batches, pulse cauliflower in food processor until pieces are about the size of a grain of rice (some smaller and some larger ones are fine), transferring to a medium bowl as you go.

Heat 1/4 cup oil and 2 Tbsp. butter in a large heavy pot over medium-high. Add mushrooms and cook, stirring occasionally, until golden brown, 4–6 minutes. Add onion, carrot, celery and 2 Tbsp. oil to pot. Cook, stirring occasionally, until the vegetables are very soft and golden brown, 6–8 minutes. Add garlic, chile, and rosemary and cook, stirring occasionally, until garlic is softened, and mixture is very fragrant, about 3 minutes. Add tomato paste and cook, stirring constantly, until paste is slightly darkened, about 2 minutes. Add white wine and cook until almost dry. Add milk and cauliflower and cook, yes, still stirring occasionally, until cauliflower is cooked down slightly and begins to stick to bottom of pot, 6–8 minutes. Season with salt, then keep warm over low heat.

Meanwhile, cook pasta in a large pot of boiling salted water, stirring occasionally, until almost al dente, about 1 minute less than package directions.

Using a slotted spoon, transfer pasta to pot with sauce. Add 1 cup Parmesan, remaining 2 Tbsp. butter, and 1 cup pasta cooking liquid. Increase heat to medium and cook, stirring occasionally, until pasta is al dente and sauce is clinging to pasta, about 3 minutes. Remove from heat and stir in parsley. Taste and adjust seasoning with salt (it'll probably need another pinch or two). Finely zest lemon over pasta and toss once more.

Divide pasta among bowls. Top with more Parmesan, then drizzle with oil.