Main Content Starts Here
Demo Kitchen Recipe: Brisket Chili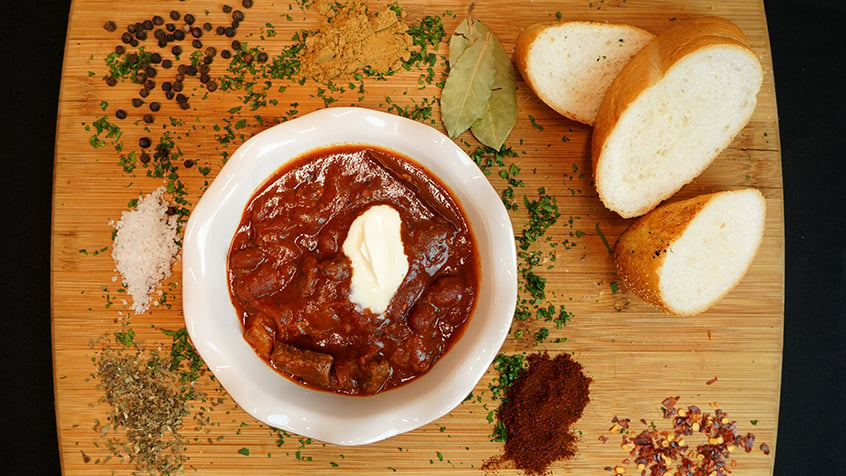 What's a football game without chili??? The recipe below is a Binny's favorite, concocted and kitchen-tested by Binny's very own resident chef Scott Becker as well as Binny's-approved by the floor staff at our Highland Park Store. The key to this recipe or any chili recipe for that matter is taking the time to layer all the complex flavors without losing the vibrant flavors of the tomatoes. We do this by NOT draining the canned kidney beans and the canned crushed tomatoes. "Water is our friend," says Scott Becker. "The more water we need to simmer away, the longer we have for flavors to meld and the meat to get tender without the chili becoming too thick. No one likes rushed chili."
BRISKET CHILI
INGREDIENTS:
4 lbs Brisket, diced

3 ea Yellow Onion, diced

5 cloves Garlic, minced

1 bundle Fresh Thyme

Vegetable Oil (as needed)

2 tbsp Chili Powder

1-2 tbsp Red Chili Flakes (to taste)

1 tbsp each Cumin and Italian Seasoning

2 tsp Dried Basil

1 tsp each Black Pepper and Kosher Salt

6 ea Bay Leaves

4 tbsp Brown Sugar

1 cup Tomato Paste

3/4 cup Sherry Vinegar

2 tbsp Worcestershire Sauce

3 lbs Canned Crushed Tomatoes

3 lbs Canned Red Kidney Beans, with juice

3 cup Beef Stock
DIRECTIONS:
In a large rondeau over medium-high heat sear the brisket until well browned, remove the meat and set aside for later.

In the same pan sauté the onion, garlic, and thyme in vegetable oil until tender.

Stir in all of the dry spices and sugar, continue cooking for another 2 minutes.

Add tomato paste and continue to cook until the bottom of the pan starts to blacken.

Deglaze with the vinegar, scraping the bottom to remove any stuck on bits.

Add the brisket back in with all of the remaining ingredients and bring up to a boil.

Reduce heat to medium-low and simmer, uncovered, for 2+ hours.