Main Content Starts Here
Demo Kitchen Recipe: Braised Lamb Crespelle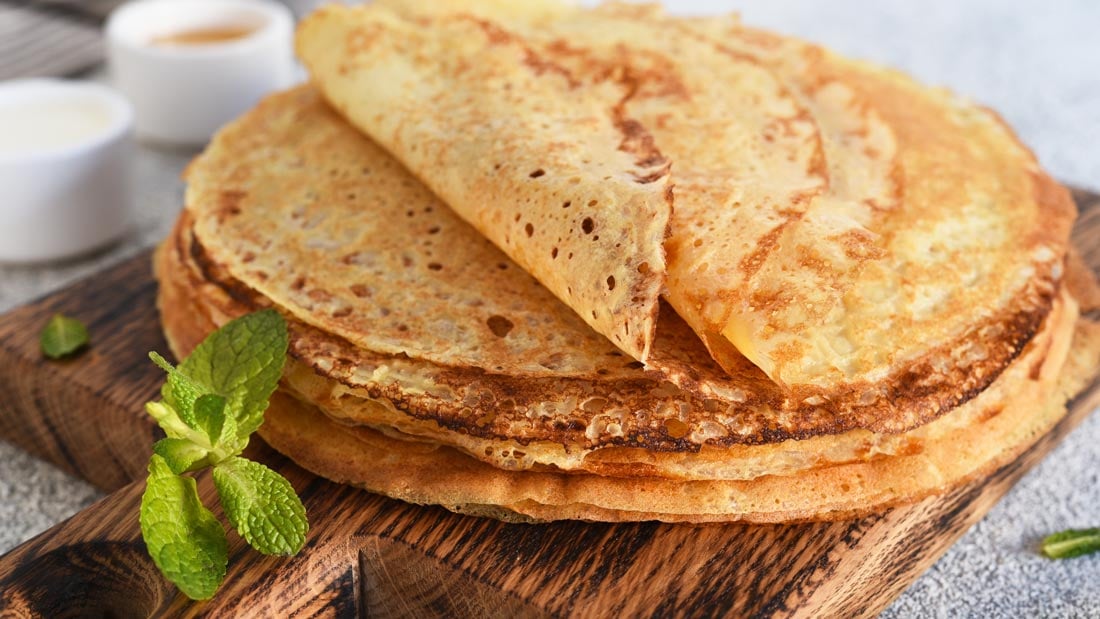 Everybody loves crepes! Whether sweet or savory they are one of Brittany's greatest contributions to French cuisine. It's no wonder you will find variations on the theme all around the world. In Italy they are called crespelle, and since this recipe has some decidedly Italian leanings, that's what we are going with.
The Demo Kitchen first conceived of this dish as part of an Easter brunch buffet, and this is how we present it to you now. You could, of course, bake them on a bed of tomato sauce with a blanket of besciamella if you like or serve them for dinner with a lightly dressed frisée salad on the side as we sometimes do. However, we love this version on the brunch table as a meaty distraction from all the sweet and/or eggy usual suspects.
The deeply savory braised lamb, wrapped in a tender wafer-thin pancake is offset by tangy cheese and bright, refreshing gremolata. It is a perfect dish to straddle the seasons providing a comforting reminder of colder days past and portending the fresh, briskness of spring. Enjoy!
Wine pairings: Nebbiolo, Dry Lambrusco or Franciacorta.
Beer pairings: Match the richness with a Moretti Doppio Malto or German Doppelbock or go with a more refreshing counterpoint provided by a Hefeweizen or Hazy IPA.
Crespelle
INGREDIENTS:
1 cup flour

2/3 cup cold water

2/3 cup cold whole milk

3 large eggs

1/4 tsp. salt

3 tbsp. melted butter
DIRECTIONS:
Whisk together all ingredients by hand (or use a food processor or blender) until smooth.

Refrigerate, covered overnight. This is essential for tender crespelle.

Heat a well-seasoned crepe pan or small nonstick skillet over medium heat. Brush pan with a little melted butter.

Be prepared with a little butter, jam or cinnamon sugar. The first crepe is often a dud so reward yourself by eating it!

When the pan is hot, lift it off the heat and add a few tablespoons of batter to the center (the amount needed will depend on the size of your pan, 6" is ideal for this recipe). Tilt pan in all directions, rolling your wrist, to cover the bottom evenly with a very thin layer of batter. Return to heat and cook 60-90 seconds until the bottom is golden-brown. Turn and cook for just another 10-15 seconds. Cool on a wire rack.

Repeat until the batter is gone. This should yield 12-16 six-inch crespelle.
Braised Lamb Filling
INGREDIENTS:
2 pounds lamb shoulder cut into 2" pieces.

Kosher salt

black pepper

2 tbsp. olive oil

2/3 cup diced onion

1/3 cup diced carrot

1/3 cup diced celery

3 cloves garlic, chopped

2 tbsp. tomato paste

2 tbsp. flour

1 cup Nebbiolo or other dry red wine

1/2 cup beef stock

1/2 tsp. dried oregano

1 bay leaf
DIRECTIONS:
Preheat oven to 325°F. Dry lamb with paper towel and season with salt and pepper and heat oil in a large Dutch Oven over medium-high.

Sear lamb on all sides until deeply browned. Do not crowd, work in batches if necessary. Remove from pot and set aside.

Lower heat to medium-low. Add a little more olive oil if you need it. Add onion, carrot and celery, season with a little salt and pepper. Cook stirring occasionally until they start to brown. Add garlic, cook another minute. Add tomato paste and cook stirring for a few minutes until paste starts to brown slightly.

Sprinkle in flour and cook stirring until well incorporated, about 2 minutes.

Deglaze pot with wine, scrapping up all the brown bits from the bottom. Add stock, oregano and bay leaf. Return lamb and the accumulated juices to the pot. Stir. Raise heat and bring to a simmer.

Cover leaving the lid cracked a little and transfer to oven. Braise for 1-1 1/2 hours or until lamb is very tender and shreds easily.

Remove solids with a slotted spoon. Discard bay leaf.

On stove top, reduce liquid to a rich glaze that coats the back of a spoon if necessary. Remove from heat. Meanwhile shred the lamb.

Combine lamb and braising liquid. Adjust seasoning to taste and allow to cool slightly so the lamb can reabsorb some liquid. The result should be a rich, moist filling.
TOPPINGS
Cheese
3-4 oz. fresh sheep or goat cheese or sheep milk ricotta
Orange-Mint Gremolata
INGREDIENTS:
3/4 cup flat leaf parsley leaves

1/4 cup mint leaves

1 clove garlic, chopped

1 tsp. lemon zest

1 tsp. orange zest

Kosher salt

black pepper
DIRECTIONS:
Finely chop the parley and mint together.

Add garlic and citrus zests and chop everything together.

Season to taste with salt and pepper.
Assemble
DIRECTIONS:
Lay crespelle out on a flat surface.

Put about a quarter cup of lamb filling on each about a third of the way up from you and evenly distribute in a line across each crespella. Fold the crespella over the filling, tucking the leading edge under the filling as if you were making an open-ended burrito and roll up.

Transfer to a baking dish. Top with crumbled cheese or dollops of ricotta and rewarm in the oven.

Serve two per person or place on a large platter for buffet service. In either case, top with gremolata and serve immediately.