Main Content Starts Here
Demo Kitchen Recipe: Bourbon Pecan Danish Kringle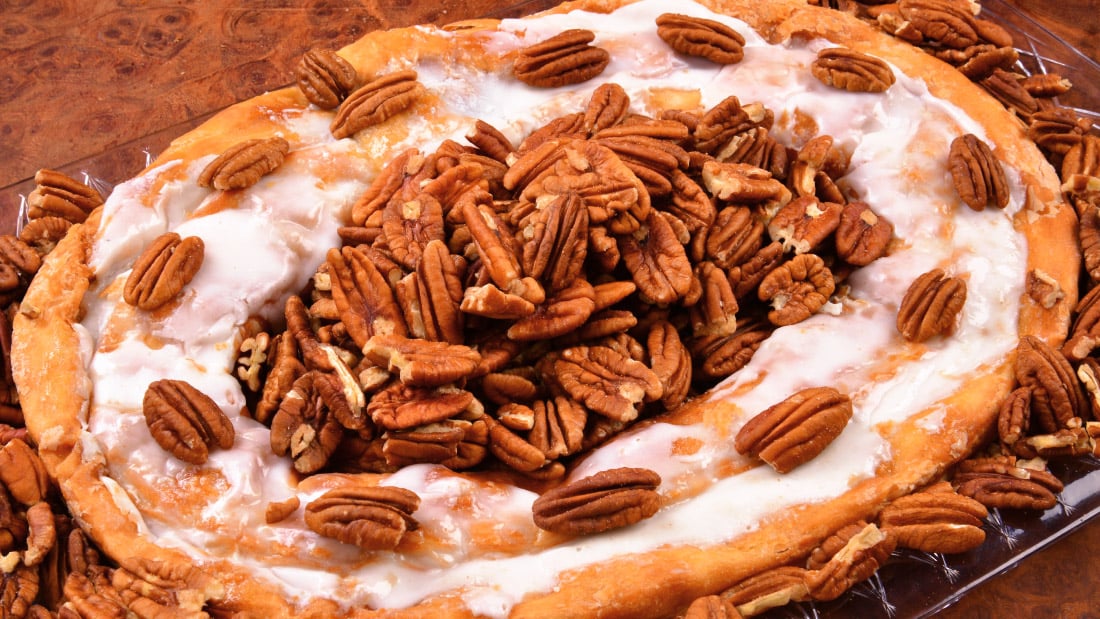 (skip to recipe)

North of Chicago, in southeast Wisconsin, there lies a magical land. A land of fanciful fairytale cheese castles, throwback supper clubs, fish fries and bratwurst. A land where every Bloody Mary comes with a beer back and the Old Fashioned is made with Korbel Brandy. A land where crackers and cheese spread are on every bar and 6, 8, even 10-year-old cheddar is commonplace. It is here where you will find Racine, the epicenter, dare we say the very root (pun intended) of Danish Kringle in America. If you are not familiar with this oh so sweet, filled and frosted pastry, we will give you a pass for now but moving forward, there are no excuses.
Imagine a large oval of flaky, buttery pastry encasing fillings like almond, pecan, cherry, apple, and cheese. Now imagine the top is slathered with a sugary icing and each bite you take is the fulfillment of your sweet tooth's every desire. Okay, snap out of it and wipe that drool from your chin. It's time to focus because the Demo Kitchen is about to bequeath unto you our own fantastic recipe for pecan kringle laced with Bourbon.
That's right, Bourbon. Now we know we have your attention. This recipe was inspired, not just by Danish Kringle itself but the fantastic Bourbon Barrel Aged Pecan Kringle Stout from Wisconsin's own Central Waters Brewing Company. It's a massive brew of sweet, layered, spirited, complexity that speaks of praline, maple, vanilla, and sweet brown spices. Our Bourbon Pecan Kringle follows suit making for a heavenly if decadently over the top pairing.
We also highly recommend a sweet, nutty Aged Tawny Port or a Binny's Confessions of a Mixologist original cocktail, the Kentucky Kringle; a rich, sweet, and potent blend of Bourbon, Nocello, Benedictine, maple syrup, and lemon juice. Skål!
Yields two kringles
Bourbon Pecan Danish Kringle
INGREDIENTS:
Dough
2 cups all-purpose flour

1/4 cup granulated sugar

1 package active dry yeast

1 tsp. salt

1 cup unsalted butter, cold. Cut into 1/2" cubes

1/3 cup whole milk, cold

1 large egg, cold
Filling
1-1/2 cups toasted pecans, finely chopped

3/4 cup firmly packed brown sugar

1/2 cup unsalted butter, room temperature

1 tbsp. Bourbon

1 tsp. ground cinnamon

1/8 tsp. freshly grated nutmeg

1/2 tsp. salt
Egg Wash
Icing
2 cups powdered sugar

3 tbsp. unsalted butter, softened

2-3 tbsp. whole milk

1 tbsp. Bourbon

1 tsp. grated lemon zest

Pinch of salt
Garnish
1/2 cup toasted and chopped pecans
DIRECTIONS:
Dough
In the bowl of a food processor, combine flour, sugar, yeast, and salt. Pulse a few times to blend. Add butter and pulse until butter chunks are pea sized.
Whisk together milk and egg. Slowly pour into flour mixture, pulsing food processor just until dough just starts to come together. Transfer dough to a work surface, quickly knead the dough to bring it together, pat into a rectangle, and wrap with plastic wrap. Refrigerate for at least 2 hours or overnight.
On a lightly floured surface, roll cold dough into an 8"x16" rectangle. Fold the two short sides of the rectangle toward the center, folding the rectangle into overlapping thirds, like a letter. Rotate 90 degrees. Roll again to 8"x16". Fold into thirds again, roll. Fold and roll one more time. Wrap dough in plastic wrap and chill for at least 20 minutes.
Filling
In a large bowl, combine all filling ingredients thoroughly.
Kringle
Make egg wash by whisking together egg and milk.
Line two rimmed sheet pans with parchment paper. Unwrap cold dough and cut in half.
On a lightly floured work surface, roll each half into a 6"x24" rectangle with long side facing you. Spread half of filling on each in an even strip down the center of the length of the dough.
Fold the long side closest to you over the filling, leaving the remaining third of the dough exposed. Brush egg wash along the length of the folded flap of dough and two short ends. Fold the far side over toward you so the dough overlaps in the center. Pinch together to make a tightly sealed seam along the length. Pinch one short end to tightly seal, flip over onto prepared baking sheet, so seam side is on the bottom.
Form into an oval, then tuck sealed end into the open end. Pinch and press the seam together, then pat the kringle down to flatten slightly. Repeat with the other dough. Cover with kitchen towels, let rise in a warm spot for 45 minutes, or until dough has risen slightly.
Preheat oven to 375°F. Gently brush tops and sides of each with egg wash.
Bake until golden, about 25-30 minutes, rotating pans in oven halfway through baking.
As soon as kringle comes out of the oven, while it is hot and pliable, press each lightly using a sheet pan to eliminate the gap between pastry and filling. The kringle should be a relatively flat oval, about an even three inches wide all the way around. Cool completely on pans set on wire racks.
Icing
In a small bowl, whisk together sugar, butter, milk, Bourbon, lemon zest, and salt into a smooth icing. Add more sugar if it's too thin or more milk if too thick.
Spread icing over tops of the kringles. Sprinkle with remaining pecans. Let dry. Serve.