Main Content Starts Here
Demo Kitchen Recipe: Bourbon Glazed Pork Chops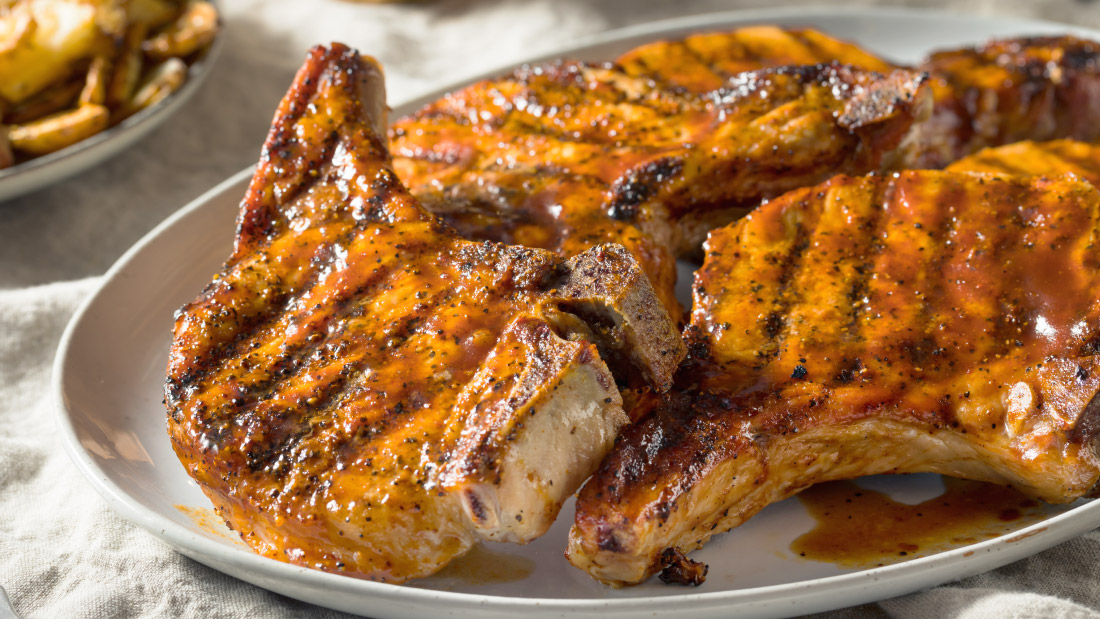 This Father's Day, indulge the Bourbon loving carnivore lurking within your mild-mannered Dad with this impressive grilled pork chop slathered with luscious Bourbon glaze. We recommend going out of your way to source a high quality, well-marbled heritage breed pork chop for juicy, tender and deeply flavorful results. You may want to brine the chops if you are using "grocery store pork", in which case omit the salt from the rub. Either way, this is a quick and easy recipe that will give you plenty of time to hang out with Dad and share a glass of Bourbon or two.
If Dad wants Bourbon on the rocks with his meal, this is a perfectly appropriate time to make that happen. Or mix up a "Ballin' the Jack" cocktail, as is, or with the Bourbon of your choosing. For beer, try Schneider Aventinus or a Flemish Red like Rodenbach. California Zinfandel or Grenache as well as Grenache based wines from Priorat and Chateauneuf-du-Pape are excellent choices for wine.
Dry Rub
INGREDIENTS:
2 tbsp. brown sugar

2 tsp. Kosher salt

1 tsp. smoked paprika

1 tsp. dried thyme

1 tsp. garlic powder

1/2 tsp. onion powder

1/2 tsp. cinnamon

1/2 tsp. cumin

1/2 tsp. black pepper

1/4 tsp. cayenne pepper
DIRECTIONS:
Whisk together all ingredients in a small bowl.
Bourbon Glaze
INGREDIENTS:
1/2 cup molasses

1/4 cup packed brown sugar

1/4 cup natural apple cider vinegar

1 tsp. finely chopped fresh rosemary

1/4 cup Bourbon (Clark & Sheffield recommended)
4 tbsp. butter
2 tbsp. Dijon mustard
1 tsp. cornstarch
Salt and black pepper, to taste
DIRECTIONS:
In a small saucepan, combine molasses, brown sugar, vinegar and rosemary. Cook over medium heat for about 10 –12 minutes until reduced by 1/3 (2/3 cup remaining).
Carefully whisk in Bourbon, cook for two minutes. Whisk in butter, 1 tbsp. at a time, whisking constantly. Cook another minute or two until it starts to thicken.
Stir together mustard and cornstarch then whisk into glaze. Whisk until glaze comes to a boil and thickens.
Remove from heat and season to taste with salt and pepper.
Divide - 1/2 for brushing on the chops while cooking, 1/2 to serve on the side.
Pork Chops
INGREDIENTS:
4 bone-in porterhouse pork chops, 1-1/2" thick (Duroc or Berkshire recommended)

Dry rub
DIRECTIONS:
Rub all sides of the chops generously with dry rub. Chops can be rubbed in advance and refrigerated. At the very least rub them before you start your fire so the flavors can penetrate the meat for at least half an hour.
Build a medium hot fire with natural hardwood charcoal for direct and indirect cooking on one side of your grill or preheat one side of your gas grill.
Rub vegetable oil on the grate with a paper towel then place chops on the grill over direct heat. Cook about 6 minutes until grill marks appear, the chop starts to char slightly, and the rub caramelizes. Flip and grill the other side.
Move chops to the other side of the grill and glaze generously all over. Cook using indirect heat with the lid on until an internal temperature of 140-145°F is reached.
Remove from grill, let rest for a few minutes, then serve with extra warm glaze.