Main Content Starts Here
Demo Kitchen Recipe: Birria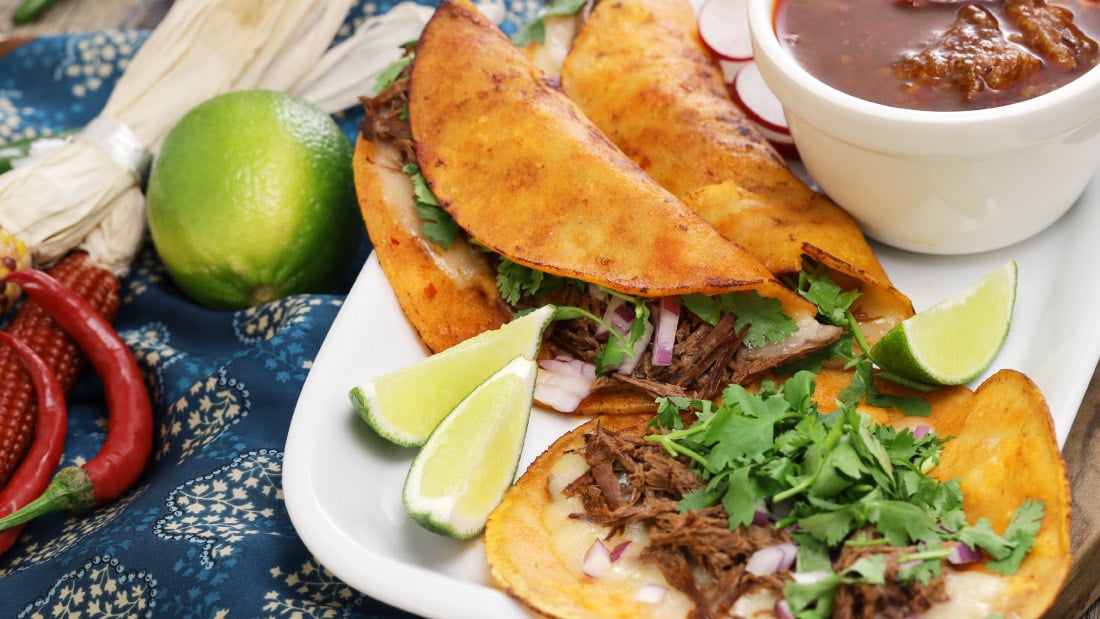 (skip to recipe)

Birria, the deeply soul satisfying Mexican dish of tender slow cooked meat served with a rich savory consommé, has found new life in the hip Instagram-able form of quesatacos. They are attractive and delicious but those in the know didn't need a trend to remind us of this classic dish from Jalisco (Tequila's origin as well).
In Chicago we are lucky enough to be blessed with a large Mexican American population and in fine American tradition they have introduced regional cuisines and traditions, including birria, much to the delight of food fanatics. In fact, we have long had many excellent Birraria to choose from, but it is a dish that can also be made at home.
Just to clarify, birria isn't just one iconic dish from Jalisco, but a dish with many regional variations within and without of that state. Traditional versions are most often made with goat (Birria de Chivo), but variations abound with beef (Birria de Res) being the star most often used in the red quesataco.
In fact, the Demo Kitchen learned this recipe decades ago from a kitchen full of indefatigable bad a** cooks from Jalisco's neighboring state Zacatecas, which has its own birria traditions. The Demo Kitchen loved that motley crew, so every year after our busy season we would buy a whole goat, make birria, drink cerveza and relax a little for the first time in months. It's a cherished memory so it is with reverence that we recreate that recipe for you now.
So why now? Well, to start, this is comfort food from a warm climate that easily slips into cool weather traditions with its rich, warming and deeply savory profile, but in addition Día de los Muertos is right around the corner. The Day of the Dead (Nov 1) sounds spooky, but the focus is on a joyous celebration of life in which long gone loved ones are remembered with their favorite food and drink, candy skulls, and shrines to their memory. Satirical poems with themes of death and mockery of the living known as calaveras literarias are also composed and shared (we took a hackneyed, self-deprecating stab at one below, but Octavio Paz, we ain't). The point being, when it comes time for the Demo Kitchen to be feted in such a manner, despite a long list of favorite comida y bebida, this is the dish we would most prefer to be remembered with.
I have noted that you can use beef, lamb or goat in the recipe (we are diehard goat fans) so if you want to take the extra step of making quesatacos you can make the beef version if you like. To make the tacos just dip corn tortillas in the consommé lay them down in a hot, lightly oiled pan, top with melty Oaxaca or Chihuahua cheese, some meat and broth, fold over and fry both sides. In any case try to get some fresh masa and make your own tortillas, it's worth it.
Over the years we have paired this with both Nebbiolo and Pinot Noir to great effect. Rogue's malty Dead Guy Ale is a perfect choice for beer or try it with an El Diablo cocktail.
Serves a small party of 8 or 10 of the living.
Réquiem por un Cocinero
When the Demo Kitchen goes to the great gig in the sky
You can be joyful, no need to cry
And when the Day of the Dead rolls around
By my headstone you should be found
Be joyous and happy, my soul's escaped evil
Bring some Tequila and birria de chivo
I hope such earthly delights are available beyond
Of those, cerveza and tamales I'm fond
If not, birria and Tequila I'd miss, I won't lie
But if so, who needs to live if it's like that when we die?
Birria
INGREDIENTS:
5 lbs. bone-in goat hindquarters or shoulder or 3-4 lbs. bone-in lamb shoulder or 3-4 lbs. bone-in beef chuck roast

Kosher salt

8 guajillo chiles

4 ancho chiles

6 cloves garlic, unpeeled

1/2 tsp. cumin seed

1/2 tsp. black peppercorns

large tomato, roasted until soft and slightly charred

1/4 cup cider vinegar

1 tsp. salt

1 teaspoon Mexican oregano

1 teaspoon thyme
2 bay leaves
6 cups water
Garnishes:
lime wedges

white onion, chopped and rinsed in cold water

cilantro, chopped

hot sauce
corn tortillas, warmed on a hot cast iron skillet
DIRECTIONS:
Trim excess fat from meat and cut into a few large chunks. Season the meat with salt, transfer to a large Dutch oven.
Preheat a cast iron skillet over medium. Split open dried peppers, devein and remove stems and seeds. Toast peppers briefly a few at a time in dry pan, pressing down with the back of a spatula until they blister slightly and become pliant, aromatic and release a whisp of smoke (don't burn) flip and repeat. Transfer to a bowl and cover with boiling water. Weight them down with a plate so they don't just float on the surface. Soak for 30 minutes.
Roast whole garlic cloves in the same pan, turning frequently, until they blacken and become soft. Cool and remove peels.
In the same pan toast cumin seeds and black peppercorn for a few seconds until aromatic. Pulverize with a mortar and pestle or a spice grinder.
Once the chiles are soft, drain and add to the blender with 1 cup water, garlic, cumin, black pepper, tomato, vinegar, oregano, and thyme. Puree until smooth.
Pour the sauce over the meat, toss to coat and add bay. Cover with lid and refrigerate overnight or at least a few hours.
Preheat the oven to 325° F. Place Dutch oven, lid removed, over medium-high heat, stir in six cups of water and bring to a simmer. Replace lid and transfer Dutch oven to the preheated oven and braise about 3 hours or until fork tender.
Remove meat with a slotted spoon. Skim off any fat floating on top of the broth. Simmer broth uncovered for about 30 minutes or until reduced to a rich, deeply flavored sauce. Adjust seasoning with salt if needed.
Remove any bones, unwanted fat and gristle from the meat. Roughly shred meat, keeping it relatively large.
Serve meat covered in broth in large bowls. Serve lime wedges, onion, cilantro, hot sauce and plenty of warm corn tortillas on the side.