Main Content Starts Here
Demo Kitchen Recipe: BBQ Shrimp & Jambalaya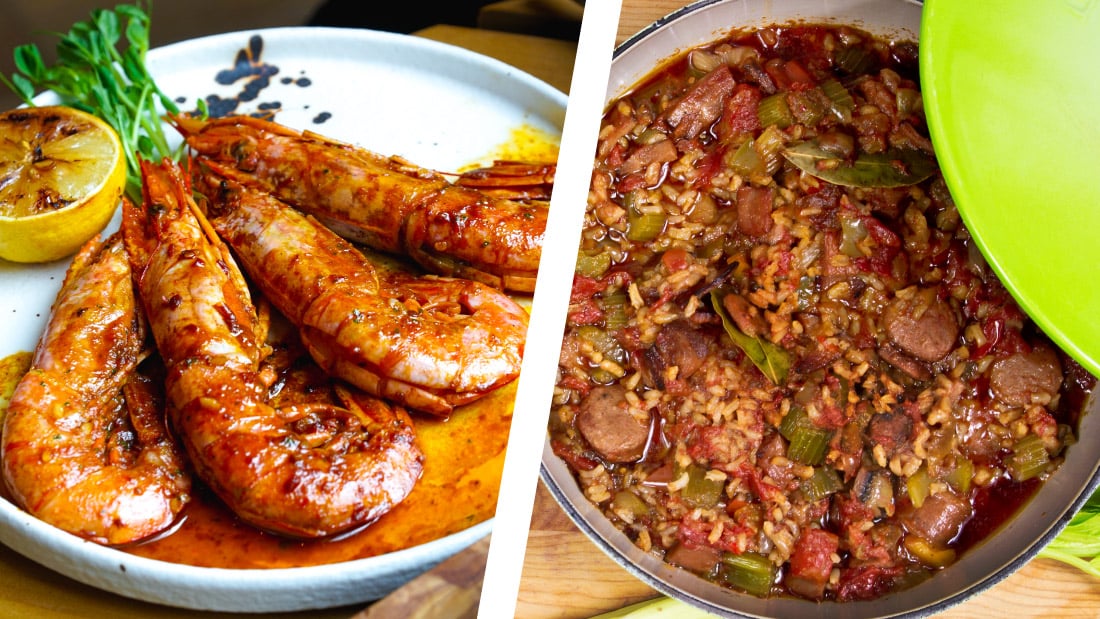 MARDI GRAS COMBO!
The Demo Kitchen likes things on the modern tip but when it comes to Mardi Gras, we like to kick it old school. Even though trips to New Orleans may not be on the docket this year, we're still gonna crank up Louis Armstrong's "Struttin' with some BBQ", Professor Longhair's "Mardi Gras in New Orleans" and Hank Williams singing "Jambalaya". The playlist is endless, as are the culinary hits from America's greatest regional cuisines, Cajun and Creole. Both music and food found an unparalleled incubator in the cultural crossroads of New Orleans and we can all reap the rewards. Here are our spins on a combo of classics that we have culled from the Big Easy's infinite playlist.
Try both of these tasty treats with New Orleans' own Abita beers, particularly an IPA or the Amber. Fruity dry Rosé works across the board here too, but the BBQ shrimp is also great with a fresh, crisp Sancerre or Gruner Veltliner. The spicy profile of the jambalaya calls for fruity low alcohol wines like an off dry Riesling or Vouvray Demi-sec for whites and Beaujolais or Pinot Noir for red. Dry Lambrusco and fruity Brachetto are wild cards that will surprise and delight as well. Oh, and don't forget to finish your evening sipping on a Sazerac or Vieux Carré.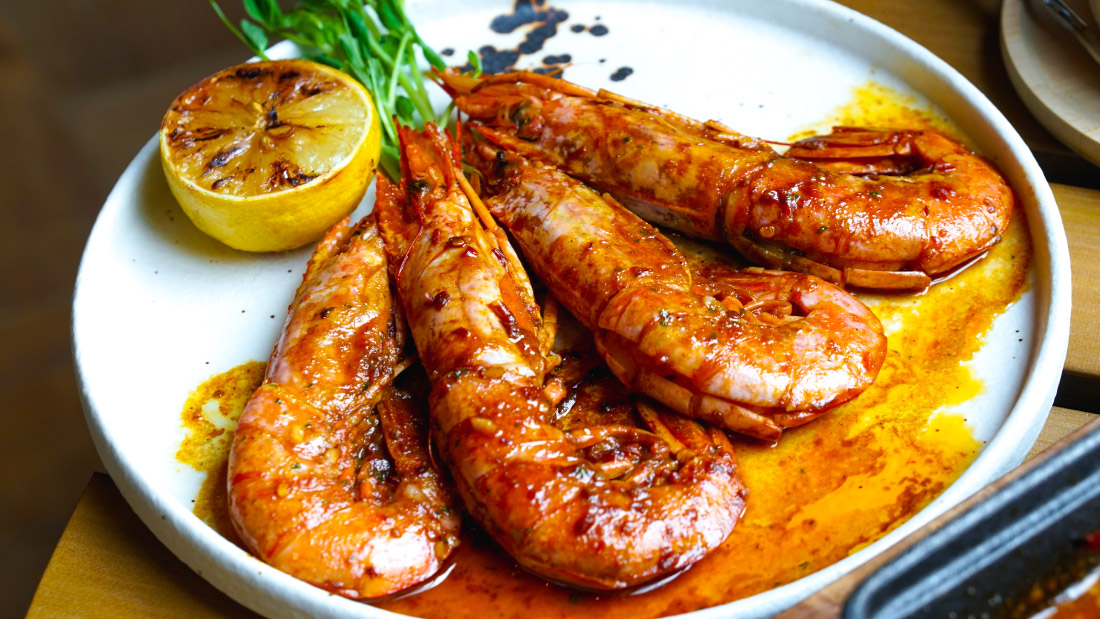 BINNY'S BEST BBQ SHRIMP
Serves 4-6 as an appetizer, 2-3 as an entrée.


INGREDIENTS:
20 extra jumbo or colossal shrimp, unpeeled and heads on (if you don't like or can't find head on shrimp, peeled and deveined will work. Just make sure to use nothing smaller than 16/20s for peeled and deveined. U-15s are ideal.)
1/2 cup Worcestershire sauce
3 tbsp. fresh lemon juice
1 bay leaf
1/4 tsp. onion powder
1/4 tsp. oregano
1/4 tsp. basil
1/4 tsp. thyme
1/8 tsp. white pepper
2 tsp. ground black pepper
2 tsp. coarsely crushed black pepper
1/8 tsp. cayenne pepper
3/4 tsp. paprika
1/2 tsp. Kosher salt
2 large cloves garlic, minced
3 sticks of cold unsalted butter, cubed (about a tbsp. each)
1 scallion, thinly sliced
DIRECTIONS:
Combine all ingredients except the butter and scallion in a large, hot skillet (we like cast iron) and cook over medium high heat, turning shrimp until they turn pink (and opaque if you are using peeled shrimp and can see the flesh). It will only take a few minutes.
Reduce heat to low and begin incorporating cold butter a few cubes at a time, stirring constantly. When the butter has melted and is incorporated add a few more cubes and repeat until you have used it all. The sauce should be an emulsion not separated. If it separates use a hand whisk and whisk vigorously to bring it together.
Serve in the cast iron skillet for a rustic presentation (be careful the pan will be hot) or transfer to a platter or individual plates. In any case, garnish with a sprinkling of scallions and serve with plenty of warm crusty baguette.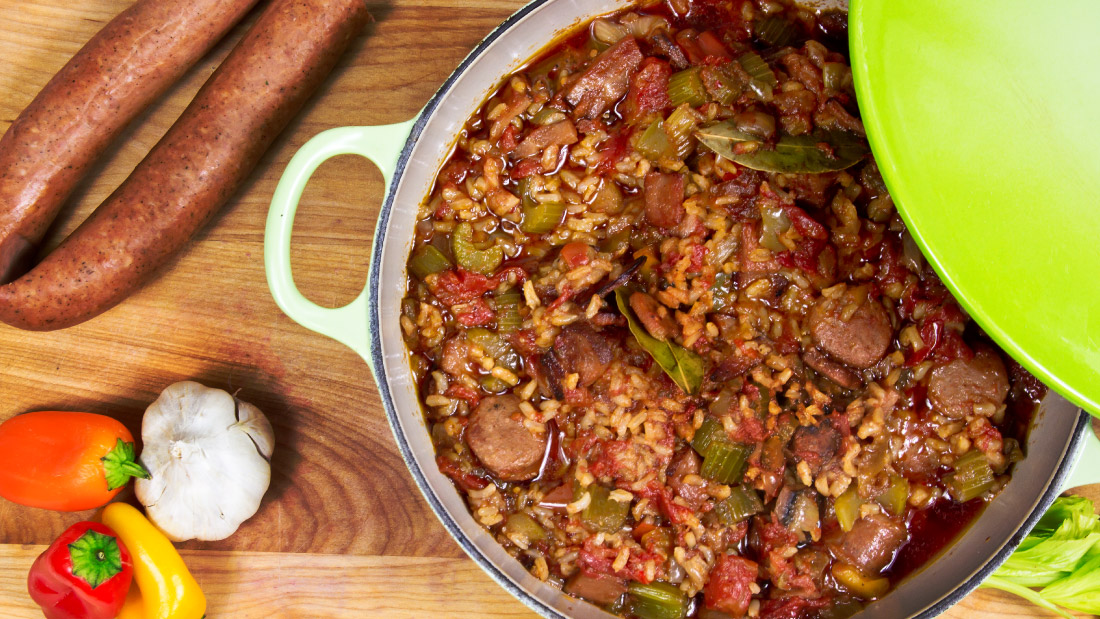 CHICKEN, SHRIMP & ANDOUILLE JAMBALAYA
Serves 8 as an appetizer or on a buffet, 4 as an entrée.


INGREDIENTS:
1-1/2 tsp. Kosher salt
1 tsp. ground black pepper
1 tsp. white pepper
1 tsp. cayenne pepper
1 -1/2 tsp. dried oregano
1/2 tsp. dried thyme
1/4 tsp. sage
2 cups chicken stock
3 tbsp. butter
2 cups chopped onion (divided)
1/4 pound diced smoked ham (tasso if available)
1/4 pound smoked pork sausage, cut into bite sized slices (preferably andouille but kielbasa is a good substitute)
1 cup chopped celery
1 cup chopped green bell pepper
2 bay leaves
2 cloves garlic, minced
1/2 pound of chicken cut into bite sized pieces (we love thigh for its richer flavor and a moister end product, but breast works too)
1 14-oz. can of diced tomatoes
1/2 cup of tomato sauce
1/3 cup sliced green onion
2 cups long grain white rice (Carolina Gold is a great choice)
3/4 pound medium peeled and deveined shrimp
DIRECTIONS:
Combine the first seven ingredients in a small bowl to make a spice blend, set aside. Preheat oven to 350°F.
Heat chicken stock to a bare simmer. (Pro tip – if you bought shell on shrimp and are peeling them don't miss out on all the flavor in the shells. Add them to the chicken stock and simmer. Just strain them out when it's time to use the stock. Make sure you still have the proper volume of stock by adding some water back if there is a lot of evaporation.)
Melt butter over medium heat in a large Dutch oven. Add half of the chopped onions (1 cup) and cook stirring until they begin to brown.
Add ham and sausage, to the onions and cook another 5 minutes stirring frequently until onions, ham and sausage have browned.
Add the remaining cup of onion, celery, green pepper, bay leaves and 1/3 of spice blend. Cook about 5 minutes stirring occasionally until crisp/tender.
Add garlic, chicken and another 1/3 of the spice blend. Cook, stirring for a minute or two. Add diced tomatoes and cook 5 minutes. Be sure to start scraping the bottom of the pot as you stir at this point.
Add tomato sauce and cook another 5 minutes stirring and scraping. You should notice the tomato sauce thickening slightly and browning a little.
Add green onion, rice, shrimp, and the remaining spice mixture. Stir to evenly distribute all ingredients, add stock and bring to a boil.
Cover tightly and transfer to oven. Bake 25 - 30 minutes until rice is tender.