Main Content Starts Here
Demo Kitchen Recipe: Austrian Pumpkin Soup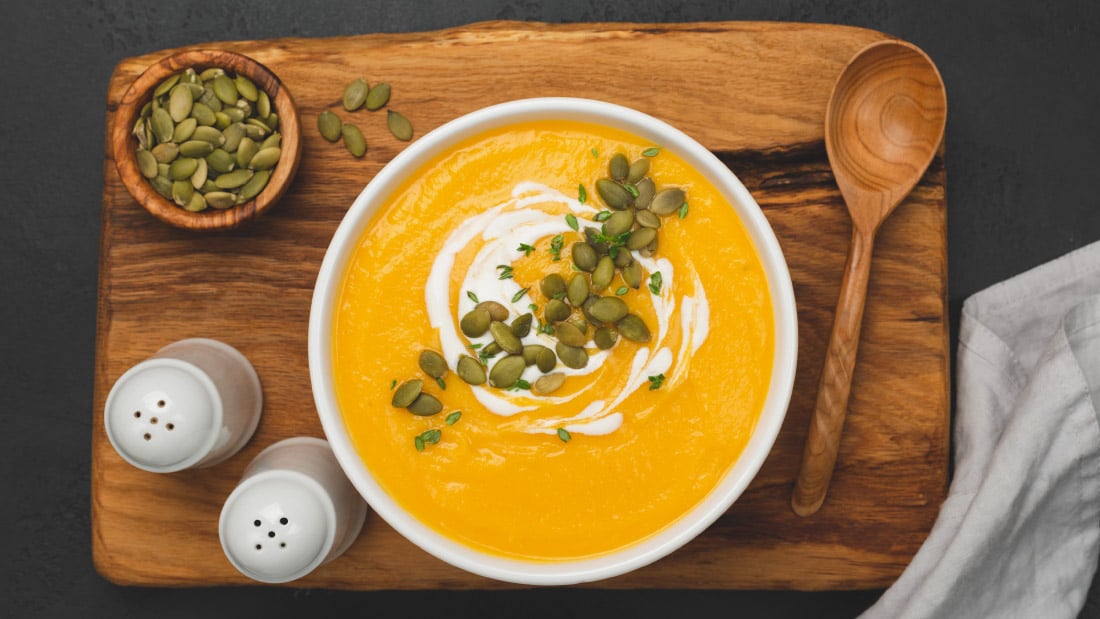 (skip to recipe)

Just as the U.S. has a deeply entrenched pumpkin culture, Austria celebrates the pumpkin harvest in its own special ways. Not with jack-o-lanterns but certainly in its cuisine. In the southeastern region of Styria1, special cultivars of sweet-fleshed pumpkin are grown for culinary uses as well as for their green hull-less-seeds. Seeds that are great for roasting, eating and garnishing dishes because they don't have a thick fibrous shell. They also happen to be rich in nutrients and oil; a delicious, nutty oil that can be extracted by grinding those green seeds. Austrians love this beautiful dichromatic2 oil for finishing all kinds of dishes, just as a fine olive oil might be used.
The Demo Kitchen got hip to this pumpkin soup garnished with crème fraîche, pumpkin seeds, and pumpkin seed oil at about the same time that Smashing Pumpkins3 released Gish, so we've been making this a good, long time and it has lost none of its appeal. It is simple to make yet sophisticated enough to serve as an early course for more formal Thanksgiving celebrations or autumnal dinner parties. The soup itself is naturally sweet, a little spicy and velvety smooth. The embellishments take it to the next level.
Speaking of those delightful garnishes, the easiest path to pumpkin seeds is to look for pepitas (packaged hull-less green pumpkin seeds) in the Mexican food aisle of your favorite grocery store or at a Mexican grocer. If you do the latter pick up some good Mexican-style crema, it's a great stand in if you don't have crème fraîche. Thankfully, Styrian pumpkin seed oil is much easier to obtain these days either online or at a store that carries top quality olive oils and the like. It is totally worth seeking out.
As for the pumpkins themselves, you may be hard-pressed to find the preferred Hokkaido variety unless you go to a well-stocked patch but the small pie pumpkins available in most supermarkets work well. You could, of course, use canned pumpkin if you are looking for a shortcut.
Dry Austrian Reisling has the body to match this silky soup while providing the excellent acidic cut needed to contrast its creamy richness. Malty Austrian and Czech Lagers, both light and dark, are also wonderful partners to the spice and subtle sweetness found in this delightful Austrian specialty.
Austrian Pumpkin Soup
INGREDIENTS:
2 lbs. pumpkin, peeled, gutted and cut into 2" cubes

2 tbsp. olive oil

1 large onion, diced

3 garlic cloves, minced

2 tbsp. butter

5 cups vegetable or chicken broth

Kosher salt

pepper

1 tsp. curry powder

1/4 tsp. ground cinnamon

1/8 tsp. freshly grated nutmeg

1/8 tsp. ground ginger
Pinch of cayenne pepper
1/3 cup heavy cream
1/3 cup crème fraîche or Mexican-style crema, plus more for garnish
Styrian pumpkin seed oil
pumpkin seeds (pepitas)
DIRECTIONS:
Preheat oven to 450°F.
Place pumpkin cubes on a low sided sheet pan, toss with olive oil and a little salt. Roast for 30 minutes or until lightly caramelized and tender when pierced with a sharp knife.
In a medium pot, over medium–low heat, sweat onion until translucent. Add garlic, cook a minute until fragrant. Season lightly with salt and pepper.
Add roasted pumpkin cubes, broth, curry powder, cinnamon, nutmeg, ginger and cayenne. Stir and bring to a gentle simmer.
Purée soup in the pot with an immersion blender or transfer to a countertop blender, puree and return to pot. Although not absolutely necessary, pour through a fine mesh sieve for extra smooth texture.
Whisk in crème fraiche and cream. Adjust seasoning with salt and pepper.
Portion soup into bowls. Garnish with a dollop of creme fraiche, a drizzle of pumpkin seed oil and pepitas. Serve.

Footnotes
Styria is a verdant agricultural region, famed for growing grapes for wine production as well as top quality hops for beer, most famously Styrian Goldings, and of course pumpkins.
Dichromatic substances appear two distinct colors depending on concentration and the thickness of layers being viewed. Pumpkin seed oil appears a deep green in thin layers but turns red in deeper pools.
Smashing pumpkins is required to make this gish... er dish.