Main Content Starts Here
Demo Kitchen Recipe: Apricot Upside-Down Cake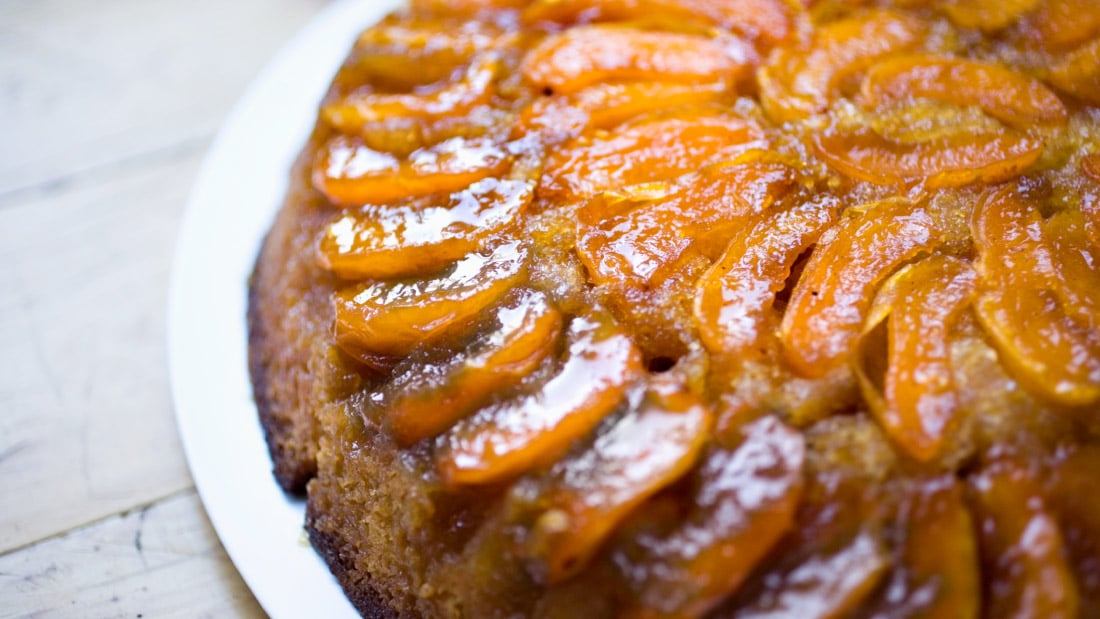 (skip to recipe)

As Binny's shoppers, you know we have incredibly low prices and a truly mind-boggling selection of wine, beer, and spirits. You also know we aren't just some faceless big box store. We've been a family owned and homegrown Illinois liquor retailer for nearly seventy-five years. That means we have all grown up together, woven into the fabric of Chicagoland and more and more Illinois cities and towns like Peoria, Rockford, Springfield, Champaign, and Bloomington. In fact, we want you to feel like family every time you walk through our doors. Indeed, our most important commodity will not appear on any receipt; friendly, personalized service and truly expert advice.
Our commitment to our customers extends well beyond that, to providing the rare, sought-after, and esoteric products that enthusiasts and connoisseurs long to lay hands on. We have some of the most experienced, knowledgeable, and well-connected buyers in the industry and that has allowed Binny's to develop partnerships with our producer friends from around the world to create programs like our multiple award-winning Whiskey Hotline. These savvy folks have garnered worldwide praise for selecting the finest barrels of spirits for our Binny's Handpicked Collection. Our beer team partners with craft breweries, providing them with still-wet ex-spirit barrels, to create a program resulting in utterly unique barrel-aged beers, and, of course, our Binny's Vineyard Direct program has our unmatched wine buying staff tasting through hundreds of samples from top producers to select wines to be bottled just for Binny's and in turn just for you.
Recently, our crack wine team decided it was high time not just to select large lots of wine, but to follow in the Whiskey Hotline's pioneering footsteps and select individual barrels.
We are exceptionally proud to have partnered with Royal Tokaji to bring you two distinctive bottlings of 5 Puttonyos Tokaji Aszú 2018, each from a single barrel hand selected for impeccable quality and individuality. They are available now and we could not be more pleased with the results.
If you aren't familiar with Hungarian Tokaji, it is the very archetype for luscious, decadent sweet wine made with botrytis affected grapes. It boasts a rich unctuous body, complex layers of honeyed stone and tropical fruits accented by notes of ginger, spice and saffron, and offset by thrilling citrus inflected acidity. It is undeniably one of the world's truly noble wines, and Royal Tokaji sits at the top of the heap.
Classically partnered with equally rich Foie Gras dishes or contrasted with pungent, salty blue cheese for a pairing that produces culinary sparks, Tokaji can also be paired with all manner of desserts.
Now to the recipe. The demo kitchen, like Binny's itself, has deep Chicago roots, so we are pleased to share an heirloom recipe handed down from Grandma Demo Kitchen to Mother Demo Kitchen to the Demo Kitchen proper and now we give it to you. This is an easy to make but exceedingly delicious upside-down cake that we pulled out of the old recipe box specifically to complement Tokaji. We even added a little ginger and honey flourish to the whipped cream to tie the apricot, honey, and ginger flavors of Tokaji more completely to this wonderful cake. We sincerely hope you will enjoy a slice with a glass of Binny's Handpicked Royal Tokaji but if beer is your thing, check it out with the apricot and coconut inflected Oskar Blues Lost Grog Tiki Wheat. For cocktail fans, the Flor de Jerez will do the trick nicely. Keep these delightful pairings in mind for a pumpkin pie alternative on Thanksgiving.
Enjoy!
Makes 8 servings.
Apricot Upside-Down Cake with Honey-Ginger Whipped Cream
INGREDIENTS:
Honey-Ginger Whipped Cream
1 cup heavy cream

1 small knob of fresh ginger, peeled and cut into two or three - 1/8" slices

2 tbsp. orange blossom honey, or other light honey

1/2 tsp. vanilla extract
For topping
1/2 cup unsalted butter

1 cup packed light brown sugar

1/2 tsp. salt

1/2 tsp. ground cinnamon

1 lb. fresh apricots, halved lengthwise and pitted or 1/2 lb. dried apricots, rehydrated
For cake
1-1/2 cups cake flour

2 teaspoons baking powder

1/2 tsp. salt
1/2 cup unsalted butter, softened
3/4 cup granulated sugar
1-1/2 tsp. vanilla extract
1/4 tsp. almond extract
2 large eggs, room temperature
1/2 cup whole milk
DIRECTIONS:
Honey-Ginger Whipped Cream
Bring cream and ginger to a bare simmer in a non-reactive saucepan over medium heat, stirring often. Do not boil. Remove from heat, cool completely. Refrigerate several hours or overnight, cream should be ice-cold before whipping.
Strain cold cream through a fine-mesh sieve into a chilled bowl of stand mixer. Discard ginger. Beat medium-high speed until soft peaks are just beginning to form.
Add honey and vanilla, increase speed to high and whip to desired texture. We prefer somewhere between soft peaks that barely hold their form and stiff peaks. Do not overwhip.
Topping
Melt butter in 10" cast iron skillet over medium-low heat until foam subsides.
Combine brown sugar, salt, and cinnamon. Reduce to low and sprinkle sugar mixture evenly over butter. Cook without stirring for 3 minutes, not all sugar will melt.
Remove from heat and arrange apricot halves, cut sides down and tightly spaced on top of brown sugar.
Cake
Preheat oven to 375°F.
Sift flour, baking powder, and salt into a small bowl.
Cream together butter, sugar, and extracts with paddle of an electric mixer. Beat at medium speed until pale and fluffy, 2 to 3 minutes.
Beat in eggs 1 at a time. Beat until creamy and double in volume, 2 to 3 minutes.
Reduce speed to low, add a third of flour mixture, then add half of milk, mixing until barely combined between each addition. Repeat with another third of flour and the rest of the milk. Add the final third of flour, mix until just combined.
Pour batter over apricots and spread evenly.
Bake cake in the middle of oven until golden brown and a wooden pick inserted in center comes out clean, 40 to 45 minutes.
Wearing oven mitts (be careful, cast iron will be VERY HOT), immediately place a large plate over the skillet and, keeping plate and skillet firmly pressed together, invert cake onto plate. Carefully lift the skillet off cake and, if necessary, reposition any fruit that may have stuck to bottom of skillet. Cool to warm or room temperature.
Slice and serve with a dollop of honey-ginger whipped cream and a sprig of mint for garnish.