Main Content Starts Here
Demo Kitchen Recipe: All-American German Chocolate Cake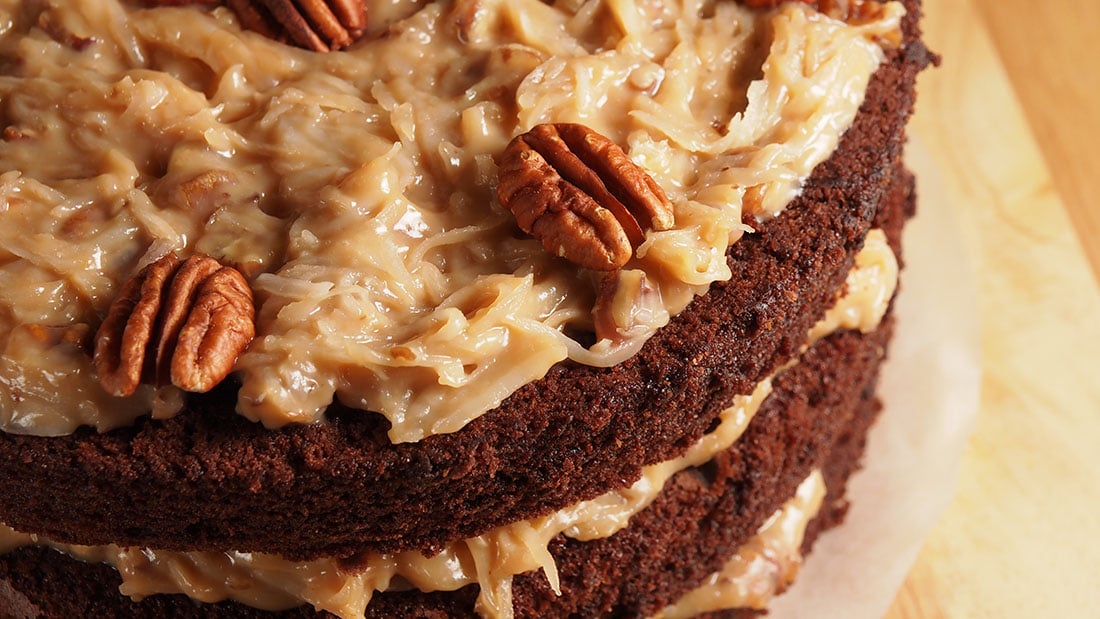 New this week, another brilliant Binny's Beer Collaboration. For this inventive collab, Binny's supplied ex-Bourbon barrels to Odd Side Ales in Grand Haven, MI to help create "American Chocolate Cake", an Imperial Stout aged in Bourbon barrels with chocolate, coconut, and pecans. If you recognize those ingredients as the fixings for a classic German chocolate cake, good eye, but why is an American brewery making a beer based on a German recipe and calling it American? It's not cultural appropriation but it is a little complicated.
Never fear, the Demo Kitchen is here to tear down the layers of this mystery, explain it in terms of zymurgy, then rebuild the layer cake that serves as the template for this liquid pastry.
It is really a rather simple story of chocolate, marketing, surnames, country names, conflation and a brilliant cake conceived of in Texas1. That's right, German chocolate cake has nothing to do with Germany.
It all started in 1852 when American, Samuel German, developed a new formulation for baking chocolate at Baker's Chocolate Co. They were so pleased with the result that they named it for Mr. German, thus German's Baking Chocolate was born. Note the possessive form of the name.
Fast forward to 1957 when Texan, Mrs. George Clay, had her recipe for German's Chocolate Cake published in The Dallas Morning News. Mrs. Clay rightly retained that apostrophe2 but much to America's bewilderment it was soon dropped. The recipe was a hit due to a big push by Baker's and spread like wildfire along with mistaken beliefs about the cake's origin. To this day, this All-American cake is universally and confusingly referred to as German chocolate cake3.
Fast-forward once again to 2021. Binny's and Odd Side have conspired to reclaim our American cake heritage with this glorious Imperial Stout and the results are as decadently delicious as they sound. Now all that is left to do is to make this rich chocolaty and coconutty wonder, grab some Odd Side American Chocolate Cake and serve them side by side to all comers without fear or favor, or regard to national origin4. That even goes for Texans.


Guten Appetit! JK but, please, do enjoy.
Cake
INGREDIENTS:
4 oz. Baker's German's Sweet Chocolate

½ cup

American Chocolate Cake Stout

(or water if you must)

4 eggs, separated

2 cups flour

1 tsp. baking soda

¼ tsp. salt

1 cup butter, softened

2 cups sugar

1 tsp. vanilla

1 cup buttermilk
DIRECTIONS
Preheat oven to 350°F.

Cover bottoms of three 9" round pans with parchment; butter or spray sides with cooking spray.

In a small saucepan heat chocolate and beer over medium-low, stirring until chocolate is melted.

Beat egg whites with stand mixer on high until stiff peaks form, set aside.

Combine flour, baking soda and salt.

Beat butter and sugar in the bowl of a stand mixer until light and fluffy. Add egg yolks, 1 at a time, beating well after each. Blend in melted chocolate and vanilla. Add flour mixture alternately with buttermilk, beating until well blended after each addition.

Add egg whites, fold in gently until well blended. Pour into prepared pans.

Bake 30 minutes or until a toothpick inserted in the center of the cake comes out clean. Immediately run a spatula around cakes to loosen from the sides of the pans. Cool cakes in pans 15 minutes then remove from pans to wire racks; cool completely.
Frosting
INGREDIENTS:
4 egg yolks

1 can (12 oz.) evaporated milk

1-½ cups sugar

¾ cup butter, cut into small pieces

2-⅔ cups flaked coconut

1-½ cups chopped pecans

1-½ tsp. vanilla
DIRECTIONS:
Whisk egg yolks and evaporated milk in a large saucepan until blended.

Add sugar and butter; cook, stirring constantly, over medium heat 12 minutes or until thickened and golden brown. Remove from heat.

Add remaining ingredients and mix well. Cool to desired spreading consistency.
ASSEMBLE:
Traditionally the sides are left plain, showing the alternating layers of cake and frosting but if you are ambitious feel free to do as the Demo Kitchen does and make a rich chocolate ganache to frost the sides and decorate the top. Otherwise just lay a layer of cake on a large plate and alternate layers of cake and frosting (three layers of each), ending with frosting on top.
Footnotes
Contrary to popular belief in Texas itself and the Lone Star Beer tagline "The national beer of Texas", German Chocolate Cake is an American invention.
The crux of the biscuit... er, cake?
For a true German chocolate cake turn to Schwartzwälder Kirschtorte or what we call Black Forest Cake. Don't worry, Binny's carries the requisite Kirshwasser for an authentic preparation, of course.
The Demo Kitchen's newly minted tagline is "Peace through cake! It's a piece of cake!"