Main Content Starts Here
Demo Kitchen Recipe: A Juicier Lucy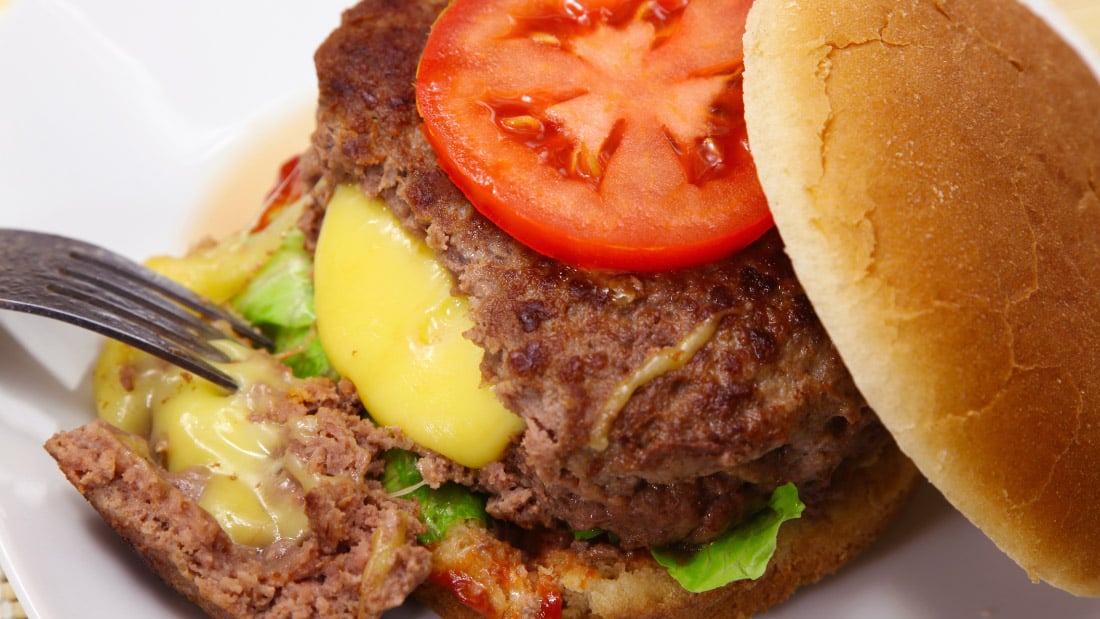 Minnesota has the Ju[i]cy Lucy, a luscious burger with oozing melted cheese on the inside and Wisconsin has the beloved Butter Burger made with plenty of the Dairy States rich, creamy butter but it took Illinois' own Binny's Beverage Depot to bring you a Juicier Lucy. We won't even address long standing arguments about who does either of these burgers best, since this recipe is so delicious that it will put an end to all debate.
Yes, we did it! We married two great Midwestern burger traditions, added a little French savoir faire and came up with this buttery, beefy and cheesy thruple served up on a pillowy bun.
What were we thinking? Well, the Demo Kitchen is in love with the American hamburger in all its infinite varieties so none of these ideas are new to us. We have long used the trick of filling the middle of a beef patty with butter to make for a ridiculously juicy, chin dripping eating experience. We also love the simple Juicy Lucy concept of stuffing a burger with melty cheese. All that remained was to add a little bistro flair by borrowing Maître d' Butter from the classic steak frites and voila! A Juicier Lucy!
Don't feel obliged to stick with this tried-and-true compound butter. Tailor it to your own tastes by adding chopped garlic, shallots, even jalapenos or change up the herbs and spices. The foundation has been laid for a an uncommonly delicious burger: Make it as is or make it your own.
Likewise, American cheese is the classic choice here but feel free to get creative with other good melters. Gruyere, young Chedder, smoked Gouda and blue are a few great choices. If using one of these, it's best to grate or crumble the cheese.
Try this lowbrow luxury with gutsy, hearty reds like Australian Shiraz, Côtes-du-Rhône or California Zinfandel. Burgers and beer are a no brainer, and most will work well but a tip of the hat to our neighbors to the north seems in order. Go old school with a Leinenkugel's Original or a Point Special from Wisconsin or let Minnesota be your North Star and try a modern classic like Surly Furious IPA. The beer may be furious, but you will be anything but mad at Lucy.
Serves 4


Maître d'Hôtel Butter
INGREDIENTS:
4 tbsp. unsalted butter, softened

1 tbsp. chopped fresh Italian parsley

1/4 tsp. fresh lemon juice

1/4 tsp. kosher salt

1/8 tsp. freshly ground black pepper
DIRECTIONS:
Combine all ingredients.

Juicier Lucy
INGREDIENTS:
1-1/2 pounds ground chuck, 80/20

5 slices American cheese, quartered or four ounces cheese of your choosing, grated or crumbled

Butter (recipe above)

Kosher salt

Freshly ground black pepper

4 hamburger buns or soft potato rolls

Any or all standard hamburger condiments and garnishes
DIRECTIONS:
Divide beef into 8 equal balls. Form the balls into patties about 5-6 inches in diameter. Season the top of each patty with a little salt and pepper.
Arrange 5 American cheese slice quarters (or grated cheese), slightly overlapping in the center of 4 patties. Leave a 1/2 inch border of meat surrounding the cheese so you can seal the burgers tightly. Top each with 1 tbsp. butter.
Turn remaining patties over to top so that the seasoned side of each patty is on the inside. Pinch the edges to seal cheese and butter inside and form into uniform patties. You now have four stuffed burgers.
Season both sides of the exterior with salt and pepper.
Cook burgers on a grill or in a cast iron skillet until well browned on both sides. This is not the time for a rare burger, go for at least medium to make sure the butter and cheese melt thoroughly.
Remove from grill/pan and let rest for a few minutes so you don't bite into molten lava.
Place burgers on buns, embellish as desired. Grilled onions are a great idea. Sharp mustard and tangy pickles are a great counterpoint to the burger's richness, but do as you will.
Prepare to get a little messy.