Main Content Starts Here
Damn Fine Coffee Beers - Barrel to Bottle Gets Hopped Up on Coffee Stouts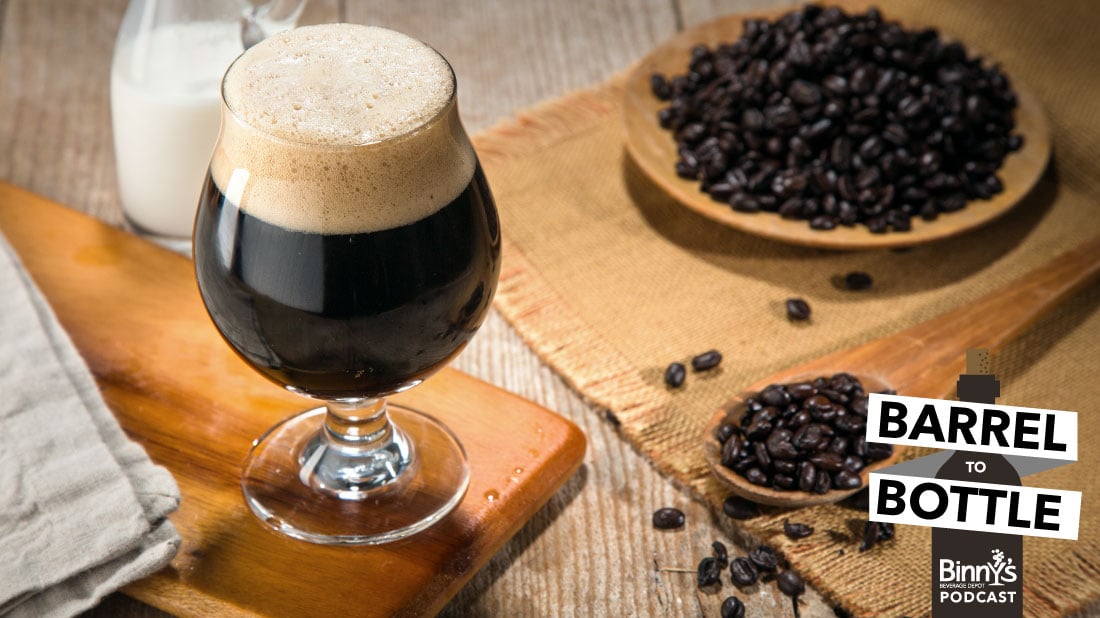 Coffee. It's probably one of the most popular adjuncts in craft beer. Most of the coffee Roger drinks is through beer because he's a tea guy. But he assembled some coffee guys for today's episode. Then he picked some great coffee beers and also sourced the coffee used in the beers so we could try it all side-by-side.
Drink along at home with the following beers and coffees.
AleSmith Speedway Stout – This is an iconic American Imperial Stout. A coffee imperial stout without any other adjuncts is pretty rare these days. The coffee here is from Interim Roasters in California. It's an old school stout, but it's easy to drink even at 12% ABV. It's almost hard to tell where the stout ends and the coffee begins.
AleSmith Barrel Aged Vietnamese Speedway Stout – We are starting to see more variants of Speedway Stout, including Vietnamese Speedway Stout. Pat used to trade beers online to get this beer. It's worth hunting down any of these variants if you can find them.
Founders KBS – This is a beer you used to have to stand in line for, and now it's available year-round at an amazing price. We used to get two cases a year at each store and often had to sell individual bottles.
Founders Maple Mackinac Fudge KBS – The coffee for this variant was sourced from Ferris Coffee in Grand Rapids. The coffee is called Mackinac Fudge, but there's no fudge in it. However, this beer has lots of chocolate, along with maple syrup to sweeten it up. The coffee was brewed in both a French Press and as a cold brew.
Revolution Brewing Café Deth - This is a variant of Rev's popular Deth's Tar, made with Dark Matter Coffee. Dark Matter has also begun canning that coffee as a cold brew, Coffee Deth. We also have a coffee made with those same beans that are fermented in Deth's Tar barrels. We also have honey, from the coffee farm where this coffee was grown. We also have chocolate made with this Dark Matter coffee, soaked in Jägermeister Coffee Liqueur. Finally, we have Dark Matter coffee fermented in Malort barrels.
This week's listener question comes from Bill, who loves the show. This is more of a comment than a question, but he wants to know why Abita changed the Turbodog label from the adorable puppy to the generic-looking black and yellow label.
If you have a question for the Barrel to Bottle Crew, email us at comments@binnys.com, or reach out to us on Facebook, Twitter or Instagram. If we answer your question during a podcast, you'll get a $20 Binny's Gift Card!
If you like our podcast, subscribe wherever you download podcasts. Rate and review us on Apple Podcasts.