Main Content Starts Here
Confessions of a Mixologist: Who Shot Tom Collins?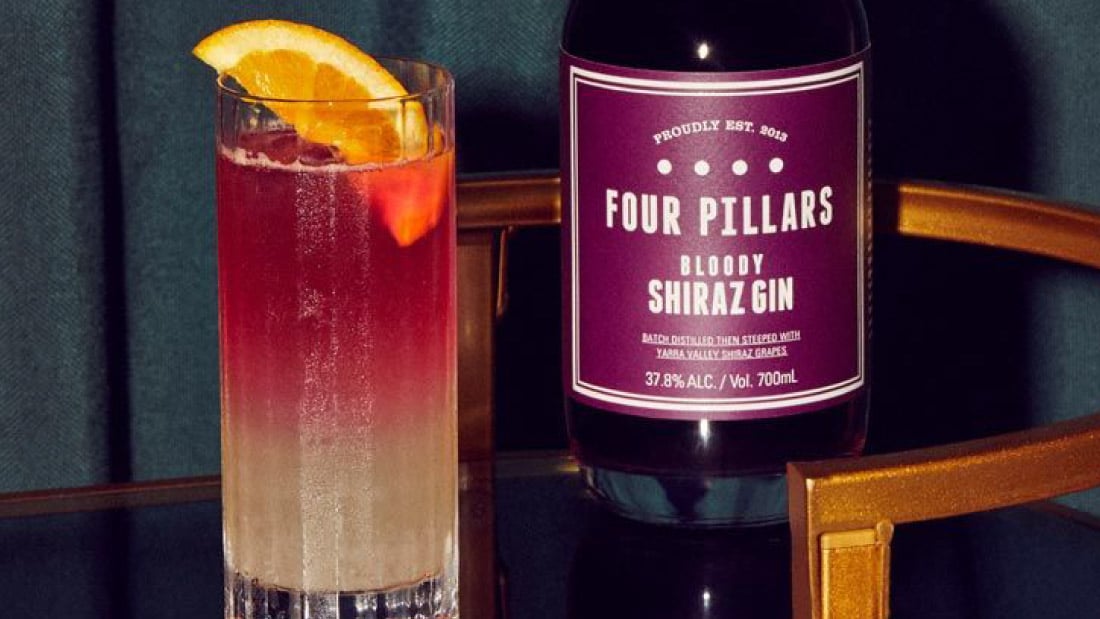 (skip to recipe)

Bloody good question! But is it a bloody good bevvy? We reckon it's both, and we have the evidence to prove it. Who shot Tom Collins? is a cocktail in the form of a question, and a Halloween murder mystery that is quenchingly delicious. Most importantly it's a modern Australian riff on the classic Tom Collins; A recipe that dates back in written form to the 1880s but is likely much older, with roots in British punch traditions featuring Gin, sugar, and lemon. So, mix up a drink or two and settle in for a purely apocryphal yarn of murder, mayhem, and meat pies. Umm... sorry, sorry, we just got word; there will be no meat pies.
The twist in this cocktail's plot comes from the use of award-winning Bloody Shiraz Gin made by Victoria, Australia craft distiller Four Pillars. This vibrantly purple gin is based on Four Pillars Rare Dry Gin, an already brilliant modern take that focuses largely on Aussie botanicals. Post-distillation, cool climate Shiraz grapes from Victoria's renowned Yarra Valley are macerated in the Gin, adding color, and a sweet, fruity, red berry intensity to already present layers of complexity. It's a bloody good alternative to even the finest Sloe Gins and provides a horrifying sanguine visage to Tom Collins. It also makes for a delightfully boozy, raspberry lemonade profile.
So, speaking of profiles, whose vengeful red right hand dropped the hammer on poor Tom? All evidence points to a bad seed. A contemporary of Tom's, germinated in the pasturelands and wheatfields of Victoria; one of Australia's most notorious bushrangers, Ned Kelley. Ned put quite a few notches on his belt during his bloodstained spree across Victoria in the 1870s, culminating in his hanging in 1880. Some say he was a Robin Hood figure fighting the power, and some insist he lost his sense, lost control, lost his mind.
Could Tom have been collateral damage in Ned's battle against oppression or was it that Ned saw Tom hobnobbing at cocktail parties with Victoria's power elite one too many times? We may never know but in either case, Ned was held to account. It does beg the question, though, who were the real outlaws? Ned or Tom and his colonial cronies? As Woody Guthrie astutely observed - "Yes, as through this world I've wandered, I've seen lots of funny men; some will rob you with a six-gun, and some with a fountain pen."
Or is it all just a metaphor for Ned's love for murdering a few cocktails after a long day of fighting the nation with his guns and ammunition? If so, may we all be outlaws tonight.
Bloody good answer? Maybe. Bloody good bevvy? Defo!
WHO SHOT TOM COLLINS?
INGREDIENTS:
1 oz. lemon juice, freshly squeezed

1/4 oz. simple syrup
4 oz. club soda
Garnish: lemon wedge
SIMPLE STEPS:
Add lemon juice, simple syrup and club soda to an ice filled Collins glass.
Float the Bloody Shiraz Gin on top by gently pouring into drink over the back of a barspoon.
Garnish with lemon wedge.