Main Content Starts Here
Confessions of a Mixologist: Vila Nova de Gaia Maia Taia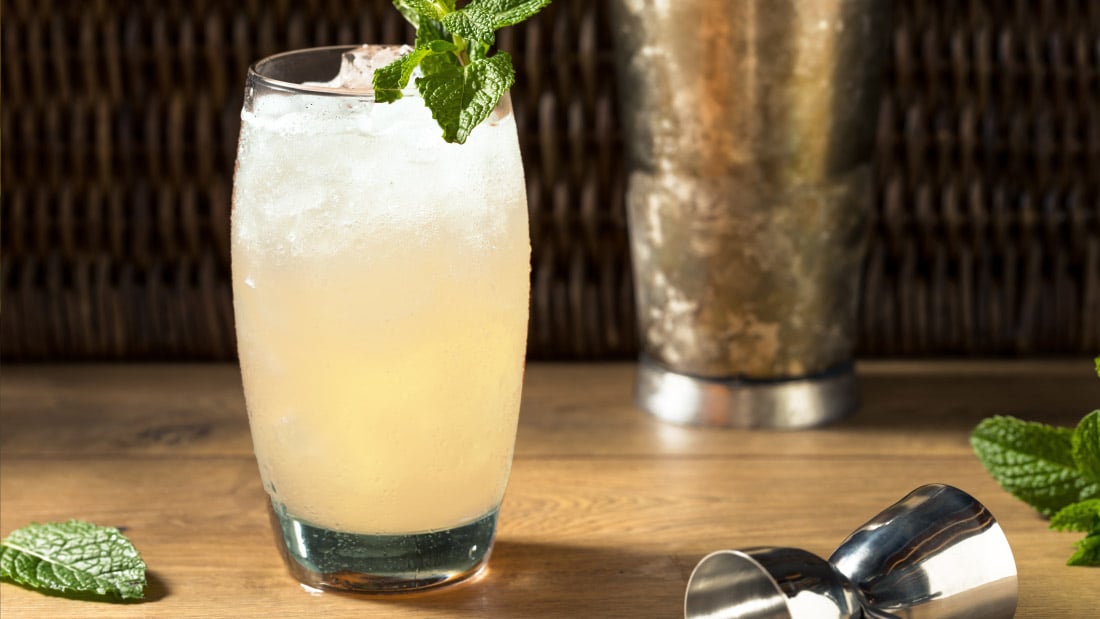 Light, refreshing and relatively low in alcohol is all the rage in certain circles these days, so this summer we have tried to bring you cocktail recipes that fit the bill. Today we have a riff on one of the all-time Tiki classics, the Mai Tai. The Mai Tai could be considered the G.O.A.T. of Tiki cocktail culture, as its very name indicates excellence in a sort of pidgin Tahitian. As in, "Gee, Mr. Gauguin, your use of color is truly maita'i."
We will leave aside debates about whether Victor Bergeron or Donn Beach invented this high-octane beauty or whether Beach's Q.B. Cooler is the template for the Mai Tai. All of you cocktail historians dig in though, it's a fun look at not just two seminal mixologists but two great self-promoters. Instead, let's just get to the meat of this pu-pu platter and take a look at what we've done.
The major change may have some Tiki lovers crying foul and calling us heretics as we have replaced (most of) the Rum with White Port. Why do such a crazy thing when Rum and strength are the very essence of Tiki? Well, White Port is delicious, full of character and its inherent attributes of roasted almond, tropical fruitiness, and citrusy acidity echo the flavor profile of the classic Mai Tai. Plus, at 19% a.b.v. White Port has a fraction of the alcohol in Rum but results in a perfectly balanced and deeply satisfying Tiki experience, allowing for a second drink without falling off your barstool.
While this fortified wine may not have the deep cocktail related history of Sherry it's no stranger to the highball glass or cocktail shaker. There is already a bona fide White Port and Tonic craze, so why not dive in and create something new?
By the way, if you think you know Port but haven't tried White Port, you are missing a small but important piece of the puzzle. It comes in a range of sweetness levels but even those labeled as dry are perceptibly sweet. If you think the grapes of Ruby and Tawny Port, like Touriga Nacional, Tinta Roriz, and Touriga Francesa are obscure try these white varietals on for size - Côdega, Rabigato, Viosinho, Arinto and Gouveio. Not exactly household names but delicious, nevertheless.
Others may object to the pineapple juice, but remember, this is a Portuguese riff on an "island" cocktail. Although far from the South Pacific and way north of the Caribbean, the Azores are Portugal's own slice of island paradise, famous for some of the world's finest pineapples. So, we have no qualms about its inclusion. You won't either once you taste it.
That leads us to the name. What on Earth does this mean? Well, Vila Nova de Gaia sits at the mouth of the Douro River, directly across from Oporto. It serves as the resting place for barrels of Port that have been floated down river from the inland vineyards. Here they quietly age, awaiting maturity, bottling, and export. So, of course we settled on "Vila Nova de Gaia Maia Taia" or "GMT" for short.
Digging for deeper meaning we also find that Portugal is the only place on the European mainland that shares Greenwich Mean Time (GMT) with Britain, Portugal's historical trade partner and massive consumer of Port wine. In fact, Britain is the very reason for Port as we know it and the two countries will forever be entangled because of it.
In any case, you will be blown away by how absolutely delicious this version of the Mai Tai is, no matter what time zone you are in or even if you are outside of space and time in the magical Shangri-La that is Tiki.
Vila Nova de Gaia Maia Taia
aka GMT
INGREDIENTS:
SIMPLE STEPS:
Add all ingredients to a shaker with ice. Shake well.
Strain into a double old-fashioned glass, filled to rim with crushed ice.
Garnish with a spent lime shell (peel side up) and a sprig of mint.