Main Content Starts Here
Confessions of a Mixologist: The Chicago Cocktail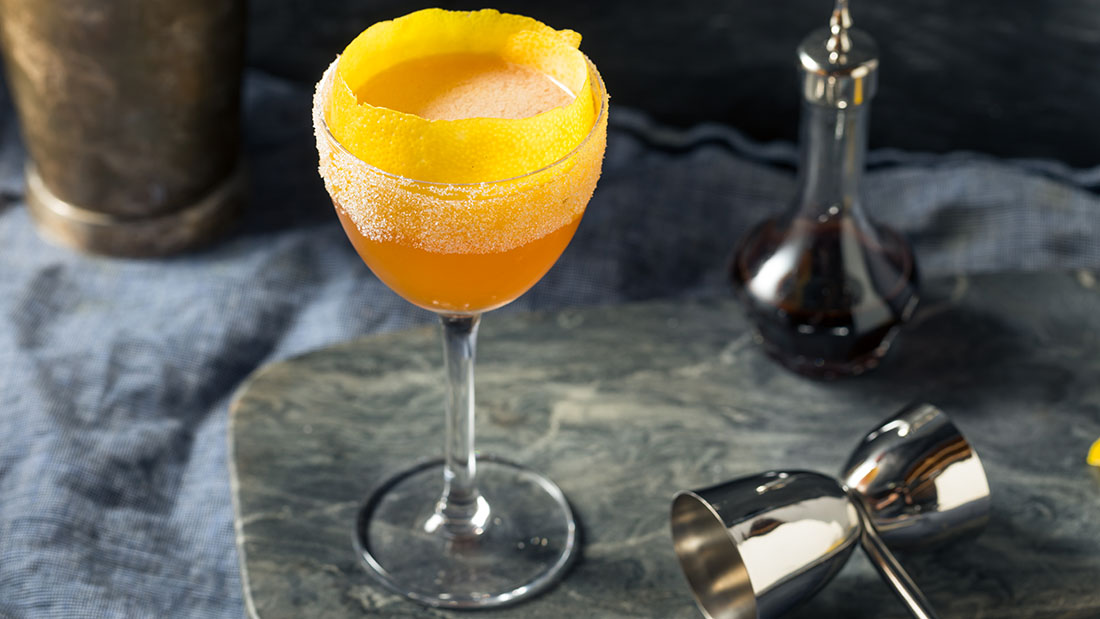 Walk into any American drugstore in 1931, ask the soda jerk for a Chicago1 and a pineapple soda would soon appear. These were the waning days of prohibition and soda fountains were all the rage, not only with teens, but with adults unwilling or disinclined to bend the law by socializing at one of Chicago's many speakeasies. Yet these seemingly wholesome establishments weren't untouched by the criminal zeitgeist that was the inevitable result of prohibition. The pineapple, in the highly specialized and rarified lingo of the soda fountain, did not represent Chicago as the welcoming symbol of hospitality but as a euphemism for the similarly shaped hand grenades that were associated with the violent tactics of Chicago gangsters.
It's no secret that Chicago was awash in booze at this time, despite its illegal status2, due to the activities of those aforementioned gangs. Not only could one find a blind pig without trying too hard, many of Chicago's best restaurants could be relied upon to covertly supply something with a little kick to accompany your platter of oysters or big juicy steak. Therefore, it was no surprise to find sections on cocktails and wine and many mentions of beer, while thumbing through a seminal bit of prohibition era Chicago history; John Drury's 1931 book, Dining in Chicago.
Most of the spots highlighted in the book are long gone3 with a few notable exceptions4 like Marshall Field's (now Macy's) Walnut Room5, The Berghoff, Lake Forest's Deerpath Inn and Walgreens with soda fountains and diner fare6 available at multiple locations. The interesting thing is the author's subversive suggestion that, while not naming names or pointing fingers, a diner could get a stiff drink, through a little subtle persistence, at many of these storied eateries.
Drury plays it cool noting that Pilsen, a Bohemian neighborhood at the time, was in pre-prohibition times "...known all over town for its imported Pilsner beer. Many were the celebrities, during the summer evenings of long ago, who used to drive out to the west side in a hansom cab and sip those big steins of Pilsner served there." He also ruefully calls a German spot, KAU'S, "The Wineless Weinstube", yet he seems to be telegraphing the opposite if one is astutely reading between the lines.
Drury states: "But don't get excited! We're not going to let the cat out of the bag. The restaurants included in this book have all heard of prohibition and their proprietors conduct themselves accordingly. Of course, we're not denying that wine and other alcoholic goods are to be found in Chicago. Good heavens, no! What do you suppose we've had all the shootin' fer?" Wink, wink.
Drury even includes a list of cocktail recipes popular in Chicago at the time, noting "...cocktail drinking is an old American custom. It has been truly said that what wine is to a Frenchman, whiskey to an Englishman, beer to a German, the cocktail is to the American." At the very top of that list is another drink named for Chicago, the Chicago Cocktail. Pineapple not included, but it is explosive in its own right.
It may seem odd to some that it is a Champagne cocktail that was deemed worthy of our hard drinking (ahem...hardworking that is) city's name. Upon closer inspection, however, it becomes clear that this is not your typical Champagne cocktail. If you think that you have had the booziest of sparkly cocktails because you have knocked back your share of French 75s or experienced Death in the Afternoon on more than one occasion, the Chicago will disabuse you of this notion.
Most such drinks call for a bit of booze topped with several ounces of Champagne, but the Chicago turns that idea on its head with Brandy7 taking the lead, making it more akin to a fizzy Brandy Crusta or maybe some kind of reverse Champagne Cocktail. In any case, the Chicago is undeniably a particularly potent yet festive cocktail worthy of the holidays and the hard-working residents of the "City of the Big Shoulders"8, whether their hands are tough as leather or soft as kid gloves.
So, Chicago, let's collectively raise a glass of our namesake cocktail, laugh in the face of the hardships we have endured of late and celebrate life in our fair city because we are tough as nails. We are Chicago and this city has been through worse.
Carl Sandberg sums it up; "... [Chicago laughs] under the terrible burden of destiny... ...laughing the stormy, husky, brawling laughter of Youth, half-naked, sweating, proud to be Hog Butcher, Tool Maker, Stacker of Wheat, Player with Railroads and Freight Handler to the Nation."
Here's to Chicago and anywhere in Illinois you can find hardworking Midwesterners and a Binny's!
P.S.
Drury completes his list of cocktails with the following. You may need it before year's end.
THE BROMO SELTZER: Into a large tumbler, put one tablespoonful of Bromo Seltzer; fill tumbler with soda, then pour into another tumbler. Repeat this twice, and rapidly, until powder is dissolved, and drink while fizzing
Cheers!
The Chicago Cocktail
INGREDIENTS:
SIMPLE STEPS:
Prepare a cocktail glass by rubbing a lemon slice around the rim and dipping it in superfine sugar.

Combine the brandy, Curaçao and bitters in mixing glass with ice. Stir until well chilled, strain into prepared glass.

Top with Champagne.

Twist lemon peel over cocktail to express oil and drop into cocktail.
Footnotes
Pineapple soda with vanilla ice cream. Not to be confused with the Hoboken, named for another rough and tumble town, that replaces vanilla with chocolate ice cream.

Luckily for Chicago, Binny's has made it easy to legally acquire everything needed to stock a home bar since 1948.

Does anyone remember the remarkably named,

Russian Workers' Co-operative Restaurant?

Wiechmann & Gellert's

for bear, caribou, and moose all bagged by the owner himself or the Marine Room in the Edgewater Beach Hotel? The hotel has been gone for 50 years but the Edgewater Beach Apartments still stand as the easily recognizable pink sentinel for the Northside's Edgewater neighborhood.

Long time Chicago residents will also remember some of the more recently departed, like

The Blackhawk

,

Wan Kow

in Chinatown and

Phil Smidt's

in Hammond.

A trip to the Walnut Room is a cherished holiday tradition for many Chicago area families.

Walgreens had a newfangled hit on its hands when they started making sandwiches on buns that were toasted on the inside and filled with things like: beef sauté, chicken salad, frankfurter, melted American cheese, or tuna fish salad. The buns were toasted on the inside, people! That's no ordinary sandwich!

We chose Park V.S.O.P. Cognac for the way its floral, stone fruit profile is enhanced by Champagne.

It was, of course, Carl Sandberg who penned that famous and evocative description of Chicago. He also wrote the forward to

Dining in Chicago

.