Main Content Starts Here
Binny's Home Bartender: Susanna and Figaro Cocktail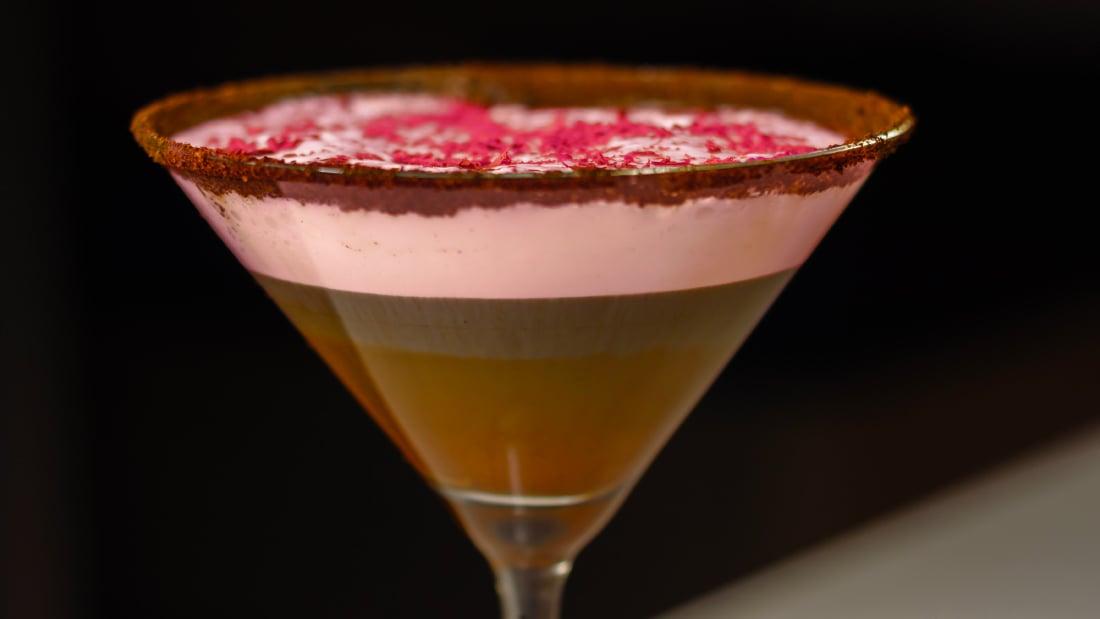 Hey! You got your chocolate on my strawberry! No, you got your strawberry in my chocolate! Hey, it's good! Yeah, really good!
Some flavors, just like some people, seem destined to go together. Whether by a chance collision while rounding a corner or in the face of cruel machinations designed to keep them apart, predestined lovers and flavors will eventually uncross their stars and find one another.
We don't know what hurdles chocolate and strawberries encountered on their path to partnership1, but they certainly didn't suffer the crass indignities that Susanna and Figaro endured in Mozart's brilliant Opera, The Marriage of Figaro.
Why are we talking about Mozart? Well, Valentine's Day is right around the corner and this mixologist must admit to creating a romance laden cocktail built upon the shoulders of Mozart Austrian Liqueurs. It's a seductive delight that revels in that most titillating combo of flavors, chocolate and strawberry, by layering a delicate strawberry cream on top of a decadent, chocolatey martini.
We have also introduced orange through the use of Effen Blood Orange Vodka but if you checked your libretto and immediately saw orange as the Count Almaviva of this liquid opera2, trying to insert itself where it doesn't belong, feel free to use a plain or vanilla flavored vodka in its place. This mixologist confesses to the belief that orange is a natural with both strawberry and chocolate but if you are a traditionalist who believes Valentine's Day is for pairs only, we get it. This is, however, a thrilling throuple if you give it a chance. In a nod to traditionalism this recipe makes two drinks but feel free to scale it up if you are indeed feeling free.
In the end Susanna and Figaro marry despite the many roadblocks placed before them just as this cocktail marries luscious strawberry and chocolate flavors in every sip. Now that you have the recipe to make your Valentine's Day perfect, perhaps you will share this cocktail with your predestined partner. If not, at least you will have had a good drink to help you through.
Bin-landia is for lovers! Cheers!
Note: Freeze-dried strawberries are readily available as slices or a powder. If using slices, gently crush then sprinkle.

Susanna and Figaro
INGREDIENTS:
SIMPLE STEPS:
Rim two martini glasses with cacao powder- Pour a small pool of vodka on a small plate. On another small plate, put down some cacao powder. Dip the rim of each glass in vodka then roll the outer lip of the glass in cacao to coat.
Squirt a spiral of chocolate syrup around the interior of the glasses.
Whisk heavy cream until thick with soft peaks just beginning to form. Whisk in powdered sugar and strawberry liqueur, whisk vigorously. It should be thick and dense but still pourable.
Add both chocolate liqueurs and vodka to a shaker with ice. Shake until well chilled. Gently strain into prepared glasses.
Pour strawberry cream slowly over the back of a spoon so it floats on the chocolate layer.
Sprinkle the cream with freeze-dried strawberries and orange zest.
Place glass on a small doily covered plate and serve with a chocolate covered strawberry placed at the base of the glass.
Although chocolate and strawberries must have been informally introduced long ago, it appears that the first-time strawberries were dipped into tempered chocolate to create the chocolate covered strawberry wasn't until the 1960s. Guess what; that marriage was consummated right here in Chicago.
The amorous Cherubino is played by Cupid, obviously!