Main Content Starts Here
Binny's Home Bartender: Rum Alexander Rex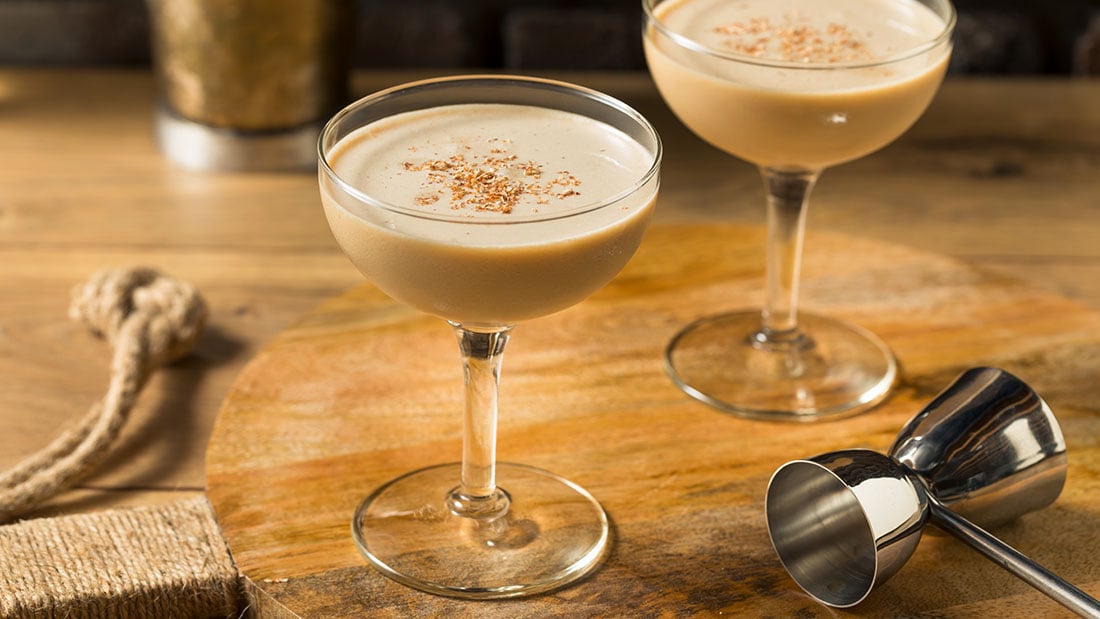 Carnival is celebrated in wild fashion in countless places across Europe and the Americas. Mardi Gras in New Orleans is, of course, our best-known contribution to the widespread revelry of Fat Tuesday. While traditions vary, eating rich foods, knocking back a few drinks and getting a little wild before the onset of Lent's self-imposed austerity appear to be universal themes. Parades are also a ubiquitous tradition that can range from G-rated family fare to Rio's ribald rump shaking, to the Big Easy's singular brand of debauchery that we Americans love so well.
In New Orleans there are parades for weeks leading up to Fat Tuesday put on by social groups, or Krewes, that build their own floats, sew their own costumes and create a unique vibe for their neighborhood and designated parade route. The big daddy is the Rex Krewe which was founded in 1872 and developed many of the traditions we now associate with Mardi Gras in New Orleans, including the signature colors of purple, green and gold. Rex, of course, means king and this is the king of all Mardi Gras parades with a coveted time slot on Fat Tuesday, an impressively long parade route and Rex himself, the King of Mardi Gras.
Rex does not sit on the throne alone, however. He is obliged to share the title with a few biblical kings and the sweet treat named for them, king cake. King cake can be found in many places where Carnival is celebrated but in many different forms. In New Orleans it is made with a butter and egg enriched yeast dough, flavored with cinnamon, iced with a sweet, sugary, vanilla scented frosting and decorated with colored sugar. Fillings made of fruit, chocolate or sweetened cream cheese are all acceptable but purely optional. A small toy baby is secreted away in the dough and whoever has the good fortune of being served that piece is designated king or queen of the party and must supply the cake the following year.
It is here where the float meets the road for this week's cocktail; a riff on the classic Brandy Alexander made with Gambino's King Cake Rum Cream. Gambino's Bakery is one of the most famous commercial producers of king cake in Louisiana and it seems they thought it high time that we were all able have king cake in a boozy liquid form. Think Irish Cream with the distinct cinnamon and vanilla flavors of king cake. It's tasty on the rocks, but we thought we would mix up something new. A cocktail rich and creamy enough for the King of Mardi Gras himself, featuring enough fuel to get you through a week of fasting and worthy of being added to the Crescent City canon of creamy drinks like the grasshopper, Ramos gin fizz and brandy milk punch.
Without further ado, here it is, a decadent beast of a cocktail, that also goes by the alias Cake-a-saurus Rex, the Rum Alexander Rex1.
Come on ya'll! Shake up a drink and shake that rump2! It's Mardi Gras time! Time to let the good times roll and the king cake pour!
Cheers!

Rum Alexander Rex
INGREDIENTS:
SIMPLE STEPS:
Strain into a chilled cocktail glass.
Garnish with cinnamon. Sprinkle with a little of each colored sugar to create a confetti effect.
Footnotes:
Incidentally, the first dignitary to be entertained by the Rex Krewe was Grand Duke Alexei Alexandrovich of Russia, so perhaps we should call it the Rum Alexandrovich.
Alternatively - "The Wild Tchoupitoulas gonna stomp some rump!" NOLA music fans know what we're talking about.